In This Review
Overview of ActivatedYou Essential Skin Food
Essential Skin Food is a nutritional supplement that supports healthy skin. It contains six plant-based ingredients that are beneficial for the skin. These compounds are thought to help the skin produce collagen in a normal, healthy way. But, are the ingredients present in the Essential Skin Food backed by scientific research? Does Essential Skin Food live up to its promise?
In this article, we will analyze and evaluate the key components found in Essential Skin Food, as well as examine available research and consumer feedback. Our goal is to present an unbiased assessment of the product's ingredients, intended functions, and customer experiences to help readers make well-informed choices.
What is ActivatedYou Essential Skin Food?
ActivatedYou Essential Skin Food is an organic supplement that promises great anti-aging skin benefits. It works to boost collagen production, tightening and enriching skin's elasticity. This helps smooth wrinkles and lines, leading to a younger-looking appearance.
It also promotes cell turnover and repairs damage to the skin barrier. Recommended highly by dermatologists all over the world, this is a rejuvenating skin supplement that offers rich benefits. I have used it personally, and I love what it has to offer. Let's look at some of the details of ActivatedYou Essential Skin Food.
How Does Essential Skin Food Rate?
Overall Rating: 4.9
ActivatedYou Essential Skin Food
Brand Highlights
ActivatedYou Essential Skin Food's efficacy is firmly rooted in scientific evidence.
The ingredients are derived from 100% natural sources.
The manufacturing takes place in the USA using strict safety regulations.
There are no artificial or chemical additives or fillers.
Key Ingredients
Okra
Pomegranate Extract
Mangosteen
Camu Camu
Acai
Acerola Extract
Quercetin
L-Proline
French Maritime Pine Bark Extract
Vitamin C
L-Lysine
Asparagus
Coffee Berry
Pros
Essential Skin Food can reduce wrinkles and fine lines.
This can promote cell turnover.
It can tighten the skin and reduce sagging.
Essential Skin Food Supplement can improve skin elasticity.
The product can repair damage to the skin barrier.
Cons
The results for different customers will vary.
Free shipping over $50 is only for American residents.
It includes rice bran oil, which some users can't take.
---
Who is the Manufacturer of ActivatedYou Essential Skin Food?
The manufacturer of Essential Skin Food is a company called ActivatedYou, located in Santa Monica, California. They produce natural dietary supplements which support general health, digestion, skincare, a robust immune system, and other issues. ActivatedYou was founded by actress and health advocate Maggie Q with the expertise of Dr. Frank Lipman, a renowned integrative medicine doctor.
How Does Essential Skin Food Work?
ActivatedYou Essential Skin Food's ingredients stimulate collagen production in the skin, replacing some that diminish with age. This makes it tighter and more elastic and helps smooth wrinkles and fine lines. A study in Nutrients Journal concluded that collagen improves skin hydration, elasticity, roughness, and density[1].
This supplement boasts high levels of antioxidants, known for their ability to neutralize free radicals and alleviate oxidative stress. This, in turn, contributes to repairing damage to the skin barrier, providing defense against harmful UV rays and pollutants. Additionally, the presence of anti-inflammatory agents in the supplement aids in reducing skin swelling and redness, making it an effective treatment for various skin conditions. As one of the best anti aging supplement for skin, it stimulates collagen production, a vital factor for achieving a more youthful and rejuvenated appearance.
There are also ingredients in Essential Skin Food that can improve circulation, which promotes skin health and gives it a radiant glow. An article in Current Anesthesia and Critical Care discussed circulation in the skin[2].
Essential Skin Food Ingredients – Are they safe and effective?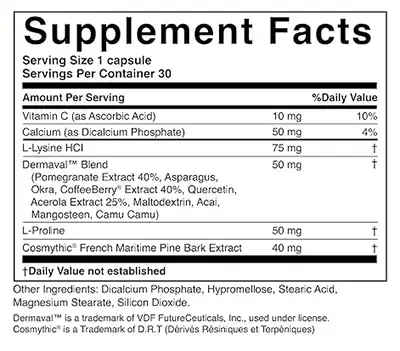 You might be wondering what ingredients are in Essential Skin Food that makes it work so efficiently. Essential Skin Food is made with 6 plant-based ingredients which stimulate your own collagen production.
Each serving of ActivatedYou Essential Skin Food contains these primary ingredients:
Vitamin C (10mg)
Dermaval Blend (50 mg)
Cosmythic French Maritime Pine Extract blend (40 mg)
L-Lysine and L-Proline
Acai
Let's have a detailed look at each ingredient present in Essential Skin Food.
French Maritime Pine Bark Extract
This bark is healing for the skin due to its potent antioxidant agents, which can help repair damage and protect the skin from UV rays and pollutants.
It can boost the production of collagen and hyaluronic acid, which firms the skin and makes it more elastic. This can smooth wrinkles and fine lines, giving you a younger appearance. The hyaluronic acid hydrates the skin, removes dryness, and plumps it for further smoothing lines.
French maritime pine bark extract contains proanthocyanidins, which help protect the skin from UV damage and oxidative stress. Incorporating this natural ingredient into your skincare regimen can promote healthier and more resilient skin. – Dr. Olivia Peterson, Aesthetic Medicine Practitioner
It also has potent anti-inflammatory benefits, which can lessen redness and swelling and help treat wounds. A study in Skin Pharmacology and Physiology concluded that pine bark is effective for photoprotection, improving the skin barrier function, and reducing pigmentation[3].
Vitamin C
This is a potent antioxidant that can repair damage to the skin and protect it from UV rays and other environmental stressors. In addition, it can reduce dark spots and hyperpigmentation by blocking melanin formation, also brightening the complexion. It has powerful anti-inflammatory agents which can decrease redness and swelling, as well as help to heal blemishes, prevent skin conditions, and soothe sunburn. Also we have discussed about the benefits of vitamin C in our article of Derma Prime Plus.
Studies have shown that topical application of Vitamin C can improve skin's resilience against UV damage and environmental pollutants. Regular use can lead to a more even complexion and a youthful glow. – Dr. Michael Roberts, Skincare Researcher
Vitamin C promotes collagen production for essential skin health, making it firmer and smoothing signs of age like wrinkles and lines. A study published in JAMA Otolaryngology found that a 3-month regimen of ascorbic acid led to an improvement in photodamaged facial skin[4].
Dermaval Blend (50 mg)
Dermaval is a natural collagen-booster that uses phytonutrient compounds like Pomegranate Extract, Coffeeberry, Quercetin, and Camu Camu to fight elastin breakdown in the body and support skin's elasticity and firmness.
Collagen is a key ingredient that protects skin shape and structure. As you age, your skin produces less collagen leading to dry skin and the formation of wrinkles. Dermaval promotes natural collagen production in our body so that it helps in improving skin elasticity and reducing visible wrinkles.
Formulating with the Dermaval Blend can lead to remarkable skincare products. Its unique composition aids in improving skin elasticity, firmness, and overall texture, making it a valuable addition to anti-aging formulations. – Dr. James Wilson, Cosmetic Chemist
Acai
Acai is a superfruit due to its powerful antioxidant benefits that assist in the repair and protection of the skin. The antioxidants offer potent anti-aging properties, which can help smooth wrinkles and lines.
Acai is loaded with nutrients, in particular Vitamin C. For this reason, it may also help remove dark spots and areas of pigmentation from the complexion.
Acai is a powerhouse of antioxidants, such as anthocyanins and vitamin C, which can help combat free radicals and protect the skin from environmental damage. Its anti-inflammatory properties may also aid in soothing skin irritation. – Dr. Jennifer Martinez, Dermatologist
It also has anti-inflammatory benefits, which help decrease redness and swelling and treat skin conditions, as well as effectively heal wounds. A study in Toxicology Research concluded that acai had potent wound-healing effects[5].
L-Lysine and L-Proline
Amino acids are building blocks of collagen in the body, which is why Essential Skin food has L-Lysine and L-Proline in its ingredients. These help synergistically to keep your skin plump and firm over time.
Who Should Take Essential Skin Food?
Anyone who wants to improve their overall skin health can take this ActivatedYou Essential Skin Food supplement. It's beneficial for users who have already noticed the signs of age, like sagging, wrinkles, and lines. A younger person may also want to take it to prevent aging and repair damage.
Our Reviewer Tested Essential Skin Food! Check Out The Result…
One of our tester, Jin Williams tested the product and here is her personal experience…
When I turned 50, I noticed significant changes in my body. I have always enjoyed a high metabolism and never faced any challenges with weight or energy levels. But things began to change around 45.
Here's my verdict on Essential Skin Food by Activatedyou. Since skincare only was helping me on the outside, I was looking for something that would improve my skin from the inside. Something with Collegan and Vitamin C was what I was looking for, and when I searched, Essential Skin Food popped up. I decided to give this product a try and put it to the test.
I decided to order 6 bottles (better discount), feeling pretty confident in the product and the money back guarantee which is 90 days, so I knew I had nothing to lose. I was sold after trying the first bottle. After just 30 days, I saw results in my skin, nails, hair and energy. I couldn't believe I found youth in a bottle!
The Vegan capsules are easy to swallow and easy to travel with. One capsule a day, with water or food – so simple and beneficial. Along with exercise, eating healthy and maintaining my gut health, Essential Skin Food has given me back my youthful glow, from the inside out. I think the price is reasonable, if the product works for you. To me, it's priceless. I love how I feel and look, and I can't imagine not having this part of my daily regimen. ~ Jin Williams (@brystrap)
After testing Essential Skin Food, Jin Williams says that she highly recommends this product to see the difference that she did. Check out her review on our official YouTube channel Consumer Health Digest.
Essential Skin Food FAQs
Q: How Do You Take Essential Skin Food?
A: The recommended dosage of ActivatedYou Essential Skin Food is one capsule per day with water and a meal, and make this a part of your skincare routine. Do not take more than the maximum amount for any reason.
Dietary supplements should not be taken in place of the whole meal. A well-balanced diet is very important for your nutritional requirements, dietary supplements like Essential Skin Food are only meant to fill the gaps.
Q: Does Essential Skin Food really work?
A: Indeed, ActivatedYou Essential Skin Food has proven to be effective, as delighted customers have attested to its positive effects. Collagen production naturally diminishes as our bodies age, but Essential Skin Food is formulated with ingredients known to boost collagen production. The numerous positive customer reviews endorse it as a must-try and the best collagen supplement for skin.
Q: Is Essential Skin Food a Safe Supplement?
A: According to a recent study, ActivatedYou manufactures a safe line of products that includes only pure organic ingredients capable of boosting collagen levels in the body. There are no artificial additives, and there should be no side effects from taking it. In all of the testimonials I read, I didn't see anywhere users discussed having Essential Skin Food side effects.
In addition, this is a repeatable company that follows safe manufacturing practices. All products are carefully tested by a third party at a separate facility.
Q: Where Can I Purchase Essential Skin Food?
A: The only place you can buy this product is on the manufacturer's official website. There is free shipping for all U.S orders over $50, and you save money if you buy in bulk. If you sign up to become a VIP, you get access to great deals and prices. There is no promo code right now, but they often offer one. The prices are as follows:
1 Jar – $49.00
3 Jars – $134.00
6 Jars – $254.00
Q: How Does Essential Skin Food Compare to Other Collagen Supplements?
A: It's a little on the costly side, but there are other products in the same range. This product is full of ingredients that naturally stimulate collagen production, while many other products simply include collagen itself. Other products tend to have fewer collagen-building ingredients if they do include them. This Essential skin food supplement is completely plant-based collagen there is zero animal-based collagen, and that's the reason it can easily fit into most diets.
ActivatedYou Essential Skin Food vs. Skinnyfit Super Youth
Comparison
ActivatedYou Essential Skin Food
Skinnyfit Super Youth
Product

Ingredients
Dermaval blend, Pine bark extract, Vitamin C, L-lysine and L-Proline
Collagen Type I, II, III, V and X.
Price
1 Jar – $49.00 + $4.95 Shipping & Handling
$80
Pros & Cons

Boosts Collagen Naturally
6-Plants based Ingredients
Reduces wrinkles and fine lines

Little side effects
Not Allergen free
Expensive collagen product

Refund Policy
90 days Money back guarantee
90-days money-back guarantee
Official Website
Official Website
Read Review
Q: What is the Refund Policy For Essential Skin Food?
A: The refund policy or "ActivatedYou Promise" is 90 days. If you're unhappy with the Essential Skin supplement, contact customer service and send the bottles back, used or unused, within 90 days of the purchase date. You'll receive a full refund of the purchase price.
Q: Is Essential Skin Food Worth It?
A: The slightly high price should not be a deterrent to purchasing this ActivatedYou Essential Skin Food. It truly is a collagen-boosting powerhouse that provides amazing anti-aging benefits to users.
It's likely much more potent than many other products on the market and more natural. This pure formula is healthy for the skin and contains no artificial additives.
Q: Are there any side effects of using Maggie Q's Essential Skin Food supplement?
A: So far there are no major side effects known. But that doesn't mean you won't experience any. So, it's better to consult your doctor first before taking any supplement. As this skin food supplement contains all-natural ingredients and actually contains zero animal-based collagen, it is less likely to have any side effects but for every individual different result may vary.
What Do the ActivatedYou Essential Skin Food Customer Reviews Say?
After viewing Essential Skin Food Reviews before and after images, I found that most of the Essential Skin Food reviews had very positive comments about this ActivatedYou Essential Skin Food. Customers mentioned improvements in skin texture, clarity, and youthfulness. They said there was a reduction in wrinkles and fine lines and improved overall skin health and collagen levels.
I've picked out some of the best reviews so you can get a good idea of what the user experience is like for this product.
I've been taking it for about a month I see a difference. My skin feels smooth, and I noticed that I have fewer wrinkles. This is worth every penny! Thanks, Maggie!
~ Theresa
After a month, this actually seems to work. I did not change products or take any other supplements. I can see a difference in hydration and a decrease in lines. Looking forward to evaluating after the full 90 days.
~ May
I wasn't really thinking about these types of products.…but caught myself admiring my own skin in the mirror! I will order another bottle, as it does seem to be making a difference in a healthy way.
~ Jessica
I've been taking Essential Skin Food for about a month now. I was a little worried to try because of my adult acne. I'm so thankful that I took my chance on this product. I noticed a difference in my skin within the first week, no breakouts.

My skin looks so youthful and hydrated. I'm so thankful for this miracle product!!
~ Camile
ActivatedYou Essential Skin Food Reviews – Conclusion
ActivatedYou Essential Skin Food is an all-natural skincare product that supports skin health and offers anti-aging benefits. It's a collagen stimulator, which significantly tightens the skin and improves its elasticity. The pill helps smooth wrinkles and lines, improves texture, and promotes a youthful appearance. This is a trendy brand on the market and comes highly touted by many top dermatologists.
Reading through the product's testimonials, it is clear that this is a well-loved brand. Many users raved about the fantastic benefits of skin texture and smoothness and the lessening of wrinkles and fine lines. People also said they were now regular users of this supplement.
ActivatedYou Essential Skin Food is an all-natural, gentle product with no artificial additives. It's a safe brand that should not lead to harmful side effects. This pill is a well-loved product made by a reputable company called ActivatedYou. As both a user and a reviewer, I highly recommend it to anyone looking to enrich their complexion.
Having experienced the benefits first-hand, both as a user and a reviewer, We wholeheartedly recommend ActivatedYou Essential Skin Food to anyone seeking to enhance their complexion. Embrace the power of nature for radiant, youthful skin with this exceptional skincare solution.