In This Review
What is Femarelle Recharge?
Femarelle Recharge is a remedy in the form of capsules for the symptoms associated with menopause in women over 50. It is one of a line of three products designed for this purpose.
This menopause supplement treats symptoms that occur because of a decrease in estrogen in the body, such as hot flashes, and restless sleep, mood swings, and night sweats. It also eliminates tiredness, gives women energy, and increases sexual libido.
How Does It Rate?
Overall Rating: 3.7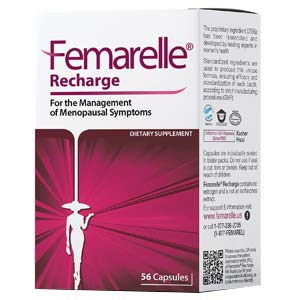 Femarelle Recharge
Brand Highlights
The manufacturer of this product is Se-cure Pharmaceuticals Ltd.
The company was founded in 1997.
The brand is located in the Dalton Industrial Area in Israel.
They calaim that they use natural & safe ingredients.
Key Ingredients
Tofu Extract DT56a
Flax Seed
Vitamin B6
Pros
Available on Amazon.
It may alleviate night sweats and hot flashes.
Accelerates sexual libido.
Can decrease mood swings.
Decreases fatigue and increases energy level.
It may successfully treat sleep difficulties.
Cons
Side effects are reported.
Some popular ingredients missing.
Contains soy, which is a common allergen.
Only select customers can afford to keep taking it.
It may be ineffective for certain customers.
---
How Does Femarelle Recharge Work?
Menopause can be a very difficult time for women because they have to contend with several uncomfortable symptoms. The result of a decline in estrogen levels can be mood swings, hot flashes, difficulty sleeping, night sweats, and pain in the muscles and joints.
You may also experience a decline in your sex drive. Femarelle Recharge was specifically designed to treat the symptoms of menopause for women whose periods have stopped completely.
The main active ingredient in the menopause product is a Selective Estrogen Receptor Modulator (SERM), which is a group of compounds that are able to modulate the estrogen receptors in a selective way.
Due to this selective ability, the product is able to focus specifically on the symptoms related to menopause without having an impact on nearby tissue.
Femarelle Recharge's Ingredients – Are they Safe & Effective?
The primary active ingredient in this menopause product is Tofu Extract DT56a, which is able to affect the behavior of estrogen receptors selectively. In this way, it is able to treat menopause symptoms like hot flashes and sleeplessness.
These are some of the primary ingredients in the product:
Tofu Extract DT56a (From Soy)
Compounds that can impact the estrogen receptors in a woman's body, which can alleviate some of the symptoms of menopause. For example, mood swings, hot flashes, lowered sex drive, and fatigue. In one recent trial participants were healthy postmenopausal women who were randomly assigned to either 644 mg/d DT56a (study group) or 344 mg/d DT56a supplemented with calcium for 12 months.[1]
Flax Seed
Contains lignans and omega fatty acids, which are known to treat peri-menopausal symptoms. They are particularly known for alleviating the symptoms of hot flashes.
Vitamin B6 (Pyrodoxine Hydrochloride)
Vitamin that exists in many foods, like beans, eggs, and meat. It can also be developed artificially. Known to be an effective treatment for the symptoms associated with menopause, like fatigue, hot flashes, and difficulty sleeping.

Femarelle Recharge Questions and Answers
Q: How Should You Take Femarelle Recharge?
A: Take one capsule in the morning and a second one in the evening, on a daily basis. You do not have to take the capsules with a meal, but you may if you wish. Make sure not to take any more than the recommended dosage.
Q: How Much Does Femarelle Recharge Cost?
A: The cost of Femarelle Recharge on the manufacturer's website is $34.99. It can also be purchased from other online retailers for various prices, some higher and some lower than the manufacturer's site.
Q: What is Femarelle Recharge's Return Policy?
A: If a customer is dissatisfied with the product and wishes to get a refund, they must mail the product to the manufacturer within thirty days of the purchase at their own cost. Include a copy of your receipt with the package. You should receive your refund within 30 business days.
Q: Does Femarelle Recharge Offer a Free Trial?
A: The manufacturer of Femarelle Recharge does not appear to offer any kind of free trial or sample products. As this type of product may have a different level of effectiveness for different women, it would be helpful to the customer if free samples were available.
Q: What are the similar products to Femarelle Recharge?
A: The similar products are
Femmenessence Macaharmony, Femmenessence MacaPause, and Femmenessence

Femarelle Recharge Review – Final Verdict
Femarelle Recharge is a product that was designed to deal specifically with some of the symptoms of menopause women in their 50s experience. This may include hot flashes, difficulty sleeping, night sweats, mood swings and joint and muscle pain.
There were customers who really appreciated the impact these capsules had on their symptoms. They felt much more comfortable, relaxed and symptom-free. A few customers said the supplements didn't have much impact on them or didn't have a strong enough effect to counter the symptoms.
This product uses soy as the primary ingredient, which is a substance that is an allergen to many people. It's important to research the ingredients carefully before starting this regimen.
Fortunately, natural therapies for menopausal symptoms such as weight gain, hot flashes, night sweats, decreased libido, and mood swings are available. Since many women experience weight gain during menopause, many natural menopause supplements contain herbs and botanicals that support a healthy metabolism. Menopause supplements should be evaluated on proven ingredients, ability to reduce hot flashes and night sweats, ability to provide hormonal balance and boost libido and its overall value.
Below you'll find some of the most effective menopause supplements on the market today, in our opinion.
Our Top Menopause Choices
Verdict on Claimed Benefits: Below is our summary of the available evidence for the claimed benefits of below mentioned menopause supplements and vitamins based on the available research: