Joints have very important functions in the body. They don't just connect the bones, but they also help you move and provide support. Any damage to the joints because of wear and tear, injury or joint-related diseases can interfere with movement and also cause pain. The conditions that lead to painful joint include injuries, osteoarthritis, rheumatoid arthritis, gout, etc.
The most common treatment options include physical therapy, regular exercise and the use of joint pain supplements. Medication is only for severe cases since this may cause a variety of side effects. However, the market is flooded with various joint pain supplements, making it difficult to choose the right product. There are just too many brands to choose from!
Let's inspect one of the most popular brands today and check if it is a good product worth purchasing or not.
What is TriFlex GNC?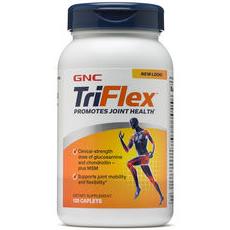 The product is currently one of the most popular joint pain supplements today. It is manufactured and marketed by a reputable company called GNC. Its use might help to improve* the joint health and increase* joint flexibility. It may also support joint mobility and improve* the health of the user. It is being sold in all GNC stores, but the product can also be purchased from other online retailers. It comes in a bottle containing 120 tablets, and it is sold online at the cost of $32.99. Shipping is free on all orders above $49 and this supplement is not sold in Canada.
What is it For?
GNC Triflex is specially formulated to improve* joint mobility and flexibility. It contains ingredients which are key components in the repair of joints. It claims to contain active ingredients that are clinically proven to improve* joint function and mobility. However, the results are not instant, and long-term intake is necessary for optimal results to be experienced by the user.
What Ingredients Are Used In Triflex GNC?
Glucosamine Hydrochloride – It improves* cushioning of joints and help to reduce* joint stiffness.
Chondroitin Sulfate – It reduces* joint inflammation, pain, improve* joint function and help to treat* osteoarthritis.
Methyl Sulfonyl Methane – It helps to repair joints, treat* arthritis and improve* joint health.
Hyaluronic Acid – It helps to lubricate the joints, provide moisture and promote repair of the damaged tissues.
Magnesium Stearate – It helps to lubricate joints. It also prevents sticking of ingredients to the manufacturing equipment.
Silica – It helps to absorb water and prevent this product from going bad.
What are the Advantages of GNC Triflex?
It might improve* joint flexibility and mobility
It might help to reduce* joint pain and inflammation
It improves* joint cushioning
It improves* overall joint health
It helps to treat* arthritis and osteoarthritis
What are the Disadvantages of GNC Triflex?
It is not sold in Canada
It may react with other drugs
It is not suitable for use by nursing and lactating mothers
It can cause allergic reactions
How to Use GNC Triflex?
Do's
Follow the product's directions carefully and take three tablets daily preferably with meals to avoid gastric disturbance
Consult your doctor if you have any medical condition
Consult your doctor if you are taking any medicine
Don'ts
Do not use this joint supplement while taking other joint supplements
Don't take this product if you have hypersensitivity to crustaceans or shellfish
Do not use this product as a replacement for medication prescribed by your doctor for joint pain or any other condition
Do not take more than the recommended dosage unless otherwise directed by your healthcare provider
How Effective Is GNC Triflex?
There is a good chance that GNC Triflex is effective because there are many customers who have tried it and claim it is effective. There are some studies indicating that the active ingredients are effective in providing joint pain relief. However, the effects of joint supplements like this product are not considerable in severe cases of joint pain. One obvious problem with the product is that it doesn't contain anti-inflammatory ingredients to provide fast joint pain relief.
How Long Before Joint Pain Relief Is Experienced With Triflex GNC?
This is a difficult question to answer because all cases of joint pain are different. For simple cases of joint pain, supplements like Triflex usually work within 3-4 weeks of use. However, for moderate cases it usually takes a couple more weeks. Again, for severe cases of joint pain, supplements don't have much effect and the use of joint supplements typically have insignificant effects when it comes to joint pain relief.
Precautionary Warnings and Side Effects
The product contains ingredients derived from shellfish so if you have a history of hypersensitivity to shellfish, you shouldn't use this product. If you are pregnant, lactating or have any medical condition, you need to consult your doctor before using this dietary supplement. Avoid taking more than the recommended dosage unless advised by your doctor to prevent side effects. In case of side effects, stop the use of Triflex and consult your doctor immediately.
Does GNC Triflex Rebuild* Cartilage and Lubricate Joints?
Some of the active ingredients of Triflex are clinically proven to help rebuild* cartilage and lubricate joints. However, there is no clinical study conducted on the product itself proving that it offers these benefits. Since this is a dietary supplement, it doesn't need the approval of the FDA for it to be sold on the market.
GNC Triflex Review – Final Verdict
Overall, GNC Triflex is a good joint supplement worth purchasing. It is from a reputable supplement company that indicates that high-quality ingredients are used. Also, it only contains clinically proven ingredients for joint health. The main problem with the joint supplement is the price. There are many other products (from known brands) which contain the same ingredients mostly at a much lower cost. If you want to save some money, there are more affordable alternatives available.
Bones are connected by joints, which allow us to move with ease. Joint damage can cause pain preventing you from doing the things you once loved. Many conditions lead to joint pain from aging to an untreated sports injury. A quality joint product may help repair existing tissue damage and also promote stronger joints, less susceptible to future degeneration.
Below you'll find some of the most effective joint pain supplements on the market today, in our opinion.
Our Top Joint Pain Relief Choices

Fight Joint Pain and Inflammation*
Prevent Recurring Damage*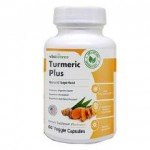 Fight Joint Pain and Inflammation*
Prevent Recurring Damage*
Fight Joint Pain and Inflammation*
Prevent Recurring Damage*
Fight Joint Pain and Inflammation*
Prevent Recurring Damage*
Fight Joint Pain and Inflammation*
Prevent Recurring Damage*