What is Salonpas Gel & Patch?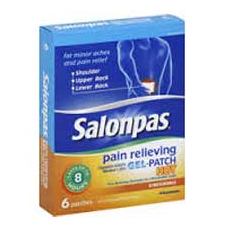 The joints regularly endure a lot of stress. Aside from connecting the bones, they also provide support and enable movement. Although the joints are designed to cope with stress on a regular basis, they sometimes suffer from wear and tear causing arthralgia or joint pain that can be uncomfortable and sometimes even become unbearable. Joint pain can be caused by several factors like trauma, strains, bursitis, tendonitis, osteoporosis, and disease.
There are a number of treatment options available including the use of medication. However, joint pain medication can cause a range of adverse effects like gastrointestinal bleeding making it not a very good option especially for high-risk individuals. There are also many natural remedies like ice therapy and the use of topical analgesics.
In this article, we will be scrutinizing a very popular topical analgesic to determine if it is a good treatment option for joint pain.
Salonpas is one of the over-the-counter (OTC) pain gel used in the United States. The new Salonpas Deep Relieving Gel was only introduced earlier this year. It is designed to penetrate deep into the tissues of the body to provide relief for mild to moderate muscle and joint pain. It comes in an easy-to-use topical form providing fast relief. It is a good alternative supplement for joint pain which is fast-melting, non-greasy and quick absorbing.
How Does Salonpas Gel & Patch Work?
Salonpas gel utilizes the safe and effective combination of camphor, menthol and methyl salicylate to offer fast relief to joint and muscle pain. Transdermal creams offer a unique way of delivering active ingredients to the body offering a considerable advantage over oral medication. It delivers directly to the pain site allowing a higher concentration of the active ingredients to reach the affected tissue. This is the reason oral medication for joint pain causes a range of side effects.
Salonpas Gel works by relieving pain through two analgesic ingredients (menthol and methyl salicylate). Methyl salicylate is also classified as a non-steroidal anti-inflammatory drug[1] since it helps reduce inflammation. It also contains camphor which is a popular alternative remedy for pain. It works by stimulating nerve endings when applied directly to the skin.
Who Manufactures Salonpas Gel & Patch?
Salonpas Gel & Patch is from Hisamitsu America, which is the US division of Hisamitsu Pharmaceutical Co., Inc. The main company was founded in 1847 and introduced the Salonpas line of patches in 1934. The company has established a solid reputation for offering the Salonpas line of pain relief products currently selling in more than 50 countries.
Salonpas Gel & Patch Ingredients – Are they Safe & Effective?
Among the three key ingredients of Salonpas, Gel is camphor that is applied topically for pain relief and to reduce itching. It helps increase blood flow to reduce swelling and pain caused by irritation. It has been shown to stimulate nerve endings to relieve pain and itching when applied directly to the skin.
Menthol is another key ingredient of Salonpas Deep Relieving Gel. Recent laboratory research has shown that menthol stimulates the TRPM8 cold receptors which result in fast pain relief. It is also very safe and doesn't cause side effects aside from simple skin irritation. This is why it is one of the most popular ingredients used in topical pain relievers.
Methyl salicylate[2] is known as a counterirritant which means it causes the skin to feel cool than warm. It relieves pain in the joints and muscles by distracting the person from pains and aches deep in the joints, muscles, and tendons. This active ingredient is considered a non-steroidal anti-inflammatory drug (NSAID) which is connected to the risk of stomach bleeding. It is an NSAID because it metabolizes into salicylates in the body including salicylic acid.
There are many clinical studies proving the effectiveness of camphor, menthol and methyl salicylate in regards to providing pain relief. However, there are some safety issues connected to these key ingredients of Salonpas. For instance, methyl salicylate metabolizes into salicylic acid which is known as an NSAID.
Also, some people are highly sensitive to camphor and menthol[3]. The studies indicate that the ingredients are only very effective in cases of acute joint pain and do not provide considerable pain relieving benefits to chronic or severe joint pain.
FAQ's
How Should I Use Salonpas Deep Relieving Gel & Patch?
For adults and children 12 years of age or older, apply to the affected area a maximum of 4 times daily. For children less than 12 years of age, consult a doctor before use. The case is the same for pregnant and nursing women.
Also, if you are prone to allergic reactions from salicylates or aspirin, consult your doctor before use. Do not use on wounds or damaged skin. Read and follow the instructions carefully and avoid contact with eyes, mucous membranes or rashes. In case of skin irritation or an allergic reaction, wash with water and contact your healthcare professional.
What Conditions Does It Treat?
The website of Salonpas Gel states that it can be used for temporary relief of minor pains and aches associated with sore muscles, simple backache, muscle strains, joint discomfort, stiff neck, arthritis, sprains, and bruises. Take note that the product only offers temporary joint pain relief.
Is It Really Safe?
It is relatively safe, but some people may be hypersensitive to any of the ingredients. Individuals with medical conditions, older than 60 or have a history of gastrointestinal bleeding should consult their doctor before using Salonpas.
Has Any Research Been Done on Salonpas Gel & Patch?
Salonpas Gel and Patch are clinically proven to be effective. In fact, it is the first and only over-the-counter pain relief product approved by the FDA for temporarily relieving mild to moderate pains and aches. Other OTC products are only indicated for the minor pain.
Salonpas Gel & Patch Review – Final Verdict
Salonpas is a good product for joint pain since it is safe. It is a recommendable product for mild to moderate joint pain. However, it may not be effective for severe joint pain. Also, it only offers temporary joint pain relief. For serious joint pain or if you want permanent joint relief, it would be best to look at other products like joint pain supplements.
Bones are connected by joints, which allow us to move with ease. Joint damage can cause pain preventing you from doing the things you once loved. Many conditions lead to joint pain from aging to an untreated sports injury. A quality joint product may help repair existing tissue damage and also promote stronger joints, less susceptible to future degeneration.
Below you'll find some of the most effective joint pain supplements on the market today, in our opinion.
Our Top Joint Pain Relief Choices
FlexoPlex

Fight Joint Pain and Inflammation*
Prevent Recurring Damage*
Fight Joint Pain and Inflammation*
Prevent Recurring Damage*
Fight Joint Pain and Inflammation*
Prevent Recurring Damage*
Fight Joint Pain and Inflammation*
Prevent Recurring Damage*