In This Review
Overview of Theraworx Relief
Theraworx Relief comes in an easy-to-use, non-sticky foam that quickly relieves muscle cramps and even prevents them when used daily.
Unlike other muscle cramp remedies, Theraworx Relief fast-absorbing foam has been scientifically proven to prevent muscle cramps with daily use.
Theraworx Relief's topical formulation is locally acting, so it only affects the area where it is applied.
Of course, it is quite important to make sure that we take a closer look at the specifications of the product in order to ensure that everything is handled as per the highest industry standards.
How Does It Rate?
Overall Rating: 3.9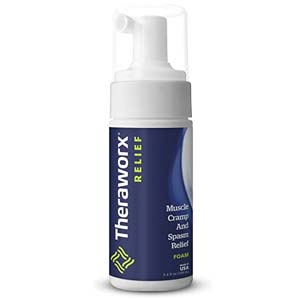 Theraworx Relief Muscle Cramp and Spasm Foam
Brand Highlights
The company is called Theraworx and they have a very comprehensive website.
Additionally, this particular product has its own website as well, diversifying the marketing channels quite a lot.
This topical solution is specifically geared towards handling cramps and spasms in your muscles.
It is also going to handle future soreness.
Key Ingredients
Aloe Vera
Research Gate
Allantoin
Vitamin E
Grapefruit Extract
Colloidal Silver
Magnesium Sulfate
Pros
May Brings serious protection against free radicals
May Relieves muscle cramps and others of the kind
May Soothes your muscles and allows higher intensity of training
Cons
There are not a lot of effective active ingredients
There is no FDA approval
---
Theraworx Relief Review – Does It Really Work?
The product has mainly positive reviews and it's safe to say that it's a working one. Whether or not there are better options, however, is an entirely different question.
Theraworx Relief Ingredients – Are they Safe & Effective?
Even though we've actually disclosed a lot of the information related to the working process, it's important to place the right emphasis. Theraworx Provide fast-acting relief of muscle cramps and spasms, as well as post-cramp soreness—most people get relief within minutes!
To do so, it takes advantage of the following ingredients:
Aloe Vera
– This is a very prominent soothing agent and according to the Research Gate, it also works as an anti-inflammatory agent [1].
Allantoin
–This is a powerful hydration agent which is going to ensure that you get the necessary skin soothing capabilities.
Vitamin E
– Vitamin E is one of the most prominent antioxidant sources for your entire body and it ought to be included in your regimen [2].
Grapefruit Extract
– This is an ingredient which is very rich in minerals, antioxidants and vitamins.
Colloidal Silver
– According to the International Journal of Nanomedicine, the product has prominent antiviral, antibacterial and other properties as well [3].
Magnesium Sulfate
– It's a great solution because it is quickly absorbed through your skin and delivers the benefits quicker.
Other Ingredients – safe, gentle ingredients—formulated for patients with all skin types—includes: Magnesium Sulfate (Magnesia sulphurica) 6X 0.05% HPUS, Aqua (Water), Cocamidopropyl Betaine, Aloe Barbadensis Leaf Juice, Colloidal Silver, Tocopheryl Acetate, Glycerin, Allantoin, Beta Glucan, Citrus Paradisi (Grapefruit) Fruit Extract, Lauryl Glucoside, Tetrasodium EDTA, PEG/PPG-4/12 Dimethicone, Methylparaben, Propylparaben, Parfum (Fragrance)
ion.
Theraworx Relief Questions and Answers
Q: How Do I Use This Product?
A: The product is topical and it should be applied to the desired area. For further and detailed information it's advisable to use the instructions of the manufacturer.
Q: When To Use Theraworx Relief?
A: Using Theraworx Relief every day is the best way to prevent muscle cramps and spasms. We suggest first thing in the morning, midday, and at bedtime.
Q: How much does Theraworx Relief costs?
A: The cost of Theraworx Relief is $19.99.
Q: What are the Precautions to Take When Using this Product?
A: There are no precautions to be worried about as the product is fairly mild on your skin.
Q: Is Theraworx effective in relieving neck spasms?
A: Using Theraworx Relief 2-3 times a day is great for preventing daytime and nighttime muscle cramps and spasms. You also want to make sure you're using Theraworx Relief before, after, and during activities that can trigger muscle cramps and spasms. It also helps reduce symptoms commonly associated with and accompanying restless legs syndrome, including muscle cramps and neck spasms.
Q: How Long Before I See Any Improvements?
A: Participants in the clinical studies noticed a significant reduction in the frequency of their leg and foot cramps within the first 2 weeks of daily use. Theraworx Relief for Muscle Cramps and Spasms also work quickly to release muscle tightness at the time of a cramp and most people get relief within minutes.
Q: Are there any Side Effects?
A: According to the manufacturer, No side effects are disclosed or reported.
Q: What are the Similar Products to Theraworx Relief?
A: Similar products to Theraworx Relief include Biofreeze, HondroCream, Aspercreme, and FLEXISEQ Gel.
Q: Where to buy this product?
A: 'Theraworx Relief' can be purchased through their Official WebSite or Its also available on Amazom and Walmart.
Theraworx Relief Review – Final Verdict
It's quite obvious that this is a topical joint pain relief product which is worth your attention. The predominant presence of excellent reviews is also something which deserves a lot of emphases. However, this is a market which is full of effective options.
We strongly believe that there are more efficient and affordable options that you could take advantage of if you are looking for the great quality to price ratio out there.
Bones are connected by joints, which allow us to move with ease. Joint damage can cause pain preventing you from doing the things you once loved. Topical joint relief products tend to work more quickly, helping to relieve pain directly in the affected area compared to products taken orally. A topical joint pain relief product should be evaluated on its: potential to block the transportation of pain signals, potential to act as a counterirritant to reduce soreness and Quality of Ingredients* backed by clinical research.
Below you'll find some of the most effective topical joint pain products on the market today, in our opinion.
Our Top Joint Pain Relief Choices
Verdict on Claimed Benefits: Below is our summary of the available evidence for the claimed benefits of below mentioned joint pain relief gels, gummies, and creams based on the available research:
Well Care Botanicals | Hemp Extract Pain Relief Cream

Remove Inflammation & Soreness*
Gold Star Evidence
Pain-Relieving Benefits*
Gold Star Evidence
Supports Cartilage and Tissue*
Gold Star Evidence
Rapid Pain Relief*
Strong Evidence
Barker Wellness | Cannabinoid-Infused Products
Nurtures Body & Mind*
Gold Star Evidence
Targets Sleep & Focus*
Strong Evidence
Wide Range of Products*
Gold Star Evidence
Natural and Organic*
Strong Evidence
Aspercreme | Best Pain Relief Cream
Non-Greasy Cream*
Gold Star Evidence
Relieves Arthritis Pain*
Strong Evidence
Supports Joint & Muscles*
Strong Evidence
Fast-Acting Formula*
Strong Evidence