In This Review
What is 5-LOX ApresFlex?
5-LOX ApresFlex is a joint health supplement formulated with 5-LOX ApresFlex as the key active ingredient.
5-LOX ApresFlex is a compound derived from the extract of Boswellia serrata, an ancient medicinal plant that has been used for hundreds of years in the treatment of various conditions such as but not limited to arthritis, asthma, headaches, and gastrointestinal disturbances.
It is known for its potent anti-inflammatory properties. Regular use of 5-LOX ApresFlex shall lead to relief of pain in the knee, joints, shoulders, and back.
How Does It Rate?
Overall Rating: 3.9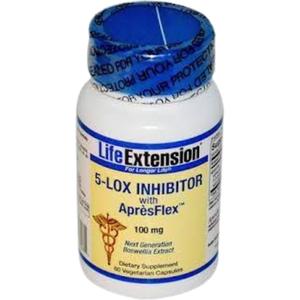 5-LOX ApresFlex
Brand Highlights
5-LOX ApresFlex is a product of Life Extension, a supplements company known for its wide variety of different health supplements for different health conditions and problems.
It is an established brand with more than 30 years of experience in the supplements industry.
The brand is committed to manufacturing products that are safe and most importantly of premium quality.
They boast of products that use clinically-proven ingredients in carefully measured doses.
Aside from 5-LOX ApresFlex, Life Extension's other feature products include Glycemic Guard, Super Bio-Curcumin, Super Omega-3, AMPK Metabolik Activator, Vitamin D3.
Key Ingredients
Boswellia Serrata
5-LOX ApresFlex
Pros
Cons
It produces results that vary among people.
It would benefit from the addition of substances and compounds with known usefulness for joint disorders (i.e. glucosamine, chondroitin sulfate, hyaluronic acid, etc.)
There are customers who claim to have experienced severe side effects after taking the product.
Some customers claim that there are cheaper yet more effective products with similar purpose.
---
How Does 5-LOX ApresFlex Work?
As the name suggests, 5-LOX ApresFlex works by inhibiting the production of 5-lipoxygenase, which is a mediator of inflammation.
5-LOX ApresFlex Ingredients – Are they Safe & Effective?
Boswellia Serrata
– Boswellia Serrata, an Indian plant whose extracts have been proven to neutralize 5-LOX, has a long history of use as a 5-LOX inhibitor. It works at a cellular level to block the undesirable effects of this enzyme. As we discussed in our Heal-n-Soothe Review, it is believed to function by inhibiting inflammatory pathways in the body. This action can contribute to reduced joint pain and improved mobility.
One study suggests that Boswellia Serrata is recommended for patients with osteoarthritis of the knee, with potential therapeutic applications in other forms of arthritis[1].
5-LOX ApresFlex
– A standardized form of Boswellia serrata extract that it more easily absorbed into the bloodstream, and hence more effective than your ordinary extract.
---
5-LOX ApresFlex Questions and Answers
Q: How Should You Take 5-LOX ApresFlex?
A: Only one capsule of 5-LOX ApresFlex is needed to per day to produce the desired benefits. Follow the capsule with a full glass of water. The supplement may be taken with or without food.
Q: How Much is 5-LOX ApresFlex?
A: In the official website, 5-LOX ApresFlex is currently sold at a discounted price of $16.50 (from the original $22). If you subscribe to a manufacturer's autoship option, you'll get it at an even lower price of $15. The product is also available through numerous authorized retailers, with price ranging from $20 to $50.
Q: What is 5-LOX ApresFlex Return Policy?
A: The manufacturer has not mentioned return policy and does not offer any money back guarantee on the product.
Q: Does 5-LOX ApresFlex Offer a Free Trial?
A: There are no free trials available on this product.
Q: What Are The Precautions When Using This Supplement?
A: If you are pregnant or lactating, have medical problems, undergoing medical treatment, and/or taking any prescription or non-prescription medications, be sure to consult your health specialist first prior to using 5-LOX ApresFlex.
5-LOX ApresFlex Review – Final Verdict
Boswellia serrata has long been used in various supplement preparations due to their proven safety and effectiveness.
5-LOX ApresFlex is just one of the many supplements that harness the power of this plant extract, and its manufacturer seems to do a pretty good job as most of their users are happy with the product.
However, we should not ignore those unfavorable reviews, especially since not everyone will experience the same effects.
If you are among the ones who failed to experience relief, there are lots of vitamins for joint pain and stiffness from different brands out there.
If you're looking for an alternative to 5-LOX ApresFlex, a few brands you may want to check out include Arthrozene. They all contain a variety of key active ingredients that helps to relieve joint pain.
'5-LOX ApresFlex' can be purchased through their Official WebSite.
Healthy joints allow us to move with ease. Joint damage can cause pain preventing you from doing the things you once loved. From aging to untreated sports injuries – many conditions lead to joint pain. A quality joint product may help reduce inflammation, repair existing tissue damage, and promote stronger joints, lessening susceptibility to future degeneration.
Below you'll find some of the most effective joint pain supplements on the market today, in our opinion.
Our Top Joint Pain Relief Choices
Verdict on Claimed Benefits: Below is our summary of the available evidence for the claimed benefits of below mentioned joint pain supplements based on the available research: