In This Review
Nano Glutathione Overview
Nano Glutathione is a very convenient natural supplement for your dietary needs which is going to deliver a range of different health benefits. The most critical advantages, though, are mainly derived from the potent properties of the introduced antioxidants. They are going to help you with your overall health and provide serious anti-inflammatory capabilities.
What is Nano Glutathione?
Nano Glutathione is a comprehensive dietary supplement which is going to help you fight off the damage done by free radicals. It is capable of helping you prevent any potentially dangerous oxidative damage to your cells and, as such, enhance your overall health.
Furthermore, the project is also of high-quality, natural, and it could potentially help you against environmental pollution, UV rays, and others of the kind.
How Does It Rate?
Overall Rating: 3.8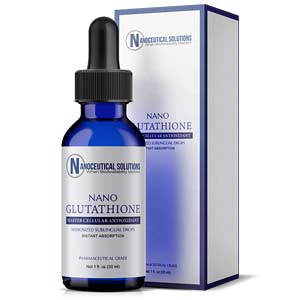 Nano Glutathione

Brand Highlights
The company which is bringing this particular product is called Nanoceutical Solutions.
This is well-known brand and it has a very well made official website where you would be able to find a lot of different options.
It claims to be using FDA-approved facilities so that every single product is manufactured as per the highest industry standards – this is something quite important.
Key Ingredients
Glutathione
Almond Oil
Orange Oil
Silica Gel
Stevia
Pros
It provides protection against environmental factors
It helps you prevent hepatic, renal, and cardiovascular disorders
It provides you with protection against free radicals
It helps you with the supplement absorption
It's very easy to use
Cons
Orange oil is known for being able to cause stomach irritations
The price is a bit steep
---
Nano Glutathione – FAQ's
How Should I take Nano Glutathione?
A:The best thing that you should do is to follow the instructions which are set forth by the company which is responsible for the manufacturing of the product. This is the only way of guaranteeing its efficacy.
What are the Precautions When Using This Supplement?
A:There are no serious precautions. It is important to be in proper health condition – that's pretty much everything you ought to consider.
How Long Before I See Any Improvements?
A:The benefits are designated to come gradually in time as you keep using the product regularly – this should be considered.
Does it Interact With other Medications?
A:No, the product does not interact with any other medications but it's not advisable to mix them up.
How much is Nano Glutathione?
A:The price on Amazon is set to $62.95.
Nano Glutathione Review – Does it have any Side Effects?
The product doesn't seem to contain any dangerous ingredients which is something quite convenient. As such, it is not expected to bring any serious side effects.
Nano Glutathione Review – Final Verdict
The truth is that Nano Glutathione seems like a reliable product with a lot to offer. You can always take advantage of a natural source of prominent antioxidants. This is going to provide overall health benefits.
The best thing about it is that its claims of effectiveness are backed by clinical studies. Overall, it is a good choice but as always, there are lots of other options that you can choose from.
Where To Find It?
For more details, please click here
The most effective health supplements that are currently present on the market can be found below. We have taken our time and rated these products in accordance to these five essential factors: quality of active ingredients, energy boosting, hormone balance restoration, cognitive function improvement and immune system strengthening.
Our Top Health Supplements Choices
Verdict on Claimed Benefits: Below is our summary of the available evidence for the claimed benefits of below mentioned health supplements and probiotic supplements based on the available research: