In This Review
What is Activated You?
ActivatedYou is a brand of organic dietary supplements which aim to support overall health, wellness, and immunity by combining new and well-researched ingredients. The products provide energy, support to the digestive and adrenal systems, improve mood, and decrease stress and anxiety. Their special way of promoting health and wellness is thought to support the body and help people achieve their health goals.
Activated You began with Maggie Q and Dr. Frank Lipman as its co-founders. Maggie Q faced injuries and gut health problems, which made her realize that she needed a change. After the consultation with a doctor, she found that she had gut issues and this discovery led to her partnership with Dr. Lipman, and together they established Activated You. In this article, we will provide an honest review of the top supplements formed by Activated You, how it works, consumer reviews, ingredients, and their research backing and other details.
How Does It Rate?
Overall Rating: 4.8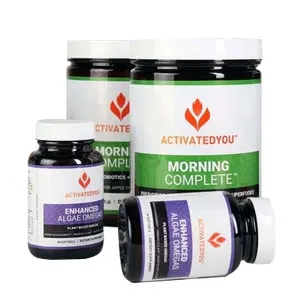 ActivatedYou Supplements
Brand Highlights
The company is dedicated to promoting environmental sustainability.
First-time buyers can enjoy an initial discount of 10-15% on the Advanced Restorative Probiotic.
All orders within the United States over $50 qualify for free shipping.
Exclusive offers are available for VIP customers.
The formulas are backed by scientific research.
Key Ingredients
Turmeric Extract
L-Glutamine
Astralagus Root Extract
Pros
ActivatedYou may support overall health and wellness.
They are completely organic, plant-based formulas.
ActivatedYou could help you fight fatigue.
No Artificial Sweetening agents.
Some supplements support overall digestive health.
Cons
Some supplements include potential allergens like rice bran.
The products often go out of stock on the official website.
---
Which Are The Best Selling ActivatedYou Products?
Regulates Digestion
Key Ingredients:
Green Superfoods Blend, Metabolic Blend, Cellular Function, Liver Support Blend, Prebiotic Fiber Blend, Adaptogen Blend, Antioxidant Blend, Probiotic Blend.
What It Does:
Supports gut health by providing probiotics and prebiotics.
---
Nourish Your Skin
Key Ingredients:
Dermaval, Triple Amino Acid Complex, Vitamin C, Cosmythic.
What It Does:
Designed to support healthy collagen production and improve skin texture and appearance.
---

Support total-body wellness from the inside out.
Key Ingredients:
Acacia Fiber, Flaxseed, Oat Bran.
What It Does:
This is a prebiotic blend which feeds your good gut bacteria to support digestive health. It can improve your mood, give you extra energy, and raise immunity.
---

With CA Technology
Key Ingredients:
Beneficial bacteria, Microcrystalline Cellulose.
What It Does:
It improves intestinal health with the help of billions of healthy bacteria that colonize the gut and enhance overall wellness.
---

Premium Digestive Support Formula
Key Ingredients:
Amylase, Phytase, Lipase and Rice Bran.
What It Does:
Promote healthy digestion and gut health by providing a powerful blend of digestive enzymes.
---

For Calmness and Relaxation
Key Ingredients:
Taurine, Ashwagandha, Shizandra, Siberian Ginseng.
What It Does:
Support healthy adrenal gland function, promote relaxation, and reduce stress and anxiety levels .
---
Digestive health drink
Key Ingredients:
Prune Fruit, Licorice Root, Citrus Pectin.
What It Does:
Designed to help optimize gut health and improve nutrient absorption. Its ingredients include a blend of prebiotics, probiotics, and postbiotics that work together to balance the gut microbiome, reduce inflammation, and provide digestive support.
---
Improves digestion levels
Key Ingredients:
Glycine and L-Proline, Eldermune, PhytoServ Fruit Blend, Vegan Essential Amino Acid Blend, Plant-Based D3
What It Does:
ActivatedYou Vital Amino Essentials is marketed as a convenient and natural way to support optimal health , particularly for individuals who may not be obtaining sufficient amounts of essential amino acids from their diet alone.
---
How Does ActivatedYou Work?
These supplements are full of vitamins and minerals which help resolve any deficiencies. In addition, they contain a lot of antioxidants which kill damaging free radicals in your system and raise oxidative stress. All of this gives your immune system a big boost.
The products contain a lot of leafy greens, which can provide you with extra energy and help enhance cellular function. In addition, there's a small amount of caffeine in green tea, which could give you a lift. An article in the Journal of Science and Metabolism reviewed the science behind eating color-based foods[1].
There are several metabolic-boosting ingredients in some supplements, including green tea. This may help you lose weight by inducing fat burning. In addition, fiber fills your gut and helps control your appetite so you eat less. According to the Harvard T.H Chan School of Public Health, fiber is a carbohydrate that your body can't digest[2].
Probiotics are good bacteria in your gut, and prebiotics is the fiber that feeds these bacteria in the digestive system.
In addition, It helps to maintain a healthy digestive system that facilitates smoother bowel movements with the help of digestive enzymes.
Expert Take on Activated You Ingredients
Nutritionist Jane Smith, RD: The antioxidant properties of turmeric extract can help protect our cells from oxidative damage caused by free radicals. Including turmeric extract in the diet may support overall health and potentially reduce the risk of certain conditions.
Dr. Jessica Ramirez, MD, Nutrition Specialist: L-Glutamine is an essential amino acid that plays a vital role in maintaining gut health. It supports the integrity of the intestinal lining, aids in the repair of damaged tissues, and promotes proper digestion. Incorporating L-Glutamine into your diet or as a supplement can help improve gut function and overall health.
Dr. Michael Lee, RD, Registered Dietitian: Astralagus root extract contains various nutrients, including essential minerals and trace elements, which can contribute to overall nutritional support. It may complement a balanced diet and lifestyle by providing additional nourishment and supporting optimal health.
ActivatedYou Ingredients – Are They Safe and Effective?
Here are some of the active ActivatedYou ingredients:
Turmeric Extract

– This is a plant often used as a spice in cooking, and it has potent medicinal properties. The antioxidant properties of turmeric extract can help protect our cells from oxidative damage caused by free radicals. Including turmeric extract in the diet may support overall health and potentially reduce the risk of certain conditions says Nutritionist Jane Smith, RD.

It's rich in antioxidants called curcuminoids, and the most powerful is curcumin. They kill free radicals, lower oxidative stress, and boost the immune system. A review in the Journal of Clinical Immunology found that curcumin strengthens immunity[3].

L-Glutamine

– This is an amino acid which is responsible for synthesising proteins. It's produced in the body, and also exists in certain foods. It increases levels of the neurotransmitter GABA, which can reduce feelings of stress and anxiety. In addition, it supports brain health. A review in Frontiers in Psychiatry looked at the role of glutamate systems in anxiety disorders[4].

Astralagus Root Extract

– This is a plant which is an adaptogen, which means it's an organic ingredient which can help release physical and mental stress. Astralagus root extract contains various nutrients, including essential minerals and trace elements, which can contribute to overall nutritional support. It may complement a balanced diet and lifestyle by providing additional nourishment and supporting optimal health says Dr. Michael Lee, RD, Registered Dietitian.

Astralagus is an antioxidant which can protect the body from oxidative stress and raise immunity. This ingredient is also said to support the health of the brain, heart, lungs, kidney, intestines, and liver, according to a review in Current Drug Targets[5].
Prebiotics
This blend is essential for keeping your gut microorganisms healthy. Prebiotics help to maintain the right balance of bacteria present in your digestive system that not only smoothens bowel movements but also improves overall wellness. A research study published in the Frontiers in Nutrition suggested that
probiotics serve a medical role in preventing or managing infections related to the intestines, respiratory system, and urogenital area. They can also help with allergies, inflammatory bowel issues, irritable bowel syndrome, and other health concerns[6].
Green superfoods
It contains a blend of very healthy vegetables like spinach and kale. It's designed to give you more nutrients and help you feel better overall. In an article published by Nebraska Medicine, it was found that green powders have some fiber, but it's usually not as much as the 25-38 grams that adults should have ideally every day
Vitamin D
Vitamin D3 is essential for keeping your bones strong. It also helps with energy, mood, and your immune system. A research study led by Dr. Akash Sinha at Newcastle University discovered that people with very low vitamin D levels got better muscle efficiency when their vitamin D levels were raised[7].
---
ActivatedYou FAQ's
Q: How Should You Take ActivatedYou?
A: There are products which are capsule supplements, and others. which are in the form of a powdered drink. Each product has different instructions, provided very clearly on the label. Read the directions carefully before using each item.
Q: How Much Does ActivatedYou Cost?
A: You can buy the ActivatedYou products on the manufacturer's official website, ActivatedYou Amazon, and from a small handful of other online retailers. The products go out of stock quickly on the official site, so not all of the prices are available. Here are the listings for the supplements that are available right now:
Morning Complete: $79 for 1 jar; $213 for 3 jars; $403 for 6 jars
Advanced Restorative Probiotic: $69.99 for 1 bottle; $188.97 for 3 bottles; $356.95 for 6 bottles
Active Enzyme: $64.95 for 1 bottle; $175.36 for 3 bottles; $331.25 for 6 bottles
GI Prime: $59.95 for 1 bottle; $161.86 for 3 bottles; $305.75 for 6 bottles
Mito Vitality: $79.99 for 1 bottle, $213.97 for 3 bottles; $402.75 for 6 bottles
Vito Amino Essentials: $65.95 for 1 bottle; $176.85 for 3 bottles; $335.70 for 6 bottles
Gut Balance: $49.95 for 1 bottle; $134.85 for 3 bottles; $251.70 for 6 bottles
Essential Skin Food: $69.95 for 1 bottle; $191.85 for 3 bottles; $365.70 for 6 bottles
Q: What is ActivatedYou's Return Policy?
A: ActivatedYou is offering a 90-day money-back guarantee for all of their products. If you want a refund, phone the customer service department and let them know. They promise to give you your refund easily and with no hassles, but they will deduct the shipping fees.
Q: Does ActivatedYou Offer a Free Trial?
A: No, there is no free trial for ActivatedYou. You buy the products through a one-time purchase on the official site, and there's no auto-shipment or ActivatedYou subscription service.
Q: Is Activated You Legit?
A: There's no doubt that ActivatedYou is a legitimate company that develops high-quality dietary supplements to support overall health. An expert physician develops these formulas and ensures their quality. This is a respected company which is very successful in the market.
Q: How Long Does it Take for ActivatedYou to Work?
A: There are several different formulas, and they may begin to work at different speeds. The manufacturer doesn't provide this information on the website specifically. However, for most of these products, you should begin to feel the effects within a few days and they should get more pronounced over time.
Q: Does Activated You Really Work?
A: The ActivatedYou product line contains supplements packed with vitamins, minerals, enzymes, antioxidants, and other healthy substances which replenish the body and mind and support overall immunity.
Q: Does Morning Complete make you lose weight?
A: While Morning Complete may assist with weight loss through its fiber content, improved digestion, and overall health benefits, it's important to remember that everyone's experience can differ. It's not a standalone solution for weight loss, so it's best to consult a healthcare professional for personalized advice that suits your specific needs and goals.
What Do the ActivatedYou Reviews Say?
The majority of Activated You reviews are positive, with feedback available on Amazon and Walmart. Users have also shared their Activated You real reviews on popular forum sites such as Reddit and Quora. Overall, Activated You has received a positive response from users. On Amazon, ActivatedYou Morning Complete has a rating of 3.8 out of 5. But for safety purposes, It is recommended to buy it from the official website.
ActivatedYou supplements have improved my digestion and energy. At 2 weeks, I really started to see results with reduced bloating and sluggish digestion. It's working great! I've even started my 20 & 15-year-old daughters on it and they love it as well. ~ by Bridget Brown
I've had IBSD issues since my 20's, I'll be 60 this year, I've been using Activated You for two months now and I have noticed an improvement. I have had more control of my IBSD issues and have been more regular without as much GI upset. I don't feel as bloated and I have more energy. I recommend giving it a try! ~ by Cathy Weber
My experience with ActivatedYou has been all positive. I sleep better in addition to being more alert during the day. The best surprise came when my arthritic knee and lower back both seemed to loosen up and I'm not so stiff when I get up after sleeping or sitting for longer than an hour. I had no other change in my routine to explain that. I'm very happy with the product. ~ Rosann Johnson
Mito Vitality has increased my energy greatly. No more yawning mid-morning. I pair it with my Morning Complete and it helps with cravings and calorie control. ~ Melody
I took Plexus supplements to help me lose weight and get my gut microbiota back in line but it took over 3 months to START working. And it was too expensive to keep up! BUT Morning Complete worked within the first 24 hours and I've lost 5 pounds already, my moods have leveled out and overall it's easier to wake up in the morning (not feel tired or groggy). I just started the Activated You product called Slim + Balance which helps to regulate Thyroid and I'm beginning to lose even more weight! I just began that this week! I knew I had low functioning Thyroid and all sorts of hormone imbalances, so between the two products from ActivatedYou, my health is changing drastically QUICKLY! I will forever have these in my home, because they WORK! Thank you Maggie Q for this amazing company that does things NATURALLY! ~ Brittany
We came across an YouTube channel called Leslie Portugal, where she provided unsponsored and genuine reviews of ActivatedYou products. With 4.27K subscribers and 174K views on her videos, she shared her six-month journey of using Activated You.
ActivatedYou Review – Conclusion
ActivatedYou is a line of healthy organic supplements which support overall wellness and strengthen the immune system. There are products that help digestive and adrenal functioning and skin health. They promise to provide an abundance of energy. These are costly supplements in the market.
The vast majority of the ActivatedYou reviews were very positive. Users said the supplements improved their energy, health, and wellness and eased digestive issues. However, some users experienced mild side effects and others said they didn't like the taste of some of the powdered drinks.
There are some mild side effects associated with some of the ActivatedYou ingredients in these supplements. If you experience any discomfort or unpleasant symptoms, stop taking the product immediately. Before you begin taking a new supplement, see your doctor and get medical approval.