In This Article
What is Tummy Tuck Belt?
The Tummy Tuck Belt is part of the Tummy Tuck Miracle Slimming System and is an at-home ten-minute method to burn fat and look slimmer, manufactured by Savvier.
Though diet and exercise help speed the process, the Tummy Tuck Belt claims to give you results even without them.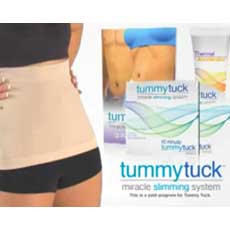 The Tummy Tuck Belt is made of a soft and flexible material that goes around your midsection.
You can purchase the belt along with the Tummy Tuck Slimming System, which includes the belt, a 30 day supply of the Thermal Accelerator cream, an instructional video and a "You Choose How to Use It" guide for two payments of $19.99 plus shipping from the manufacturer.
It can also be purchased through other retailers, but not always in the full package.
The company provides a satisfaction guarantee that allows you to return the product for a refund within 30 days of purchasing.
How Does Tummy Tuck Belt Work?
Essentially, the belt heats up your midsection by a few degrees to burn off fat.
However, Tummy Tuck can work in a few different ways. You can simply wear it as a device to pull your stomach in for a slimming look under your clothes, or you can do the 10 Minute Tummy Tuck System that uses the Thermal Accelerator cream underneath the belt to set off a fat-burning chain reaction that keeps working even after you take it off.
Simply apply the cream to your midsection, do two minutes of standing abdominal Tummy Tighteners, and then wear for another eight minutes.
You can also add the 10 Minute System to diet and exercise to burn fat twice as fast.
You do not need to be wearing the belt when you exercise, as the chain reaction set off by the 10 Minute System is meant to work for over three hours after removing the belt.
Tummy Tuck Belt Feature List
Spandex: synthetic elastic fiber
Nylon: synthetic material
What are the Advantages of Tummy Tuck Belt?
You don't have to diet or exercise.
If you do diet and exercise, you will see faster results.
You can wear the belt under your clothes without the cream as a simple slimming device.
It only takes ten minutes.
What are the Disadvantages of Tummy Tuck Belt?
Individuals result may vary.
It targets your belly without added exercise and diet, not other body areas or weight loss[1].
Tummy Tuck Belt Questions and Answers
Q: Are there different sizes?
A: Yes. Tummy Tuck Belt comes in three sizes. You can determine your size based on your shirt, pant or dress size.
Q: How much does Tummy Tuck Belt cost?
A: Every size belt is of $39.98 or 2 payments of $19.99 with shipping charges.
Q: Where to buy Tummy Tuck Belt?
A: The product can be purchased through its official website, Amazon and other online retailers.
Q: Can I use the cream on other body parts?
A: No. The cream is meant for your midsection only.
Q: What are the Tummy Tighteners?
A: They are an exercise designed specifically for the belt and can be found in the instructional guide that comes with the system.
Q: What are the Important Features?
A: Without a lifestyle change of diet and exercise, you should see results in 30 days. If you add diet and exercise you will see results approximately two times faster.
The Thermal Accelerator cream that comes with the Tummy Tuck System is only a 30 day supply, so if you want more, later on, you must purchase it separately.
Q: How To Use Tummy Tuck Belt?
A: Use the 10 Minute Tummy Tuck System twice a day.
Q: Can I just order the cream accelerator?
A: No, you cannot order the cream accelerator. However, The Tummy Tuck Belt slimming garment and thermal accelerator cream can be purchased directly from the manufacturer. The prices listed on the website are: Every size belt is $39.98 or 2 payments of $19.99 PLUS $9.83 standard shipping/handling. Each belt ordered comes with a 30 day supply of cream.
Tummy Tuck Belt Review – Final Verdict
Tummy Tuck Belt and the adjoining Slimming System have an official website that provides images from the results of product tests conducted at two medical universities.
The tests show that the system heats your midsection for three hours after removing the belt, burning fat, and shows ultrasound images of reduced belly fat thickness after using the system consistently.
Though you can buy the Tummy Tuck Belt from other retailers, the best way to get the full system is directly through the manufacturer, which provides a 30-day money back guarantee.
There are many stomach-slimming products available on the market, so please consider all options before purchasing.
Tummy Tuck Belt can be purchased through their Official Website.
A topical fat burner may be the missing piece in your overall fitness regimen. Topical fat burners can enhance the appearance of your abs. In addition to an intense fitness regimen and a healthy diet, cutting gels can help reduce the appearance of unsightly surface fat revealing a trim, fit, and sculpted physique.
Below you'll find some of the most effective topical fat burning products on the market today, in our opinion.
Our Top Fat Burners Choices
PrimeGENIX CalmLean

Help Spot Treat Stubborn Fat Pockets*
Keep Skin Hydrated and Healthy*
Reduce Fat Without Risks*
Help Spot Treat Stubborn Fat Pockets*
Keep Skin Hydrated and Healthy*
Reduce Fat Without Risks*