In This Review
What Is Vibro Shape?
Vibro Shape is a fat loss device designed just like a belt. It uses vibration to work out the abdominal muscles.
It can also be used to tone other parts of the body like the arms, buttocks, and thighs. The product claims to stimulate the muscles and help with fat loss and muscle strengthening.
There are several types of Vibro Shape already but for this article, we will be scrutinizing the basic type which is priced around $52.99 to $99 depending on the retailer.
Who Is The Manufacturer of Vibro Shape?
The product is from Vibro Shape Belt Co. which is based in Qingdao, Shandong in China. They also offer a range of massage devices, exercise machines, and supplements.
The company still has not established a reputation in the fitness and weight loss industry.
What Does Vibro Shape Claim to Do?
Vibro Shape is designed to be the solution for people who don't have the time to exercise.
It is said to offer results in just 10 to 15 minutes of users claiming to deliver the benefits a person would get from exercising 30 or more minutes.
It claims to contract target muscles up to 50 times per second promoting calorie burning, muscle toning, and cellulite elimination.
Advertisement
*All individuals are unique. Your results can and will vary.
There are several vibration settings for different purposes depending on the goals of the user and the target area. The product is popular for the abdominal area which is one of the top problem areas in both men and women.
How Does Vibro Shape Work for Weight Loss?
It essentially contracts target muscles which help burn calories. The product is also said to stimulate muscles which may increase lean muscle mass. The more muscle a person has, the more calories he/she will be burning daily even without activity.
Thus, Vibro Shape may help users with weight loss. Of course, it is still very important to keep an eye on caloric intake.
Otherwise, even hours of exercise or burning hundreds of calories won't make much difference in terms of weight loss.
Just make sure the vibrations are targeted on the muscles you want to work out.
---
What Are the Advantages of Vibro Shape?
It is easy to use

.
The product can be

easily ordered online

.
It can be used to target different parts of the body.
There are

some good reviews from people who have tried it

.

Different types are available depending on the user's needs or preferences

.
What Are the Disadvantages of Vibro Shape?
There is no scientific evidence that Vibro Shape is effective

You still need to reduce caloric intake to see results.
There is

no money back guarantee offered with the product

.

There are very little customer reviews available and most do not appear to be genuine

.
---
You May Also Want To Read – The Flex Belt Reviews
Vibro Shape Side Effects
There is a possibility that the device will cause skin irritation in certain users especially those who have very sensitive skin.
What Kind of Reviews are Out there for Vibro Shape?
The Vibro Shape Belt looked good on the picture on the box, which was the only nice thing about it.
Once it was opened, the seams all the way around the case that was holding the item were coming apart and the items inside looked used I was very disappointed but could not afford to send it back so it is still sitting here getting no use.
– Onfire
All I can say is that I love it. I was skeptical because I heard that belts like this don't work. After reading the reviews, I decided to give it a try. I'm so glad I did.
I noticed the difference from the first time I used it. In addition to toning muscles, it gives an intense massage that I so need. I'm very happy with my purchase.
Advertisement
*All individuals are unique. Your results can and will vary.
– Boone S
Alternatives to Vibro Shape
Vibro Shape – FAQs
Q: Where can you buy Vibro Shape?
A: Vibro Shape can be purchased using their Official Site and E-commerce websites like Amazon and Alibaba.
Q: What is the price of Vibro Shape?
A: Vibro Shape can be purchased at $52.99.
Q: How to use Vibro Shape?
A: Just wear Vibro Shape on your target area. For the abdominal area, wear it tightly in the midsection just like a belt. It can also be worn on the thighs, arms, buttocks, and almost any part of the body.
Q: Is Vibro Shape belt effective?
A: Vibro Shape belt proves to be effective and there are more positive reviews than negative one.
Q: Are there any Vibro Shape side effects?
A: Vibro Shape is based on the mechanism of vibration which can cause skin irritation and itching.
Q: What is the return policy of Vibro Shape?
A: Yes, but you have to contact customer service for a refund.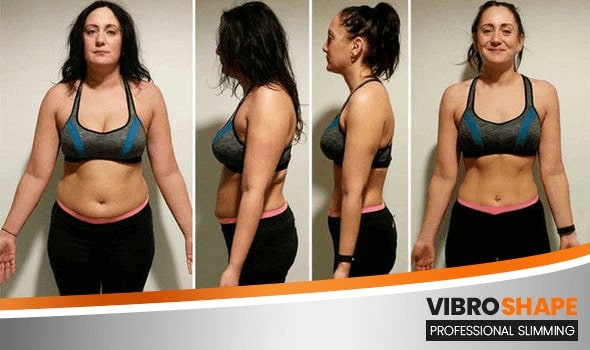 Vibro Shape Reviews – Final Verdict
After carefully scrutinizing Vibro Shape, it is a promising exercise device that may offer a few benefits to users. However, it is not a total solution to fat loss unlike as advertised.
Take note that you still need to reduce your food intake if you want to lose weight. Also, this product is not scientifically proven to be effective when it comes to weight loss and muscle toning.
It is still worth trying as there are users who attested that this product worked wonders for them.
Below you'll find some of the most effective weight loss supplements on the market today, in our opinion.
Our Top Rated Weight Loss Supplement
Verdict on Claimed Benefits: Below is our summary of the available evidence for the claimed benefits of below mentioned diet pills and weight loss supplements based on the available research: