In This Review
Vision Rx20 Overview
Vision Rx20 is a supplement that contains carotenoids, essential fatty acids, vitamins, and minerals. With the combination of these natural ingredients, Vision Rx20 claims to improve your vision. Life Sprout, the company which manufacturers this pill suggests that taking this supplement can prevent degeneration, eye ageing, and regenerate crucial vision cells.
With this said, the company claims that you will experience improvements in your vision in only three days. Along with this, the company explains that this supplement protects, renews, and restore your eyes. While the FDA doesn't offer evidence to back these claims up, you may want to try out Vision Rx20 as health support.
How Does It Rate?
Overall Rating: 3.6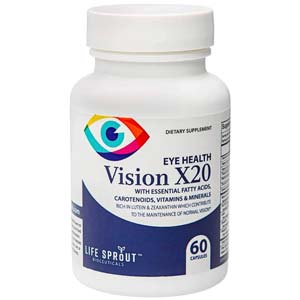 Vision Rx20
Brand Highlights
Life Sprout Bioceuticals is the maker behind Vision Rx20.
It is a company that utilizes scientists and health experts to source the most effective, natural, and safest ingredients for products.
Furthermore, the supplements offered by this company are organic, non-GMO, not tested on animals, and are backed by extensive research.
Along with the quality ingredients, the Life Sprout site is well-establish and provides a ton of information.
Key Ingredients
Beta-Carotene
Zinc
Vitamin C
Lutein
Pros
Cataracts, which can occur from the natural aging process, can be combatted with the use of the Vision Rx20 supplement.
The manufacturer of Vision Rx20 expresses that this supplement is able to support your overall eye health.
Vision Rx20 helps to boost and enhance a person's eyesight in dimly lit areas, rooms, and environments.
The manufacturer's site explains that your vision will improve with the continued use of this product.
The maker of Vision Rx20 expresses that this product is a preventative measure from AMD with continued use.
Cons
The product has a few reviews saying it didn't perform as promised.
Some of the claims might be a little overpromised.
---
How Does Vision Rx20 work?
This product works in a safe, reliable way. It contains high-quality ingredients that can help to reduce the devastating effects of cataracts. Its natural ingredients may prevent the development of AMD if used for an extended time (and as explained by the manufacturer).
These positive effects are of crucial importance for many people. Along with the prevention of eye deterioration, the supplement works to support your overall vision and eye health.
The manufacturer takes great pride in providing customers with quality ingredients, and each one has a specific purpose to improve your eyes. With the use of ingredients such as carotenoids, fatty acids, minerals, and vitamins, the manufacturer explains that a person's eye's improves from the inside out.
Vision Rx20 Ingredients – Are they Safe & Effective?
The main components of VisionRx20 includes fatty acids, carotenoids, minerals, and vitamins. Vision Rx20's actual ingredients include Beta-Carotene, Bilberry, Acerola, Zeaxanthin, Magnesium, and Zinc. Below are some ingredients further explained:
Beta-Carotene
– The antioxidants in this ingredient are known to help eyesight and vision health. [1]
Zinc
– This ingredient is known to improve eye health because it has many enzymes that provide better metabolism for the eye, according to ncbi. This ingredient is also known to be important for the eye's retina. [2]
Vitamin C
– According to the National Institutes of Health, This ingredient is a naturally occurring antioxidant that is found in found in foods like vegetable and various fruits. Evidence suggests that vitamin C can lower the risk of cataract development. [3].
Lutein
– Studies have shown that lutein can reduce retinal damage caused by oxidation. [4]
Alternatives to Vision Rx20
Vision Rx20 FAQ's
Q: How Should You Use Vision Rx20?
A: The manufacturer suggests consumers take two capsules in the morning with a glass of water. The company warns against children and pregnant individuals taking the products.
Q: How Much Does Vision Rx20 Cost?
A: The cost of Vision Rx20 varies. If ordered directly from the Official WebSite, the cost is $19.95 for a bottle of 60 capsules. For a strong course of 120 capsules in a bottle, the cost is $64.95. For an extra strong course that includes two bottles with 120 capsules each, the cost is $94.95, and for an intensive course of three bottles with 120 capsules each, the cost is $124.95.
Q: What is Vision Rx20's Return Policy?
A: The manufacturer offers a generous and confident return policy. There is a 100% money back guarantee within 90 days of purchase. If you are unsatisfied with the product, you can return both opened and unopened bottles for a full money back refund.
Q: Does Vision Rx20 Offer a Free Trial?
A: This manufacturer does not offer customers a free trial. However, there are various bottle sizes and options you can choose from to suit specific and particular needs.
Vision Rx20 Reviews – Final Verdict
This isn't surprising since the manufacturer takes great care in producing a high-quality product with natural ingredients.
Vision Rx20 offers consumers a product that is gluten free. The lab that created this product is GMD and FDA certified. Not to mention, the company provides a 100% money-back guarantee within 90 days of the purchase. This guarantee offers a confident approach to the product.
While there are many vision improvement products on the market, this product comes from a secure guarantee with high-quality ingredients.
As we age, our eyes can begin to deteriorate, and we may no longer see as clearly anymore. However, with this product's promises of improving overall eye health, it is a viable solution. If you are looking for a supplement that is all-natural, quality produced, and comes in various strengths, it's a good option.
Below you'll find some of the most effective eye health supplements formulations on the market today, in our opinion.
Our Top Eye Health Supplements Choices
Lutenol Vision Support -
5% OFF Today

Ultimate Support of Eye Health
Reduces Adverse AMD Effect
Ultimate Support of Eye Health
Reduces Adverse AMD Effect
Product reviews are provided for informational purposes only and reflect solely the views and opinions expressed by the contributors and not those of Consumer Health Digest. We do not verify or endorse any claims made in these reviews. Please read the full product reviews disclaimer. *All individuals are unique. Your results can and will vary.
Ask a Question
Have a Question? Please Tell Us What We Are Missing Here!
PRODUCT NAME
Vision Rx20
PRODUCT BRAND
Life Sprout Bioceuticals
PRICE (in USD)
$19.95
ITEM FORM
Capsule
UNIT COUNT
60 Capsules
INGREDIENTS
Beta-Carotene, Zinc, Vitamin C, and Lutein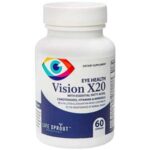 $19.95 At Amazon
Walmart
4 Sources
We review published medical research in respected scientific journals to arrive at our conclusions about a product or health topic. This ensures the highest standard of scientific accuracy.
[1] A Mechanistic Review of ?-Carotene, Lutein, and Zeaxanthin in Eye Health and Disease :
https://doi.org/10.3390/antiox9111046
[2] Rasmussen HM, Johnson EJ. Nutrients for the aging eye. Clin Interv Aging. 2013;8:741-748. doi:10.2147/CIA.S45399
[3] Vitamin C Fact Sheet for Health Professionals:
https://ods.od.nih.gov/factsheets/VitaminC-HealthProfessional/
[4] Buscemi S, Corleo D, Di Pace F, Petroni ML, Satriano A, Marchesini G. The Effect of Lutein on Eye and Extra-Eye Health. Nutrients. 2018;10(9):1321. Published 2018 Sep 18. doi:10.3390/nu10091321
**This is a subjective assessment based on the strength of the available informations and our estimation of efficacy.
*Result may vary. The information contained in this website is provided for general informational purpose. No medical claims are implied in this content, and the information herein is not intended to be used for self diagnosis or self treatment of any condition.
*Disclosure of Material connection: Some of the links in the post above are "associate sales links." This means if you can click on the link and purchase an item, we will receive a commission. Regardless, we only recommend products or services which we use personally and/or believe will add value to our readers. We are disclosing this in accordance with the Federal Trade Commission's 16 CFR, Part 255: "Guides Concerning the Use of Endorsements and Testimonials."