In This Review
PreserVision AREDS2 Formula Overview
PreserVision AREDS2 is an eye supplement that might help improve the strength of the eye. It might be very useful in correcting moderate to advanced age-related macular degeneration (AMD).
The supplement is composed of different vitamins and minerals that might help in correcting the deficiency of lutein and zeaxanthin in the body.
The supplement also contains some compounds that might help ensure that eye care is improved, which might lead to a healthier eye.
How Does It Rate?
Overall Rating: 3.5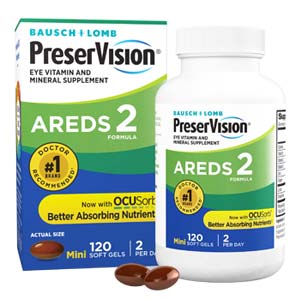 PreserVision AREDS 2 Formula
Brand Highlights
The manufacturer of this supplement is Bausch + Lomb.
This Canadian-based company is a reputable company that is solely dedicated to protecting and enhancing the gift of sight for its customers.
The manufacturer claims that this supplement might help reverse the effect of AMD and other age-related macular degeneration.
Asides from that, it might also help in providing the body with minerals, vitamins, and other essential nutrients that might help improve the general health of the eye.
Key Ingredients
Lutein
Zeaxanthin
Zinc
Copper
Vitamin C
Vitamin E
Pros
It might help provide some multivitamins and minerals that could be useful in maintaining the function of the eye.
The absence of beta-carotene means that the supplement is safe for smokers and those that used to smoke.
It could help to reverse or reduce the occurrence of macular degeneration and other age-related eye deficiencies.
It might also help in boosting the general health of the eye and treat other eye problems like poor night vision and cataract.
Cons
The ingredient list for this supplement is small and it might not achieve all the benefits it claims to offer.
Some customers develop allergic reactions.
The supplement is hard to swallow and tastes very bad.
---
How Does PreserVision AREDS2 Formula Work?
The supplement contains multivitamins and minerals that might help replenish the depleted levels of Lutein and zeaxanthin in the body.
High levels of Lutein and Zeaxanthin in the body play crucial roles in strengthening the eye and eliminate the chances of weak eyes.
The nutrients supplied in this supplement might help reduce the risk of progression in people who suffer from moderate to advanced AMD.
This supplement might also help in boosting and maintaining the general health of the eyes by increasing the macular pigment density in the eye.
PreserVision AREDS2 Formula Ingredients – Are they Safe & Effective?
The multivitamins and minerals present in this supplement are designed to mainly replenish the Lutein and Zeaxanthin levels in the body.
Lutein
According to study, This eye compound might help in reducing the risk of light-induced oxidative damage which could lead to macular degeneration in the eye. It achieves this by blocking the macula block blue light and stop it from reaching the retina. [1].
Zeaxanthin
Just like Lutein, this ingredient might be crucial in preventing macular degeneration. It might also help reduce the risk of progression of the disease in the eyes.
Zinc
Also known as helper molecule, this ingredient might be important in helping transport vitamin A from the liver to the retina. This helps in the production of melanin which is a protective pigment in the eyes.
It might also help combat other eye deficiencies including poor night vision and cloudy cataracts.
Copper
This ingredient might help control the oxygen levels in the eye tissue, and this might help boost the general health of the eye.
As documented in our IGenics Reviews article, features this ingredient in which we provided detailed information and analysis.
Vitamin C
Vitamin C may be required by the nerve cells in the eye in order to function properly.
It is also a powerful antioxidant that might help maintain connective tissue such as collagen found in the cornea of the eye. [2].
Vitamin E
Also an antioxidant, this nutrient might play an important role in protecting certain parts of the eye that are prone to oxidative damage.
PreserVision AREDS2 Formula FAQ's
Q: How Should You take PreserVision AREDS2 Formula?
A: This supplement should be taken according to the direction of the manufacturer. It is recommended to take two pills per day, one in the morning and another one in the evening and it should be taken with food.
Q: Do this medicine help with the Cornea?
A: Results showed that the AREDS2 combination reduced the risk of disease progression by as much as 19 percent and/or of vision loss by 25 percent. In patients with early (Category Two) AMD, the supplements did not slow the disease's progression to intermediate AMD.
Q: How Much Does PreserVision AREDS2 Formula Cost?
A: This supplement is sold for $29.99 on most retailer sites.
Q: PreserVision AREDS2 Formula's Return Policy?
A: There is no return policy for this supplement.
Q: Does PreserVision AREDS2 Formula Offer a Free Trial?
A: The manufacturer does not offer a free trial for this supplement.
PreserVision AREDS2 Formula Reviews – Final Verdict
PreserVision AREDS2 Formula is an eye supplement that might help correct some eye deficiencies that are caused by age. The supplement might also help in providing the eyes with some nutrients while it is also good for smokers.
However, customers have complained of various allergic reactions to this. The amount of zinc inside is high and might cause some side effects for users. There are numerous eye supplements currently available in the market if you are not satisfied with this one.
Below you'll find some of the most effective eye health supplements formulations on the market today, in our opinion.
Our Top Eye Health Supplements Choices
Verdict on Claimed Benefits: Below is our summary of the available evidence for the claimed benefits of below mentioned eye health supplements based on the available research:
ScienceGenics IGenics | Vision Support Formula

Relieves Dry Eye Symptoms*
Gold Star Evidence
Supports Clear Vision*
Gold Star Evidence
Improves Macular Conceal*
Gold Star Evidence
Protects Against Oxidative Damage*
Strong Evidence
Ocuprime | Vision Support Formula
Enhances Vision Clarity*
Gold Star Evidence
Protects Eye Health*
Gold Star Evidence
Promotes Overall Eye Comfort*
Strong Evidence
Relieves Eye Dryness*
Strong Evidence
1MD VisionMD | Complete Vision & Eye Support
Promotes Eye Health*
Gold Star Evidence
Helps Age-Related Vision*
Strong Evidence
Boost Brain Health*
Gold Star Evidence
Improves Macular Health*
Strong Evidence
Product reviews are provided for informational purposes only and reflect solely the views and opinions expressed by the contributors and not those of Consumer Health Digest. We do not verify or endorse any claims made in these reviews. Please read the full product reviews disclaimer. *All individuals are unique. Your results can and will vary.
Ask a Question
PreserVision AREDS 2 Formula Ques and Ans
Q: Is it safe to use Perser Vision AREDS2 for glaucoma while taking BP meds?

A: There are no known interactions between blood pressure medications and the PreserVision AREDS2 eye health supplement. However, it's still important to check with your doctor to ensure that it's safe for you to take this supplement, especially if you have other health conditions or are taking other medications. It's also important to note that while PreserVision AREDS2 may be helpful for supporting eye health, it is not a replacement for prescribed glaucoma medications, and it's important to continue taking any medications as prescribed by your doctor to manage your glaucoma.

Q: Is this product the same as Focus Select AREDS 2?

A: The products, PreserVision AREDS2 Formula and Focus Select AREDS 2, are different as the manufacturers are different. Both products have the same ingredients.

Q: Are the high levels of vitamin c and E and zinc dangerous?

A: The recommended daily dose of vitamin C for adults is 65 to 90 milligrammes (mg), with a maximum of 2,000 mg per day. Although too much vitamin C and zinc in the diet is unlikely to hurt you, it can induce nausea, diarrhoea, and stomach cramps. Vitamin E is relatively large doses is normally safe, however, muscle weakness, weariness, nausea, and diarrhoea can occur.
Have a Question? Please Tell Us What We Are Missing Here!
PRODUCT NAME
PreserVision AREDS 2 Formula
PRODUCT BRAND
PreserVision
PRICE (in USD)
$23.05
ITEM FORM
Softgels
UNIT COUNT
120 Softgels
INGREDIENTS
Lutein, Zeaxanthin, Zinc, Copper, Vitamin C , and Vitamin E
$23.05 At Amazon
$31.97 At Walmart
2 Sources
We review published medical research in respected scientific journals to arrive at our conclusions about a product or health topic. This ensures the highest standard of scientific accuracy.
[1] Buscemi S, Corleo D, Di Pace F, Petroni ML, Satriano A, Marchesini G. The Effect of Lutein on Eye and Extra-Eye Health. Nutrients. 2018;10(9):1321. Published 2018 Sep 18. doi:10.3390/nu10091321
[2] Chambial S, Dwivedi S, Shukla KK, John PJ, Sharma P. Vitamin C in disease prevention and cure: an overview. Indian J Clin Biochem. 2013;28(4):314-328. doi:10.1007/s12291-013-0375-3
**This is a subjective assessment based on the strength of the available informations and our estimation of efficacy.
*Result may vary. The information contained in this website is provided for general informational purpose. No medical claims are implied in this content, and the information herein is not intended to be used for self diagnosis or self treatment of any condition.
*Disclosure of Material connection: Some of the links in the post above are "associate sales links." This means if you can click on the link and purchase an item, we will receive a commission. Regardless, we only recommend products or services which we use personally and/or believe will add value to our readers. We are disclosing this in accordance with the Federal Trade Commission's 16 CFR, Part 255: "Guides Concerning the Use of Endorsements and Testimonials."