What is NUPRO All Natural Supplement?
NUPRO All Natural Supplement is manufactured by NUPRO Supplements. The product states that it helps dogs get the nutrition they would normally get in the wild, is holistic, and is made of natural ingredients. It comes in batches of 1 pound, 30 oz., 5 pounds, and 20 pounds.
It comes in a powder form and is meant to be taken daily and the manufacturer states the supplement is suitable for dogs of all age ranges, from puppies to seniors.
How Does NUPRO All Natural Supplement Work?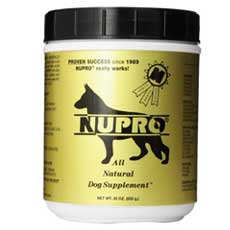 The manufacturer recommends that a dog is fed this supplement once per day. It comes in a powder form and can be easily mixed with your dog's food and given to them with their regular meal. The product instructs dog owners on how much of it to use depending on the size and breed of their dog. It should be given to your dog according to those instructions for the first 2-3 months or until owners see the results they desire. After the 2-3 month period owners can use half the amount. It is suggested that dogs be fed supplement while eating or right after their meal.
NUPRO All Natural Supplement Ingredients – Are they Safe & Effective?
NUPRO All Natural Dog Supplements consists of the following ingredients:
Amino Acids & Enzymes: These help make the immune system strong and have a healthy balance in the dog's hormonal systems.
Flaxseed: Flaxseed is a source of essential omega-3 fatty acids, alpha-lanolenic, lignans, and fiber. They assist in keeping the skin and fur healthy and shiny.
Garlic: Contains the antioxidant allicin, which supports strong cardiovascular and immune systems.
Lactobacillus Acidophilus: A probiotic, good bacteria that helps promote healthy digestion and possibly reduce incidents of flatulence.
Lecithin: Used by the body to produce acetyl-choline, as it is a natural source of choline. This assists with healthy function of the liver and brain.
Nutritional Yeast Cultures: These contain B vitamins, proteins, biotin and zinc. Nutritional yeast cultures help keep a healthy coat and possibly reduce shedding. These yeast cultures do not contain grains,which some dogs may not react well to.
Desiccated liver: Provides iron and B vitamins and is easy for dogs to ingest due to its taste.
Norwegian kelp: This natural seaweed contains vitamins A, B1, B2 and E. It also has minerals such as iodine to help stimulate a healthy metabolism and glandular function. It is also good for building healthy muscles and bones.
What are the Advantages of NUPRO All Natural Supplement?
NUPRO All Natural Dog Supplement is made of all-natural ingredients as its product label states.
Many of the vitamins found in the supplement may be lacking in regular dog foods and diets.
The cost of the supplement is fair for what the product claims to do.
It's only meant to be used for 2-3 months at a full dosage, after which owners can reduce the amount of supplement given to half.
What are the Disadvantages of NUPRO All Natural Supplement?
The product does not mention specific amounts of the nutrients it contains.
There are no money back guarantees and the customer may have to research whether local chains/stores can give such a guarantee rather than rely on the manufacturer.
NUPRO All Natural Supplement Review – Final Verdict
NUPRO All Natural Dog Supplement does what it says in that its elements are all-natural. The cost seems fairly reasonable. However, the manufacturer does not list the amounts of the ingredients that make up this product. Clients may be better off choosing products that list both active and inactive user amounts.
Our Top Rated Dog Joint Supplements
Nutra Thrive

Improves Joint Movement and Functionality*
Support Arthritic Joints*
Prevents Further Bone and Joint Damage*
Supports Overall Health of the Pet*
Improves Joint Movement and Functionality*
Support Arthritic Joints*
Prevents Further Bone and Joint Damage*
Supports Overall Health of the Pet*
Improves Joint Movement and Functionality*
Support Arthritic Joints*
Prevents Further Bone and Joint Damage*
Supports Overall Health of the Pet*
NUPRO All Natural Supplement