In This Review
Overview
Extend Joint Care is a dietary supplement specially formulated to support joint and cartilage health in aging dogs. This innovative product combines high-quality, 100% natural ingredients carefully selected for their known benefits in promoting joint strength and enhancing mobility in canines.
Extend Joint Care is suitable for dogs of all ages, sizes, and breeds. Its unique formula aims to improve your pet's stamina and mobility, making it an ideal choice for pet owners looking to maintain their dog's active lifestyle.
Additionally, the supplement comes in a palatable beef flavor, offered in easy-to-use powder packets that can be conveniently mixed with your dog's food for optimal absorption and ease of administration.
This article provides an in-depth analysis of Extend's ingredients, their scientific support, user experiences, and other pertinent details, helping pet owners make an informed decision regarding their furry companion's health.
What is Extend Joint Care For Dogs?
Extend Joint Care, manufactured by Extend Pet Health, and is being marketed as a nutritional supplement that improves the function and general health of joints, cartilage, and bones of aging dogs.
Extend Pet Health is a company that gives focus on health supplements for pets. Extend Joint Care aims to bring back your pet's flexibility and agility, as well as provide essential nutrients to promote healthy tissues and soothe pain caused by arthritis.
How Does It Rate?
Overall Rating: 3.7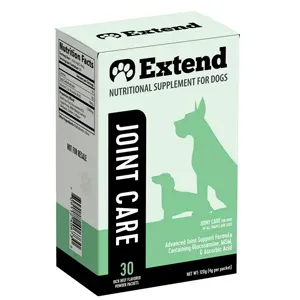 Extend Joint Care For Dogs
Brand Highlights
Extend Joint Care, manufactured by Extend Pet Health.
Extend contains 100% all-natural pure-grade ingredients.
Brand using clinically proven ingredients.
Key Ingredients
Glucosamine
MSM – Methylsulfonylmethane
Type II Chicken Collagen
Ascorbic Acid
Pros
Comes in beef flavor that is suitable to your dog's palate
Made with pure human-grade ingredients
Cons
Side effects are reported.
Product is available on a third-party website.
---
About the brand
Founded in 2012 by a dedicated group of pet enthusiasts, Extend™ Pet Health emerged from a simple yet profound mission: to revolutionize pet nutrition by offering the most effective and trustworthy line of nutritional pet products.
The journey of Extend™ Pet Health began with extensive research and a commitment to using only 100% natural ingredients, combined with veterinarian-approved practices. The team's dedication to maintaining high production standards quickly set them apart in the pet nutrition industry. At the core of Extend™ Pet Health's philosophy is a deep understanding of the unique nutritional needs of pets.
Their approach to pet health is characterized by meticulous attention to ingredient quality, scientific research, and a passion for creating products that genuinely enhance the lives of pets and their owners.
How Does it Work?
Extend utilizes a blend of all-natural ingredients, specifically chosen for their proven benefits in supporting joint and cartilage health in dogs. This innovative formula not only enhances joint strength but also positively impacts your dog's eyes and coat health.
The key component, Glucosamine, is an amino sugar well-regarded for its role in supplementing joint health. Together all the ingredients work in harmony to not only support and strengthen your dog's joints and cartilage but also contribute to their overall well-being, ensuring they maintain their vitality and mobility as they age.
Extend Joint Care For Dogs Ingredients – Are they Safe & Effective?
Extend contains 100% all natural pure-grade ingredients of the highest quality.
These are as follows:
Glucosamine
– Glucosamine, an amino sugar, is a vital component in supplements aimed at alleviating joint pain. Its efficacy in joint health has been extensively studied.
For instance, a study published by the National Library for Medicine evaluated the impact of glucosamine in dogs with osteoarthritis. The results indicated a significant improvement in mobility and pain reduction in dogs administered with glucosamine supplements.
MSM – Methylsulfonylmethane
– MSM, a compound found in some plants, is increasingly popular for its potential benefits in reducing joint pain and swelling. The effectiveness of MSM in individuals with joint issues, including arthritis, by significantly reducing symptoms and improving joint function.
Type II Chicken Collagen
– This ingredient plays a crucial role in maintaining healthy cartilage. A noteworthy study from the 'Journal of Veterinary Pharmacology and Therapeutics highlighted the positive impact of Type II Chicken Collagen on dogs suffering from arthritis. The study concluded that daily treatment with this collagen type resulted in improved joint health and mobility in dogs.
Ascorbic Acid
– Derived from citrus fruits, ascorbic acid is crucial for immune system support. Vitamin C is not only a powerful antioxidant but also plays a pivotal role in collagen synthesis, which is essential for joint health.
Extend Joint Care For Dogs FAQ
Q: What are the Dosage?
A: The powder may be sprinkled on your dog's food or mixed with water and poured as gravy. This supplement should be given once a day, giving it 4-6 weeks to see results. The dosage may be continued as necessary.
Q: What are the Important Features?
A: Extend Joint Care comes in a convenient powder formulation that can be mixed into your pet's meal
Suitable for dogs of any age, breed, or size
Claims it has clinically proven results
Q: Is Extend Joint Care™ safe to use combined with other supplements?
A: Yes, Extend Joint Care is generally safe to use in combination with other supplements and pharmaceuticals. However, it is always best to consult with your veterinarian before starting any new supplement. 
Q: Are there any studies on any of the ingredients in Extend Joint Care™?
A: Yes, there are numerous studies supporting the effectiveness of the individual ingredients in Extend Joint Care™ for improving joint health and mobility in dogs. 
Q: When can I expect to see results from my dog taking Extend Joint Care™?
A: Results from Extend Joint Care™ for your dog may vary, but improvement in mobility and joint comfort could be noticed within a few weeks, with more significant benefits seen after consistent use over several weeks to months. Monitor your dog's progress, follow the recommended dosage.
Q: In what kinds of cases is Extend Joint Care™ most beneficial?
A: Extend Joint Care™ is a natural supplement that can be beneficial for dogs in a variety of cases, such as existing symptoms of joint problems.
Q: Is Extend Joint Care™ safe?
A: Yes, Extend Joint Car is generally considered safe for dogs. It is a natural supplement that contains glucosamine, MSM, and vitamin C, all of which are ingredients that are well-tolerated by most dogs.
Q: Is there any kind of guarantee for Extend Joint Care™?
A: Yes. Extend Joint Care offer a 30-day 100% money back guarantee for our Extend Joint Care™, if you are not completely satisfied.
Q: How much does it cost?
A: Extend Joint Care is available on official website and other platform.
$41.61 – 1 box package from Amazon
$43.95 – 1 box package from Walmart
Q: My pet is on another medication, Quellin, for his hips, I am wondering if there is any issues with using both?
A: According to the manufacturer, there have been no recorded negative interactions with other medications, which is good as many dogs which need joint supplements will also be taking NSAID pain relief.
Extend nutritional supplement for Dog Reviews Say?
This product really, really works!
I absolutely love this product! My dog was limping on her front paw and seemed to have much discomfort from it, especially in the mornings and after a days run. I began using this product about a month ago! Although box says it would take 4 weeks or so to notice a difference, but I seen a tremendous change in just the first week! Lots of improvement! My dog loves the flavor, and she has not limped in over 3 weeks! She has more energy too because she feels so much better. She is 12 years old and now acts more like a pup! I am grateful for this product, and I do highly recommend it! It really does work great and does even better than it says! Great for the price too!? – Gracie Gonzalez
Worked great
After 6 wks my dog no longer had any "knee' pain and limp was gone. She's back to playing and running. – mary hall
It really works
I started out very skeptical about this product. So many things say that they can help and they don't, but I was amazed to watch my 12 year old German Shepherd begin to walk around normally again. I believed that we were only weeks from having to put him down because his back legs were so weak, the product says it could take 6 to 8 weeks, and it took every bit of the whole package, but just as I've ordered my second box, I am watching him walk around without tripping without struggling and seeming to be much happier. This product really works. – Bob Kudron
Extend Joint Care For Dogs Review – Final Verdict
Extend Joint Care is presented as a supplement that may improve and even prevent joint and cartilage degeneration. Though the manufacturer says this is backed by clinical research, more proof needs to be offered to make this claim well-received by the public. Extend is a supplement that helps your pet achieve improved health and well-being.
It is convenient and can be administered to dogs of any age, breed, or size. Nevertheless, there are a number of joint health supplements out there that may be more appropriate for your dog, so consider all alternatives before deciding to make your purchase.
Our Top Rated Dog Joint Supplements
Nutra Thrive

Improves Joint Movement and Functionality*
Support Arthritic Joints*
Prevents Further Bone and Joint Damage*
Supports Overall Health of the Pet*
Improves Joint Movement and Functionality*
Support Arthritic Joints*
Prevents Further Bone and Joint Damage*
Supports Overall Health of the Pet*
Extend Joint Care For Dogs
Product reviews are provided for informational purposes only and reflect solely the views and opinions expressed by the contributors and not those of Consumer Health Digest. We do not verify or endorse any claims made in these reviews. Please read the full product reviews disclaimer. *All individuals are unique. Your results can and will vary.
Ask a Question
Extend Joint Care For Dogs Ques and Ans
Q: My arthritic dog has been on the Extend supplement now for 4 days, and now has diarrhea ? Does Extend cause diarrhea ?

A: It is possible that the Extend supplement could be causing your dog's diarrhea, but it is also possible that there may be another underlying issue. It is important to monitor your dog's symptoms and contact your veterinarian if the diarrhea persists or worsens. In some cases, dietary changes or adjustments to the dosage of the supplement may help alleviate the symptoms. Your veterinarian can provide guidance on how to address this issue and determine whether the Extend supplement is appropriate for your dog's needs.
Have a Question? Please Tell Us What We Are Missing Here!
PRODUCT NAME
Extend Joint Care For Dogs
PRODUCT BRAND
Extend Pet Health
PRICE (in USD)
$41.61
ITEM FORM
Capsule
UNIT COUNT
60 Capsules
INGREDIENTS
Glucosamine, MSM – Methylsulfonylmethane, Type II Chicken Collagen, and Ascorbic Acid.
Shop On Amazon
Shop On Walmart
4 Sources
We review published medical research in respected scientific journals to arrive at our conclusions about a product or health topic. This ensures the highest standard of scientific accuracy.
**This is a subjective assessment based on the strength of the available informations and our estimation of efficacy.
*Result may vary. If you are pregnant, nursing, have a serious medical condition, or have a history of heart conditions we suggest consulting with a physician before using any supplement. The information contained in this website is provided for general informational purposes only. It is not intended to diagnose, treat, cure, or prevent any disease and should not be relied upon as a medical advice. Always consult your doctor before using any supplements.
Disclosure of Material connection: Some of the links in the post above are "associate sales links." This means if you can click on the link and purchase an item, we will receive a commission. Regardless, we only recommend products or services which we use personally and/or believe will add value to our readers. We are disclosing this in accordance with the Federal Trade Commission's 16 CFR, Part 255: "Guides Concerning the Use of Endorsements and Testimonials."