Depression is a serious disease. For most people, this is more than just a phase in life. Those who have control over their emotions can't understand what it means to be extremely depressed. Doctors have tried to explain this through medical science. They say that those with severe depression lack certain brain chemicals to get out of the rut without intervention.
If you know this feeling, then the first thing you need to do is see your doctor. Talk to someone with the right kind of training. You can also seek comfort from your friends and family, but there's also one great perk in having your very own therapist: you get help through prescription drugs such as Elavil.
All about Elavil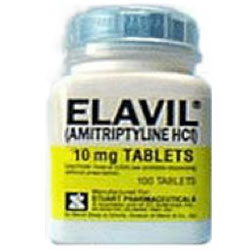 This prescription drug belongs to a class called tricyclic antidepressants. Elavil is a depression pill, and thus, you shouldn't take this without a professional's go signal. Aside from depression, this drug is also recommended for people who suffer from the following:
Bulimia
Fibromyalgia
Migraine
Ulcers
Insomnia
Uncontrollable Hiccups
It may take a few weeks before you feel the effects of Elavil, but just continue taking the pill as directed because doctors often give you 30 days maximum. The effectiveness will also depend on the individual. It's also imperative that you take the prescribed dosage. Do not lessen or add pills without permission. That's because this is a potent medication. In fact, you shouldn't take it for more than 6 months.
The Side Effects
When you first take Elavil, you might start feeling a few of the following symptoms:
Sleepiness
Constipation
Dry Mouth
Sensitivity to Sunlight
There have also been cases of extreme side effects such as vomiting and skin discoloration, which is why you need to closely monitor your health and report anything of concern to your doctor.
You May Also Want To Read – Lexapro
Final Verdict
Elavil is an top rated antidepressant supplement. Use this medicine with caution because you're dealing with your well being. There are also herbal supplements available. However, you should be wary of many of the brands as well. It's always best to listen to someone who knows and understands the human body.
More importantly, take comfort in the fact that you need not be depressed for the rest of your life. Modern medicine has found the solution you need. All you need to do is accept the fact that you need help and that you are willing to get better.
Read Next – Metagenics Adreset
Depression and anxiety are common disorders that can make daily tasks extremely challenging. Some estimates allege that approximately one in ten Americans suffer from some level of depression and/or anxiety. Symptoms of anxiety and depression include ongoing feelings of sadness accompanied by unease, irritability, tension, and nervousness. While some people require medication to deal with these occasionally crippling symptoms, others may find an all-natural product helpful. An all natural relaxation supplement should promote healthy neurological function. All ingredients should be clinically proven to reduce feelings of anxiousness, sadness, unease, irritability, tension, and nervousness.
Below you'll find some of the most effective natural nervousness relief supplements on the market today, in our opinion.
Our Top Depression Choices
Stress Support -
5% OFF Today

Supports a Healthy Stress Response*
Reduce Sadness and Stress*
Restore Healthy Serotonin Levels*
Improve Physical And Mental Well-Being*
Supports a Healthy Stress Response*
Reduce Sadness and Stress*
Restore Healthy Serotonin Levels*
Improve Physical And Mental Well-Being*