Metagenics Adreset Overview
Metagenics Adreset is formulated with all-natural ingredients that can safely address stress-related fatigue.
It contains botanicals that are traditionally used throughout time and are valued for its modern-day benefits that can provide strategic stress relief. This depression supplement is perfect for vegans since it utilizes plant-based ingredients that are known to be effective in managing stress-related symptoms.
Manufacturer Information and Claims about Metagenics Adreset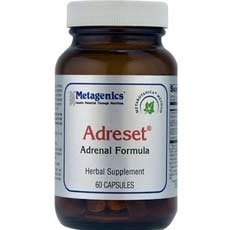 Metagenics is a reputable company that manufactures Adreset and adheres to strict standards.
With a research laboratory and product development center in Washington USA, Metagenics Adreset boasts a triple GMP Certified manufacturing facility.
Their products are distributed all over the world. With its formulation of standardized herbal extracts, Adreset claims to support a healthy response of the body to external stressors associated with day-to-day living.
It also helps the body to cope with stress and build adaptability by enhancing stamina in stress related fatigue.
Working Process and the Ingredients List
Metagenics Adreset combines potent botanical extracts such as Cordyceps Mycelium standardized extract (800 mg) that is believed to reduce stress and fatigue.
This traditional Chinese herbal medicine has been used in some parts of Asia and is recognized as an effective anti-oxidant that strengthens the immune system.
Cordyceps Mycelium can also aid in the production of testosterone and promotes libido.
Another key ingredient is Asian Panax Ginseng Root Extract (400 mg) which is also known as the Korean red ginseng, this widely used herbal extract is an "adaptogen" that has numerous health benefits including its ability to increase the body's resistance to physical, mental, biological and mental stress.
It is also recognized for its effective restorative property on a cellular level, allowing the better function of cells and considered as a natural defense against aging.
The addition of Rhodiola Rosea (100 mg) or "golden root" works as an "adaptogen" that can naturally increase the body's adaptability to combat fatigue and stress. This herbal extract can also promote effective metabolism while boosting brainpower.
You May Also Want To Read – Elavil
The Advantages of Metagenics Adreset
Metagenics Adreset is a safe alternative to prescription drugs and the strongest depression medication that boasts all-natural ingredients in alleviating symptoms associated with fatigue and stress
Functions as an "adaptogen" that can support the body's ability to handle issues associated with stress
It can increase and enhance stamina in people who are feeling less energetic and weak due to stress
Can boost mental and brain functions
Helps in regulating body's metabolic rate
The Cons of Metagenics Adreset
There might be some possible side effects from prolonged usage
May cause increased heart rate, mood swings, diarrhea, insomnia and loss of appetite
People with underlying diseases such as heart conditions should seek medical advice first before taking this supplement
Not recommended for pregnant and nursing women
Results may vary from individual to another
FAQs
What is the dosage for Metagenics Adreset and how long is the treatment?
The recommended dosage is two capsules to be taken twice a day or as recommended by a physician. Prolonged usage is not recommended since this product offers strategic and short-term relief from fatigue and weakness due to stress.
See Also – Goop Why Am I So Effing Tired
Final Verdict
Metagenics Adreset is promoted as an all-natural treatment that can counter the ill effects of fatigue and stress.
This is a promising product considering the formulation of known herbal components and the benefits it could provide to individuals who complain of weakness and lack of energy due to stress, the search for an all-natural stress reliever might end here.
However, one should bear in mind that this supplement does not offer a permanent 'cure' but instead a short-term strategy that can counter stress-related fatigue.
Nonetheless, you can also explore the list of best antidepressants on the market before making the final definitive call.
Depression and anxiety are common disorders that can make daily tasks extremely challenging. Some estimates allege that approximately one in ten Americans suffer from some level of depression and/or anxiety. Symptoms of anxiety and depression include ongoing feelings of sadness accompanied by unease, irritability, tension, and nervousness. While some people require medication to deal with these occasionally crippling symptoms, others may find an all-natural product helpful. An all natural relaxation supplement should promote healthy neurological function. All ingredients should be clinically proven to reduce feelings of anxiousness, sadness, unease, irritability, tension, and nervousness.
Below you'll find some of the most effective natural nervousness relief supplements on the market today, in our opinion.
Our Top Depression Choices
Stress Support -
5% OFF Today

Supports a Healthy Stress Response*
Reduce Sadness and Stress*
Restore Healthy Serotonin Levels*
Improve Physical And Mental Well-Being*
Supports a Healthy Stress Response*
Reduce Sadness and Stress*
Restore Healthy Serotonin Levels*
Improve Physical And Mental Well-Being*