In This Review
Overview
Your brain is the most essential part of your body, and most likely, you're neglecting its health. That's a bold statement, isn't it? Don't worry.
You aren't alone in this most of the world is probably doing the same.
Answer this question – how many times have you come home from a long day at work and grabbed the first thing you saw, and then sat down in front of your television? We've all been guilty of it. And it shows.
Stress, anxiety, working, lack of exercise, and not eating healthy are all factors that contribute to our brain's health. Gavvia Brain helps to take care of your brain by giving it the nutrients that it's missing.
Gavvia Brain pill contains all-natural ingredients that help enhance brain function by improving its working memory.
This review will look at customer reviews, research the ingredients to determine if they're based on science, and then discuss the pros and cons to determine if these supplements are a scam or the real deal.
By the end of this review, you should have the facts which will allow you to make an educated decision on if Gavvia Brain Pill is right for you or not.
Gavvia Brain is a nootropic that assists people in improving their cognitive function and brain health.
This all-natural supplement has the nutrients to enhance your working memory and increase your focus.
The unique formulation of herbs and nutrients contained in this brain pill not only improves your mental health but your gut health as well.
Advertisement
*All individuals are unique. Your results can and will vary.
How Does It Rate?
Overall Rating: 3.8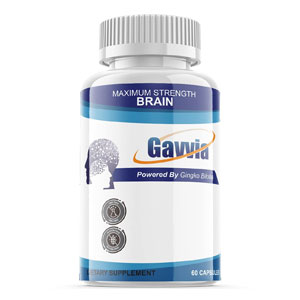 Gavvia Brain
Brand Highlights
Gavvia Brain is all-natural supplement has the nutrients to enhance your working memory and increase your focus.
This brain pill uses only ingredients that are scientifically proven.
Key Ingredients
Huperzine A
Vitamin B
Bacopa
Vinpocetine
L-Tyrosine
Folate
Pros
All-natural ingredients
Improves brain function and physical performance
Reduces anxiety
Constraints researched ingredients
Increases production of new brain cells
Raises t of acetylche levelsholine
Reduces brain fog
Cons
Only Available online.
Do not start taking any new supplements before talking to your health care provider.
---
How Does Gavvia Brain Work?
Gavvia Brain memory-enhancer increases working memory and improve brain function. This nootropic does this by lowering oxidate stress, which increases the amount of blood that flows between your brain and neurons. By improving blood flow, the brain can secrete hormones, such as serotonin and dopamine, that helps to improve your mood and decrease anxiety.
The 100% natural pill contains all-natural proven ingredients that improve your mood, memory, and focus, allowing you to work better for more extended amounts of time. The nutrients contained within this pill also give you energy so you can avoid that mid-afternoon slump.
What is the Science Behind Gavvia Brain?
This brain pill uses only ingredients that are scientifically proven to work and improve cognitive performance. It does this by protecting the neurotransmitters that support brain function. Many of the components may protect the brain from age-related disorders such as dementia.
Some of the ingredients may work by oxygenating cells, reducing the number of damaged cells, and removing the already dead ones. The nutrients in Gavvia Brain's formula provide the brain with what it needs for optimal performance.
Gavvia Brain Ingredients
Huperzine A
– is a crucial ingredient in many nootropics and is an alkaloid that individuals extract from the plant that is native to China. It assists with learning and helps to slow cognitive decline in both people with Alzheimer's and Dementia.
According to Science Direct [1], using this acid helps reduce swelling and protects cognitive dysfunction by reducing ATP production.
Advertisement
*All individuals are unique. Your results can and will vary.
– is a water-soluble essential vitamin that helps to improve cognitive function. Low vitamin b levels are linked to cognitive decline and poor concentration. An article published in Oxford Health [2] states that even being a little deficient in Vitamin B can harm cognitive abilities.
Bacopa
– is a natural herbal ingredient that promotes blood flow to the brain and helps increase the number of signals that stimulate the brain's cognitive function, improving overall brain health.
A study published in Frontiers in Again Neuroscience[3] found that when researchers gave adults 55 and older a bacopa supplement, their life satisfaction increased, and their cognitive complaints decreased. It also helps reduce the amount of oxidative stress and protects the brain from inflammation.
Vinpocetine
– is an alkaloid used in many countries because of its mitochondrial function, which reduces oxidative stress. Its anti-inflammatory properties make it great for reducing the effects of many different age-related disorders [4], such as Alzheimer's and dementia.
Folate
– is an essential acid that improves cognitive function by reducing inflammation of proteins in the body. It also helps to protect new cells from being damaged and helps prevent memory loss. It's shown promise as a treatment and prevention for Alzheimer's disease.
Gavvia Brain – Questions and Answers
Q: Is Gavvia Brain safe?
A: Each ingredient is thoroughly researched and tested, and none have caused adverse reactions when using them as directed. As with any supplement, if you experience severe reactions, stop using it immediately. If you are allergic to any of the ingredients, do not take it. Make sure to talk with your healthcare provider before taking any supplement.
Q: What is the recommended dosage for Gavvia Brain?
A: Like other nootropics, you want to take two capsules in the morning with a glass of water on a full stomach.
Q: How much does Gavvia Brain cost?
A: The price is similar to other nootropics in a similar category.
Q: Does Gavvia Brain provide a free trial or refund policy?
A: The official website offers a risk-free trial for first-time users who sign up for the auto-ship program. Be cautious of enrolling in any auto-ship programs because they can be difficult to cancel.
Q: Who Shouldn't Take Gavvia Brain?
A:
As with most supplements, if you're pregnant or nursing, you shouldn't take this supplement.
Children under the age of 18
Those who have an underlying health condition
If you're taking other medications, make sure to ask your health care provider before taking any supplements.
Q: When Can I Expect Results?
A: Everyone is different, so that the result times may vary. Some people have reported feeling results as little as two weeks after taking Gavvia Brain daily. In contrast, others didn't notice improvements for up to four weeks.
Q: If I take Prescribed Medication, Should I take Gavvia Brain?
A: Although all of the ingredients contained in this supplement are all-natural and third-party tested, you shouldn't take it without approval from your physician, especially if you are taking prescription medications.
Q: Is Gavvia Memory Pills Right For You?
A: Scientific data back the ingredients in the Gavvia brain pill, so it should improve brain health. It uses a combination of all-natural quality ingredients to create the perfect brain-improving supplement. It contains all-natural ingredients, so there are no harsh chemicals or harmful additives. In addition, it doesn't have caffeine, so you don't have to worry about feeling jittery throughout the day.
Q: Do These Supplements Work?
A: According to scientific data and customer reviews, it appears that yes, this supplement may work to improve memory.
Q: What Are The Alternatives to Gavvia Brain?
A:
Advertisement
*All individuals are unique. Your results can and will vary.
Gavvia Brain Reviews from Customers
Online reviews of the merchandise and the company itself were excellent. Customers reported using this combination for both mood and nootropic effects, and they enjoyed that they could get these benefits from a pure organic product. Customers also praised the business for producing high-quality recipes and having a top-notch customer service division.- John H.
Gavvia Brain Review – Conclusion
This supplement can do a great deal to improve your memory and give you additional energy to help maintain your focus throughout the day. To get the best results, make sure to take them daily.
However, the market for brain enhancers is flooded with supplements, hence it is important to check the reviews of the products that are backed by consumer reviews. Hence, we encourage to read the Longvida Optimised Curcumin review to make your decision wiser.
More than ever people of all ages are struggling with memory problems. People are unable to disconnect from their work, while students are under immense pressure to perform. Brains are overloaded with information that must be remembered. A quality memory enhancement product might contain clinically proven ingredients that will help to enhance not only memory, but also focus and night concentration. Memory products might help to optimize overall mental health and brain function.
Below you'll find some of the most effective memory products on the market today, in our opinion.
Our Top Memory Supplements
Verdict on Claimed Benefits: Below is our summary of the available evidence for the claimed benefits of below mentioned brain health supplements and nootropic based on the available research:
Product reviews are provided for informational purposes only and reflect solely the views and opinions expressed by the contributors and not those of Consumer Health Digest. We do not verify or endorse any claims made in these reviews. Please read the full product reviews disclaimer. *All individuals are unique. Your results can and will vary.
Ask a Question
Have a Question? Please Tell Us What We Are Missing Here!
PRODUCT NAME
Gavvia
PRODUCT BRAND
Gavvia
PRICE (in USD)
$36.20
ITEM FORM
Capsule
UNIT COUNT
60 Capsules
INGREDIENTS
Huperzine A, Vitamin B, Bacopa, Vinpocetine, L-Tyrosine, and Folate.
$36.20 At Amazon
4 Sources
We review published medical research in respected scientific journals to arrive at our conclusions about a product or health topic. This ensures the highest standard of scientific accuracy.
1. Science Direct "Chapter 9 - Antioxidant therapy, oxidative stress, and blood-brain barrier: The road of dietary antioxidants" Published 2020
2. Oxford Academic The Journal of Gerontology Series b B "Vitamins Cognition and Aging: A Review" Published November 1, 2001,
3. Frontiers in Aging Neuroscience "The Neurocognitive Effects of Bacopa Monnieri and Cognitive Training on markets of Brain Microstructure in Healthy Older Adults" Published February 22, 2021,
4.US National Library of Medicine "An update on Vinpocetine: "New discoveries and clinical implications" Published November 26, 2017 Scientific Reports "Folic acid supplementation improves cognitive function by reducing the levels of peripheral inflammatory cytokines in elderly Chinese subjects with MCI" Published November 23, 2016,
**This is a subjective assessment based on the strength of the available informations and our estimation of efficacy.
*Result may vary. If you are pregnant, nursing, have a serious medical condition, or have a history of heart conditions we suggest consulting with a physician before using any supplement. The information contained in this website is provided for general informational purposes only. It is not intended to diagnose, treat, cure, or prevent any disease and should not be relied upon as a medical advice. Always consult your doctor before using any supplements.
Disclosure of Material connection: Some of the links in the post above are "associate sales links." This means if you can click on the link and purchase an item, we will receive a commission. Regardless, we only recommend products or services which we use personally and/or believe will add value to our readers. We are disclosing this in accordance with the Federal Trade Commission's 16 CFR, Part 255: "Guides Concerning the Use of Endorsements and Testimonials."