Thermosculpt Pro overview
Thermosculpt Pro is a dietary supplement designed to reduce fats. It is mostly embraced as it brings about weight loss within a short period of time. It also helps in developing a lean physique that is free from fat and strong muscles.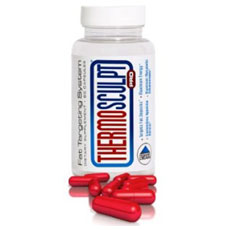 Additionally, the formula targets on the fat receptors thro hindering the formation of fatty slabs. It discourages overeating habits by suppressing appetite and boosting your digestive process.
Thermosculpt Pro is made of pure natural ingredients that are very effective in cutting undesirable fat that most thermogenic supplements fail to do.
Manufacturer Information and Claims about Thermosculpt Pro
Thermosculpt Pro is designed by Dean. There are number of claims are made about the performance and effectiveness of this thermogenic formula.
It is claimed that it performs a revolutionary act by slowing down the actions of fat/alpha receptors with high increased energy levels, which in turn lead to fat loss and eventually weight loss.
In addition, it's claimed that the ingredients making the formula are purest and that all of them are clinically tested and approved by the relevant scientists.
Working Process and the Ingredients List
Thermosculpt Pro solution heats you in a manner that it burns excessive fats and converting unnecessary calories into energy. It basically prevents fat receptors from getting into your body. Therefore, it not only burns fat but also hinders bearing of fat in your body. The following is the list of ingredients:
Vanadium- it a very important ingredient in fat burning process as it balances the body's glucose levels by reducing sugar levels in the blood.
Zinc Oxide- used as a supplement to help the body elevate protein synthesis, promote optimal hormonal levels for fat burn and help the body to utilize stored fats.
Vitamin B5- cause weight loss by breaking down carbohydrates and fats into energy. Very important in energy production.
Octo Pamine- promotes healthy appetite.
Advatra Z- plays important role in usage of energy substances like gluecose.it also stimulate metabolic process and enhance utilization of amino acids.
N-Methyl
Tyramine
Glucose
The Advantages of Thermosculpt Pro
Enhance fat burning process leading weight loss
Boost your metabolic rate leading to increased energy production
Provides you with required physique with increased lean muscle tissue
Suppresses your appetite leading to healthy eating habits
The Cons of Thermosculpt Pro
The supplement is not approved by FDA
FAQs
Is there any risk that comes with the use of Thermosculpt Pro?
No! Thermosculpt Pro is safe. It's made from pure natural ingredient. Additionally, it does not contain any chemical binder or filler that might affect your health.
Possible Side Effects
No known side effects of Thermosculpt Pro
Where to buy Thermosculpt Pro?
A: Thermosculpt Pro can be purchased through their official website.
Advertisement
*All individuals are unique. Your results can and will vary.
Alternatives to Thermosculpt Pro
Know The Related Products
Final Verdict
Lifestyle has caused some growth problems where individual find themselves having unbearable weight. Through this people get into conditions like obese which affect their comfort and start running for solutions like seeking exercise routine to shed off weight.
Most who find themselves in these situations, try to fight obesity by exercises to keep fit. Physical exercise's sometimes fail to cause weight loss since it happens gradually. One needs to apply routine exercises with suitable dietary supplements.
Below you'll find some of the most effective weight loss supplements on the market today, in our opinion.
Our Top Rated Weight Loss Supplement
Verdict on Claimed Benefits: Below is our summary of the available evidence for the claimed benefits of below mentioned diet pills and weight loss supplements based on the available research: