In This Review
SmartBurn – Overview
SmartBurn is a hoodia based weight loss supplement advertised to help women lose 450% more weight compared to other leading brands. Immediately you read this, you are going to ask yourself "What exactly did they put in the capsule?"
We asked ourselves the same question. Also we thought it would be a good idea to try to find out why the manufacturer says it was formulated only for women and not for men.
The manufacturer of this product went ahead to tag the supplement as the "the total body rapid weight loss solution". It is said to help you control your appetite, promote relaxation and support your mental well-being.
Advertisement
*All individuals are unique. Your results can and will vary.
In this article we are going to find out if all those claims are true.
How Does It Rate?
Overall Rating: 4.8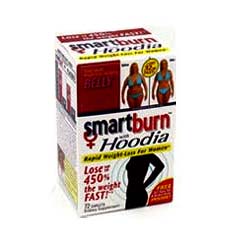 SmartBurn

Brand Highlights
SmartBurn is a hoodia based weight loss supplement.
SmartBurn was a product of Iovate Health Sciences Inc.
Key Ingredients
Hoodia Gordonii Extract
Garcinia Cambogia
Green Tea
Chromium Polynicotinate
Pros
Made with natural ingredients
Gives the user control over his appetite
Contains green tea to boost metabolism
Facilitates the absorption of glucose
Cons
There is no conclusive evidence it really works
The composition of the ingredients used is not provided
The manufacturer has discontinued the supplement
Its original price was just too high
---
How Does It Work?
SmartBurn was a product of Iovate Health Sciences Inc. We are using past tense because the company no more produces that supplement. Iovate Health Sciences Inc. is a health and nutrition company with a controversial reputation. One of its most popular weight loss supplement currently sold in the market is Hydroxycut™.
The early formulation of Hydroxycut™ contained ephedra and other substances considered to be dangerous. After several consumer complaints and reports of death cases, the FDA had to step in and come up with stricter laws that would regulate the supplement industry. Iovate has now released a new version of Hydroxycut deemed to be safe.
The reality is the Hydroxycut issue has tarnished the image of Iovate and even though the company is back on track, we would still recommended you think again when considering buying its products.
SmartBurn is made of a set of ingredients that act like appetite suppressants while another set act like metabolism boosters. By eating less and remaining active, it is believe that the body finds itself in a situation where it has to rely on its fat reserve to keep up with the increase in metabolism. This is what is supposed to result in a loss in weight.
What Are the Ingredients?
The main ingredient in SmartBurn is Hoodia Gordonii extract. On top of that there are 15 other ingredients- playing different functions. Let's look at a few of them.
Hoodia Gordonii Extract
: Hoodia gordonii is a cactus plant found in the Kalahari desert in South Africa. It was discovered that the bushmen living there rely on this plant to resist hunger when going for hunting[1]. Ever since, a lot of weight loss supplement rely on this ingredient to help users have control over their appetite.
Garcinia Cambogia
: Here is another appetite suppressant found in the supplement. Garcinia Cambogia became popular through the Dr Oz show where it was also showcased to give users control over their appetite by supplying the body with hydroxycitric acid which is believed to trick the brain to think the body is not really hungry.
Green Tea
: Green tea is a popular ingredient in many weight loss supplement. It contains polyphenols and catechins, substances believed to raise metabolism[2]. That aside, studies have also shown that green tea could help fight cancer and aging. The same weight loss benefits are documented in Truvy Reviews.
Chromium Polynicotinate
: Chromium is a mineral found in traces in the human body. It is known to facilitate the absorption of sugar and prevent emotional craving.
Other ingredients found in the SmartBurn are Astaxanthin, Calcium, California Poppy, Dong Quai, Gymnema Sylvestre, Hawthorne, N-acetyl tyrosine, Potassium, Rhodiola Rosea Extract (Roseroot), Soy Phospholipids, Theanine and Vinpocetine.
You May Also Like – Arbonne Evolution Metabolism Support
Frequently Asked Questions
Q: What Does SmartBurn Claim to do?
A: The boldest claim made for SmartBurn is that it can help you burn fat 450% faster than other known weight loss brands.
Q: SmartBurn Cost, Dosage and Directions to Use
A: A bottle of 100 tablets is going to cost you $49.99. The suggested daily dosage is to take 2 tablets at a time, 3 times a day. Each serving should be taken 30 minutes before a meal and should be followed with at least 8 oz of water. Do not take more than 6 pills within 24 hours.
Q: Possible Side Effects
A: There are no reports of any side effects resulting from the use of SmartBurn. That said, one of the ingredients used in the formulation is green tea which is known to contain some amount of caffeine. Sensitive people should watch out as the use of caffeine may result in side effects like insomnia, headaches, palpitations and nervousness.
Q: SmartBurn Warnings
A: Even though recommended to women, SmartBurn should not be used by a pregnant person or one that is still breastfeeding a child. The supplement is made for adults above the age of 18.
Q: Is SmartBurn a Scam?
A: The company behind SmartBurn is a recognized establishment not known to take advantage of its customers. For that matter, there is no need to think that SmartBurn is a scam.
Read Next – ThermoGEN
SmartBurn Reviews from Customers
I found SmartBurn a supplement that helped me reduce almost 15 pounds of weight. It has the power to lose weight in minimum days without any side effects. I have not seen any other product working so effectively. Thanks for creating such a great formula. Jenna
Final Verdict
SmartBurn is no more available. Its market performance was probably not that good, and the manufacturer decided to discontinue it and come up with something else. However, there are still some worthy opponents, i.e., Diablos Hyperburn 6.0, which may provide similar effective benefits at the same price range. Make sure to check out the Diablos Hyperburn 6.0 Review to make your purchase more worthwhile and wise.
Below you'll find some of the most effective weight loss supplements on the market today, in our opinion.
Our Top Rated Weight Loss Supplement
Verdict on Claimed Benefits: Below is our summary of the available evidence for the claimed benefits of below mentioned diet pills and weight loss supplements based on the available research:
Product reviews are provided for informational purposes only and reflect solely the views and opinions expressed by the contributors and not those of Consumer Health Digest. We do not verify or endorse any claims made in these reviews. Please read the full product reviews disclaimer. *All individuals are unique. Your results can and will vary.
Ask a Question
Have a Question? Please Tell Us What We Are Missing Here!
PRODUCT NAME
SmartBurn
PRODUCT BRAND
Iovate Health Sciences Inc.
PRICE (in USD)
$49.99
ITEM FORM
Capsule
UNIT COUNT
60 Capsules
INGREDIENTS
Hoodia Gordonii Extract, Garcinia Cambogia, Green Tea, and Chromium Polynicotinate.
**This is a subjective assessment based on the strength of the available informations and our estimation of efficacy.
*Result may vary. If you are pregnant, nursing, have a serious medical condition, or have a history of heart conditions we suggest consulting with a physician before using any supplement. The information contained in this website is provided for general informational purposes only. It is not intended to diagnose, treat, cure, or prevent any disease and should not be relied upon as a medical advice. Always consult your doctor before using any supplements.
Disclosure of Material connection: Some of the links in the post above are "associate sales links." This means if you can click on the link and purchase an item, we will receive a commission. Regardless, we only recommend products or services which we use personally and/or believe will add value to our readers. We are disclosing this in accordance with the Federal Trade Commission's 16 CFR, Part 255: "Guides Concerning the Use of Endorsements and Testimonials."