In This Review
Overview
Slenderiix is a homeopathic weight loss supplement that provides relieve to many customers tired of trying out vague weight loss products available in the market.
As the number of people aiming to lose weight increase, diverse products with different formulations get to the market. However, not all satisfy or promote weight loss as they promise.
Some products contain hyped formulations, which have no relations to the cutting of weight. However, Slenderiix is a confirmed product with proven results when used for weight loss regimens. However, users prefer using this product aside diet and exercise for faster results.
How Does Slenderiix Rate?
Overall Rating: 3.7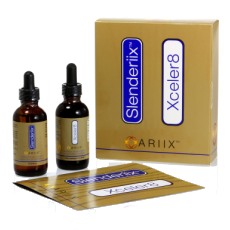 Slenderiix
Brand Highlights
Manufactured in the Best Facilities.
It may boost your metabolism.
It may relieve you from digestive issues.
It contains natural ingredients.
It may improve your weight loss ability.
Key Ingredients
Ammonium bromatum
Thyroidinum
Avena sativa
Grain alcohol
Calcarea
Carbonica
Sulfuricum acidum
Graphites
Purified water
Ignatia Amara
Pros
It could promote weight loss
It work as a appetite suppressants
It destroys and flushes out toxins
It is made from safe and effective ingredients
Cons
There is limited availability
There are few customer reviews on the website
It is relatively expensive
---
Slenderiix Ingredients – Are they Safe & Effective?
Slenderiix uses a two-part or phase system to achieve weight loss strategies. The first part is the preparation phase. During this phase, you can continually eat the normal diet. However, you begin taking drops of Slenderiix coupled with Xceler8 at least three times a day.
The combinations work best when taken before meals. At this phase, eating healthy fats such as avocado, raw nuts, fish oils and seeds is recommended. Doing this will bring balance to the body fat stores to healthful ratios. This paves the way for optimal health goals and weight loss in the second phase.
Phase two involves using Slenderiix for 30 to 120 days. The length of use is dependent on your weight loss goals. So to say, using this product for a long period results in more loss of fat. However, with this phase, there is restricted caloric intake to 1250 calories per day. Additionally, you should take at least 100 ounces of water daily. Walking, hiking, swimming, jogging and any other simple activity are also encouraged. Both phases come with their dietary recommendations.
With this said, the ingredients behind this magical power of this product include:
Ammonium bromatum [1]
Thyroidinum [2]
Avena sativa [3]
Grain alcohol
Calcarea
Carbonica
Sulfuricum acidum
Graphites
Purified water
Ignatia Amara [4]
---
Who is the Manufacturer of Slenderiix?
Slenderiix is a product manufactured by Ariix and advertised through the Slenderiix Diet. Com website. The website advertises this as the first installment of the two-part system. The second part involves the use of Xceler8 simultaneously. The website claims that this product has the following abilities.
[1] It alleviates hunger.
[2] It flushes toxins from your body.
[3] It promotes faster weight loss.

FAQ's
Q: What Is the Retailing Price of Slenderiix?
A: Just to mention, Slenderiix is more expensive than many other weight loss products available currently in the market. Having said this, a bottle of Slenderiix goes for $149.
Q: Where Can This Product Be Purchased From?
A: Slenderiix is available through the manufacturer's official website. Other legitimate online stores also offer this product.
An ardent customer confessed her liking for the product. She had been on a diet before but had little impact on her weight. However, when she began the Slenderiix diet, she has watched her weight dropping magically.
Slenderiix Review – Final Verdict
Slenderiix is a clinically proven to be the best weight loss medicine. Needless to say, you should consider this safe, effective and simple to take weight loss supplement. Using this product has tremendous benefits as highlighted above.
Despite the high pricing, the product provides wonderful results when incorporated fully for a weight loss regimen. Having said this, if you would like to drop some pounds, consider trying the Slenderiix combined with Xcelar8.