In This Review
What is Keto Max Science?
Keto Max Science is a dietary supplement which aims to offer added weight loss benefits primarily to users following the keto diet. The formula provides ketones which may help keep your body in ketosis burning fat.
In addition, it could give you added energy to help extend your workout and burn more calories. Unfortunately there's no real official site, and there is not a lot of available information about this supplement.
How Does Keto Max Science Rate?
Overall Rating: 3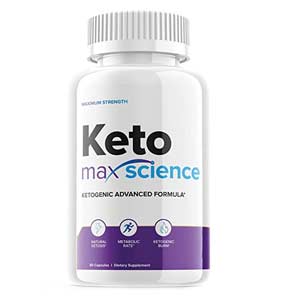 Keto Max Science
Brand Highlights
There is little available information about the brand or company.
The ingredients appear to be organic, but there is no official ingredient list.
There are no reviews for Keto Max Science.
It's not for sale anywhere at the moment.
Key Ingredients
BHB Ketones bonded to Calcium, Magnesium, and Sodium
Benefits
The supplement may help you lose weight rapidly.
It could help strengthen the immune system.
The supplement might help give you added confidence.
It could suppress appetite.
The product may initiate rapid fat-burning.
Cons
There are missing weight-loss ingredients.
There's no official website for the product or manufacturer.
There is no refund policy.
---
About the Brand
The company that manufactures this supplement is likely called Keto Max Science, but there is almost no information at all about them online save one site that says they started in 2019. This is problematic, because it's always best to buy from a known, reputable manufacturer.
What's in Keto Max Science?
As far as online reviews about the product state, this supplement contains only beta hydroxybutyrate (BHB) ketones bonded to the minerals sodium, calcium, and magnesium.
While these are exogenous ketones produced in a lab, they are very similar to the ones released by the liver when you are following a very low carbohydrate diet. If you're on a low carb diet already this may help keep you in ketosis, which may lead to rapid fat burning and weight loss.
Advertisement
*All individuals are unique. Your results can and will vary.
While the research does vary, there are some studies which found exogenous ketones to be beneficial for weight loss purposes. A study on rodents in Current Developments in Nutrition confirmed that that BHB ketones were helpful for weight loss [1].
In addition, a study in the International Journal of Food Sciences concluded that these ketones were safe for adults to take and did not lead to serious side effects [2].
How Does It Work?
The primary and only ingredient is BHB ketones, with calcium, magnesium, and sodium as bonded minerals. The minerals offer health benefits like strengthening the bones and supporting some of the organs like the heart.
An editorial in BMJ Journals discussed the role of magnesium in the treatment and prevention of heart disease [3].
The BHB ketones are exogenously-made substances which mirror the ketones in our bodies. For someone who is following a low carb diet, their bodies lack glucose for fuel.
At this point the liver releases ketones, putting the body into the rapid fat-burning state of ketosis. This occurs when it begins to use stored fat as fuel instead of glucose. An article in StatPearls discussed the ketogenic diet in some detail [4].
Clearly the product works best for people who are already following this regimen. It may offer some benefits to users who are not on the keto diet, but is unlikely to actually put you into ketosis.
These ketones may also offer some antioxidant potential, killing free radicals, decreasing oxidative stress, and helping to promote healing in the body and make the immune system stronger.
Frequently Asked Questions
Q: Is It Worth It?
A: There is no price anywhere online, so it's impossible to compare it to other similar brands. However, there are other products available from reputable manufacturers and often with more ingredients. It's likely that one of those is a better bet.
Q: Where Can I Buy It?
A: There is no official site which offers this product, nor is it widely available. It's on Amazon, but is not in stock at the moment. There are no other retailers who offer this supplement, and the price is not available.
Q: How Do You Take It?
A: The recommended dosage is 1 or 2 capsules per day with a glass of water, according to secondary sources. Make sure to check the directions on the label carefully to confirm this when you get the supplement. Do not take more than the maximum daily dosage under any circumstances.
Advertisement
*All individuals are unique. Your results can and will vary.
Q: What is the Return Policy?
A: There's no official website for this product, and they do not appear to offer a return policy. If it becomes available again on Amazon, they have a 30-day refund policy for most products. Certain personal care items do not apply, so check with them before you make the purchase.
Q: What Sets It Apart From the Competition?
A: Honestly, there is absolutely nothing which sets this product apart from any of the many other keto weight loss products on the market.
Based on secondary sources, it consists solely of BHB ketones with no other weight loss or health ingredients. There's nothing outstanding about the manufacturer, as we have no information about who they are.
Q Who Should Take This Supplement?
A: This product is best for customers who are already following a low-carb, ketogenic diet. The added ketones may help ensure that you stay in ketosis, while allowing for the occasional diet break. It may have some impact for people who are not on this regimen, but if so it will be much less.
Q: What Do the Reviews Say?
A: Unfortunately, there are no Keto Max Science reviews online at all, which seems unsurprising since there is nowhere to buy it right now. Although it is sometimes available on Amazon, no users have provided any feedback.
This may call into question the legitimacy of the product, although this is not certain. It's unfortunate, because it's always advisable to check the customer feedback before making a purchase. This gives you a good idea of the strengthens and weaknesses and whether there are any issues.
Conclusion
Keto Max Science is a dietary weight loss supplement for customers who are following the keto diet. It promises to activate fat-burning, suppress hunger, and possibly increase energy levels. There are several problematic aspects, including the lack of an official website, price, ingredient list, or a place to purchase the product.
There's also virtually no information about the manufacturer, which is never a good sign. In addition, there are no reviews on Keto Max Science available anywhere, including on Amazon where it was for sale in the past. This does call the product legitimacy into question somewhat.
According to secondary sources, this supplement contains only BHB ketones. However, we don't know for certain if there are additives or fillers. If you have serious side effects, stop taking the product right away. It's very important to see a doctor before starting the supplement to get medical approval.
Below you'll find some of the most effective weight loss supplements on the market today, in our opinion.
Our Top Rated Weight Loss Supplement
Verdict on Claimed Benefits: Below is our summary of the available evidence for the claimed benefits of below mentioned diet pills and weight loss supplements based on the available research: