What is Keto Infinite Accel?
Keto Infinite Accel is a weight-loss supplement which is supposed to be based on the Keto Diet.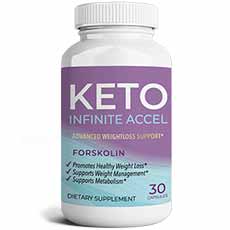 It's specifically intended for people who are already following this regimen. The manufacturer claims that this product is an ultra fat-burning product that will help you lose weight fast.
It may speed up your metabolism, provide you with extra energy to help you get through your workout, and increase your confidence about your body. There are no major side effects associated with taking this product, except some potential flu-like symptoms that can occur when an individual is in ketosis.
Who is the Manufacturer of Keto Infinite Accel?
The supplement is manufactured by Keto Infinite Accel, which is also sometimes referred to as Nutra Ascent Keto. This is a newly established company which is located in Miami, Florida. The company produces dietary supplements, primarily for weight loss purposes.
These supplements are based on the Keto Diet[1] and meant for someone who is following the regimen. They include fat-burning and metabolism[2] boosting ingredients, as well as ketones.
These are released by the liver when you stop eating carbs, and they lead to rapid fat burning and weight loss. The company produces supplements which are made solely of natural ingredients and have very few side effects.
How Does Keto Infinite Accel Work?
This weight loss product does contain BHB ketones. Ketones are released into the body by the liver under normal circumstances when the individual stops eating carbohydrates. This causes the body to go into a state of ketosis.
In this state, the body stops using glucose for energy and starts to use fat. This helps you lose weight fast. The ketones in the product help the user stay in a state of ketosis.
However, in this product the main active ingredient is actually Forskolin, which is a plant extract that has been associated with fat-burning. It has nothing to do with the Keto Diet.
Keto Infinite Accel Ingredients – Are they Safe & Effective?
The product includes ketones, which help the body to stay in a state of ketosis. In this state the body burns fat instead of glucose, so the user loses weight fast. In this product the main ingredient is Forskolin, which is supposed to be a fat burner.
These are the main ingredients in the product:
Forskolin: This substance is an extract from a tree that is native to India. Forskolin has been used as a medicinal remedy for many centuries. It's been purported as a weight-loss[3] substance, however, the research doesn't really back this up.
Beta-hydroxybutyrate: This substance is filled with ketones. When the body releases ketones, it is normally because you have stopped eating carbs[4]. This causes your body to burn fat rapidly, in a state of ketosis. These extra ketones ensure that you stay in this fat-burning state.
What are the Advantages of Keto Infinite Accel?
The product may help you burn fat very rapidly.
Keto Infinite Accel could speed up your metabolism.
It might increase your energy level.
This supplement can help you lose weight.
Keto Infinite Accel can improve your confidence.
What are the Disadvantages of Keto Infinite Accel?
Forskolin may not be the fat-burner it promises to be.
Florida or Utah residents may not purchase the product.
Diet pills can cause side effects like dizziness, insomnia, and dry mouth.
This product may be dangerous if you take too much.
The primary active ingredient is not ketones.
FAQ's
How Should You Take Keto Infinite Accel?
Begin with a dosage of 1 capsule per day. If you really want to lose weight fast, increase the dosage to 2 capsules per day. Take one pill in the morning and the second in the evening, with a full glass of water. Do not take more than the recommended dosage
How Much Does Keto Infinite Accel Cost?
Keto Infinite Accel is priced at $89.95 for a bottle/one-month supply. This is slightly more expensive than the average keto supplement.
What is Keto Infinite Accel's Return Policy?
The company has a 30-day return policy. If you're dissatisfied with the product, contact the customer service department within 30 days of your purchase, and return the unused bottles within that period of time. The company will not refund the shipping and handling fees.
Does Keto Infinite Accel Offer a Free Trial?
Yes, the company offers a 14-day trial period. The trial is nearly free. You simply have to pay shipping and handling costs of $4.95, and you'll receive your bottle. This also places you on the subscription for a monthly bottle.
Keto Infinite Accel Review – Final Verdict
Keto Infinite Accel is a weight-loss supplement which is advertised as a rapid, fat-burning keto product. The manufacturer suggests that it will provide you with boundless energy, helping you work out for longer. It should also increase your metabolism, which also helps you to lose pounds. Your new figure should also give you new confidence in yourself and your body.
The product does have its faults. Although BHB ketones are included, the main active ingredient is listed as Forskolin. This tree extract is purported to be a fat burner; however, the research doesn't back this claim up at all. What's more, Forskolin has nothing to do with the Keto Diet. In a keto product you want the number one ingredient to be ketones. Further, any diet pill has the possibility of side effects such as dizziness or headaches.
Should you decide to purchase this product, visit your doctor and make sure the product is suitable for you and fits in with your health plan. In addition, you are strongly encouraged to research competing keto supplements and compare them in terms of ingredients, price, quality, and pros and cons.
Below you'll find some of the most effective weight loss supplements on the market today, in our opinion.
Our Top Rated Weight Loss Supplement
PhenQ

Effectiveness In Addressing*
Helps Meet Weight Loss Goals*
Promotes Appetite Suppression*
Effectiveness In Addressing*
Helps Meet Weight Loss Goals*
Promotes Appetite Suppression*
Effectiveness In Addressing*
Helps Meet Weight Loss Goals*
Promotes Appetite Suppression*
Effectiveness In Addressing*
Helps Meet Weight Loss Goals*
Promotes Appetite Suppression*