In This Review
What is Blue Stop Max?
Blue Stop Gel is a massage cream which consists primary of natural ingredients. It aims to decrease pain and inflammation in muscles and joints, lessen stiffness, improve flexibility and mobility, and repair damage.
This formula is also soothing and hydrating to the skin, and may eliminate dryness. While it has some high quality Blue Stop Max ingredients, it also has substances which could cause irritation in some users.
How Does It Rate?
Overall Rating: 3.8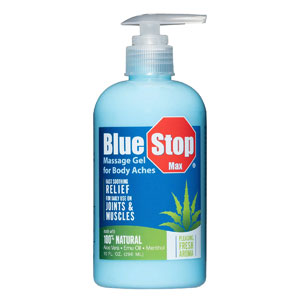 Blue Stop Max
Brand Highlights
Most of the ingredients are organically sourced.
It's available online and in over 11,000 stores in the USA.
The cream has a peach scent which does not smell like menthol.
The cream is available with or without a pump, and also with an applicator.
Key Ingredients
MSM
Coconut Oil
Organic Aloe Vera Gel
Emu Oil
Glucosamine
Kukum Butter
Witch Hazel
Tea Tree Oil
Peach Oil
Vitamin E
Soybean Oil
Cetyl Palmitate
Menthol
Pros
The cream may be a suitable massage formula.
Blue Stop Max could soothe aching muscles and joints.
Blue Stop Max might decrease inflammation.
This cream may moisturize the skin and eliminate dryness.
This cream could repair skin damage.
Cons
Free shipping is only for US residents.
Blue Stop Max Topical Rub has ingredients which could cause a skin reaction like mineral oil and artificial color.
It can be harmful if it gets in your eyes.
---
How Does It Work?
The Blue Stop Max Gel contains potent anti-inflammatory agents which lessen pain and swelling in muscles and joints, and could also help to heal skin issues or conditions. Some ingredients have antimicrobial agents which kill bacteria and germs to help prevent infection.
Blue Stop Max includes ingredients like glucosamine and MSM which could repair damage to the muscles, joints and cartilage, and rebuild damaged tissue. A review in Frontiers in Pharmacology discussed the potential use of glucosamine in treating arthritis [1].
Powerful antioxidants like polyphenols may destroy free radicals and lower oxidative stress for further repair and immunity-boosting benefits. An article in BioMed Pharmacotherapy examined the role of polyphenols in eliminating the oxidative stress and inflammation of osteoarthritis [2].
This pain formula has rich hydration benefits which moisturize the skin and eliminate dryness, as well as ingredients that may soothe and soften. The Indian Journal of Dermatology discussed the impact of moisturizers in skin care [3].

Blue Stop Max Ingredients – Are they Safe & Effective?
These are some of the primary active ingredients:
Aloe Vera
This oil from the leaves of the aloe vera is deeply hydrating for the skin, and it has potent anti-inflammatory properties which decrease pain and swelling and may heal skin conditions.
An article in BioMed Research International discussed the wound-healing benefits of aloe vera [4]. High in antioxidants, aloe vera may also repair damage to the skin barrier.
MSM
Methylsulfonylmethane is a sulfur-based compound which may heal damage to joints and cartilage and rebuild tissue. An article in Nutrients discussed the potential applications of Methylsulfonylmethane [5].
It has powerful anti-inflammatory agents which may lessen pain and swelling, and a high antioxidant capacity to further repair damage to joints, muscles, and skin.
A study on runners in the Journal of the International Society of Sports Nutrition found that MSM effectively reduced arthritis pain [6].
Emu Oil
Derived from the fat of the emu bird, this oil has potent anti-inflammatory benefits and may decrease swelling in the muscles and joints, as well as heal wounds on the skin.
A study on mice in Dermatology Research and Practice found that Emu oil had some impact on healing wounds and decreasing inflammation [7]. Emu oil is also deeply hydrating and has moisturizing benefits for the skin.
Frequently Asked Questions (FAQs)
Q: Does Blue Stop Max Work?
A: Blue Stop Max Gel contains some ingredients that have scientific support, and others that have mixed research results. Most likely it will work well for some and less so for others, as indicated in the Blue Stop reviews.
Q: How Do You Apply It?
A: Take a liberal amount of the cream and massage it into the treatment area well. You can use Blue Stop Max up to 3-4 times daily. Wash carefully with soap and water after application, and be careful not to get the product in your eyes.
Q: What is the Return Policy?
A: The manufacturer is offering an open return policy. If you are not happy with the product, contact customer service for a return or replacement.
Q: Where Can I Buy Blue Stop Max?
A: You can purchase Blue Stop Max Massage Gel from the official website, from a number of other online retailers like Amazon and Sam's Club, and from pharmacies and grocery stores.
On the official site, American residents in 48 states get free shipping. The prices are as follows:
Blue Stop Max 2-ounce jar – $14.99
Blue Stop Max 4-ounce jar – $16.99
Blue Stop Max 8-ounce pump bottle – $21.99
Blue Stop Max 10-ounce pump bottle – $24.99
Blue Stop Max 16-ounce pump bottle – $29.99
Blue Stop Max Massaging Applicator – $16.99
Blue Stop Max Gift Card – $10
Q: What Sets It Apart From the Competition?
A: The ingredients do overlap with some of the competing brands, although this product is slightly less natural than some similar products because it has an artificial color. The prices are fairly reasonable for the amount of cream you get.

Blue Stop Max Reviews from Customers
There were quite a few positive Blue Stop Max reviews, and these customers were happy with the pain relief benefits and the light, pleasant scent. However, the product did not work for everyone, and some people said it wasn't potent enough to help them.
Here is a selection of some of the customer reviews for Blue Stop Max Pain Cream, to give you a general idea of what people are saying.
Better Than All Else
I have health issues (pain-related) from head to toe. I start with migraines, then cervical stenosis, thoracic throbbing & then there is my lumbar stenosis / rheumatoid & osteoarthritis which with the first thing when I wake up (if I can get any sleep).
Well, let me tell you, before I forget (age thing?), along with the pain I'm having is the problem getting any accurate diagnosis of where my pain is derived from because I have stage 3 kidney failure and t2d. Yes, diabetes.
Well as of about 1 year ago, I've accumulated a terrible form of neuropathy. It's been tagged as both peripheral and polyneuropathy. I do the majority of the research and diagnosis on my own due to just never being able to locate primary care even if that shows any concern for my issues.
Among the many many things they've tossed at me to 'tolerate pain', this product that I've discovered is the best thing I've tried. sure it is only temporary, but as soon as you put it on, it starts numbing. I'd say it lasts approx. 4 hours give or take.
Now that's a deal breaker and it's all natural!!! I just can't say enough about how it's helped me to do just daily activities & start to get my life back so I'm actually living vs. existing.
Peace! ~ Deci Vento
Great Product and Yes, Made in the USA
Recently tried a sample, and found the scent to be light and pleasant. Most importantly, the product works with intensity and did not irritate the skin. Felt relief almost immediately and the relief was quite long lasting. Great product!!! ~Susan
Blue Stop Doesn't Seem To Be More Than Skin Lotion
It smells decent enough, but other than smoothly hydrating skin, there is zero pain relief in this product. It's nothing more than a hydrating skin lubricant. It didn't help, not in the ways expected after reading the product information.~Kat
Poor Longevity
Works okay, but doesn't last and needs to be reapplied frequently. ~ DeNella A.
Good Product
Scent is not too bad, pain relief is alright. Have to apply several times a day. ~ Kimmie
Conclusion
Blue Stop Max Gel is a natural pain relief cream which promises to decrease inflammation, soreness, and stiffness in the muscles and joints and ease aches and pains. It includes potent ingredients and claims to not irritate the skin, but it does have some ingredients that could do so.
There were some positive Blue Stop Max Massage Gel reviews from customers who said the product helped ease their pain. Many appreciated the mild, pleasant scent that wasn't overpowering. However, there were also users who said it wasn't strong enough to alleviate their discomfort.
Blue Stop Max Massage Gel formula is largely organic, but ingredients like mineral oil and artificial color may cause a reaction in some customers. If you experience Blue Stop Max side effects like redness or itching, stop using the cream immediately and see a dermatologist if necessary.
Bones are connected by joints, which allow us to move with ease. Joint damage can cause pain preventing you from doing the things you once loved. Topical joint relief products tend to work more quickly, helping to relieve pain directly in the affected area compared to products taken orally. A topical joint pain relief product should be evaluated on its: potential to block the transportation of pain signals, potential to act as a counterirritant to reduce soreness and Quality of Ingredients* backed by clinical research.
Below you'll find some of the most effective topical joint pain products on the market today, in our opinion.
Our Top Joint Pain Relief Choices
Verdict on Claimed Benefits: Below is our summary of the available evidence for the claimed benefits of below mentioned joint pain relief gels, gummies, and creams based on the available research:
Well Care Botanicals | Hemp Extract Pain Relief Cream

Remove Inflammation & Soreness*
Gold Star Evidence
Pain-Relieving Benefits*
Gold Star Evidence
Supports Cartilage and Tissue*
Gold Star Evidence
Rapid Pain Relief*
Strong Evidence
Barker Wellness | Cannabinoid-Infused Products
Nurtures Body & Mind*
Gold Star Evidence
Targets Sleep & Focus*
Strong Evidence
Wide Range of Products*
Gold Star Evidence
Natural and Organic*
Strong Evidence
Aspercreme | Best Pain Relief Cream
Non-Greasy Cream*
Gold Star Evidence
Relieves Arthritis Pain*
Strong Evidence
Supports Joint & Muscles*
Strong Evidence
Fast-Acting Formula*
Strong Evidence
Product reviews are provided for informational purposes only and reflect solely the views and opinions expressed by the contributors and not those of Consumer Health Digest. We do not verify or endorse any claims made in these reviews. Please read the full product reviews disclaimer. *All individuals are unique. Your results can and will vary.
Ask a Question
Blue Stop Max Ques and Ans
Q: What is the % of menthol in Blue Stop Max?

A: Blue Stop Max contains a powerful formulation that includes 10% menthol, providing a cooling sensation and temporary relief to sore muscles and joints. This concentration has been carefully chosen to ensure maximum effectiveness while maintaining a comfortable experience for users.
Have a Question? Please Tell Us What We Are Missing Here!
PRODUCT NAME
Blue Stop Max
PRODUCT BRAND
Blue Stop Max
PRICE (in USD)
$23.88
ITEM FORM
Gel
VOLUME
16 Fl Oz
INGREDIENTS
MSM, Coconut Oil, Organic Aloe Vera Gel, Emu Oil, Glucosamine, Kukum Butter, Witch Hazel, Tea Tree Oil, Peach Oil, Vitamin E, Soybean Oil, Cetyl Palmitate, and Menthol.
$23.88 At Amazon
$23.88 At Walmart
**This is a subjective assessment based on the strength of the available informations and our estimation of efficacy.
*Result may vary. If you are pregnant, nursing, have a serious medical condition, or have a history of heart conditions we suggest consulting with a physician before using any supplement. The information contained in this website is provided for general informational purposes only. It is not intended to diagnose, treat, cure, or prevent any disease and should not be relied upon as a medical advice. Always consult your doctor before using any supplements.
Disclosure of Material connection: Some of the links in the post above are "associate sales links." This means if you can click on the link and purchase an item, we will receive a commission. Regardless, we only recommend products or services which we use personally and/or believe will add value to our readers. We are disclosing this in accordance with the Federal Trade Commission's 16 CFR, Part 255: "Guides Concerning the Use of Endorsements and Testimonials."