In This Review
EpiCeram Overview
EpiCeram cream is a product used to heal and repair dry skin conditions caused by skin barrier abnormalities in atopic dermatitis.
EpiCeram creates a barrier using a specialized formula. It manages and relieves the burning and itching associated with irritation, contact dermatitis, and atopic dermatitis.
The product contains three essential lipids for the skin and also is steroid-free, fragrance-free, paraben-free, and also propylene glycol.
This product is different from other eczema treatments and medications.
When the skin barrier is destroyed, it leads to a significant reduction in the lipids that help the skin to stay moist.
This product replenishes lipids by providing essential ingredients like ceramide and cholesterol and fatty acids to ensure the skin is replenished and speeds up the healing rate, especially in atopic dermatitis.
This product works well in harmony with moisturizers that contain ingredients like glycerin and petrolatum.
It also comes in a package of two sizes so as to fit the eczema treatment needs. It should, however, be used in conjunction with sunscreen to avoid overexposing your skin.
This product is packaged in an airless pump that allows more control and dispensing of the cream to be easy and portable.
Consumers can get the product under prescription only and can be purchased online. The product helps to heal and replenish damaged skin.
How Does It Rate?
Overall Rating: 3.5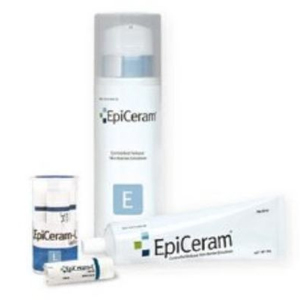 Epiceram
Brand Highlights
This product contains three essential lipids to help soothe dry and cracked lips.
It is steroid-free, gluten-free, fragrance-free, and rich in aloe to relieve the lips.
It also relieves itching and burning caused by atopic dermatitis and radiation dermatitis.
This product is also a controlled-release skin barrier emulsion and can repair the skin by using a specialized formula.
Key Ingredients
Capric acid
Citric acid
Glycerin
Petrolatum
Phenoxyethanol
Dimethicone
Palmitic acid
Pros
It does not contain gluten or fragrances.
May relieve itching and burning of the skin.
May speed up the healing rate.
It is available online.
It can be used together with other moisturizers.
Cons
Can only be used after a prescription from a health practitioner.
It is only available online.
It does not contain sunscreen.
---
Summary of EpiCeram

EpiCeram Airless Pump
Allows for more precise and controlled dispensing.(bestseller)
Key Ingredients: Ceramides, Purified Water, and Multisal Neolipids.
Price: $29
What It Does: The airless pump delivers more product to treat any size atopic dermatitis area.
---
Epiceram Prescription Cream
Treats the inflammation, burning, and itching caused by atopic dermatitis(bestseller)
Key Ingredients: Purified Water, Multisal Neolipids*, Glyceryl Stearate, Squalane, Glycerine, PEG-100 Stearate, Hydroxypropyl Bispalmitamide Mea (Ceramide), and Petrolatum.
Price: $29
What It Does: Epiceram Prescription Cream effectively relieves the signs and symptoms of atopic dermatitis, comparable to mid-potency topical corticosteroids.
---
EpiCeram-L Lip Care
EpiCeram-L relieves dry, chapped, or irritated lips quickly and effectively.(bestseller)
Key Ingredients: Glycine Soja (Soybean) Oil, Cera Alba (Beeswax), Hydrolyzed Corn Starch, Hydroxypropyl Bispalmitamide MEA, and Cholesteral.
Price: $29
What It Does: This advanced lip balm boosts moisture while protecting the lips with a blend of pure lipids (ceramides, free fatty acids, and cholesterol).
---
How Does EpiCeram Cream Work?
This product is used to provide hydration to the skin and also acts as a skin conditioner.
It provides essential ingredients to ensure the skin is replenished. It relieves itching and burning associated with atopic and contact dermatitis.
Users can speed up the healing rate of their skin condition by using this product. It contains no fragrance or gluten.
No color is also added to the essential formula, and it is also steroid-free.
EpiCeram Ingredients – Are they Safe & Effective?
The product relieves the itching and burning associated with contact and radiation dermatitis. It slowly releases lipids and other acne-fighting ingredients over time. The ingredients used are:
Capric acid
– This lowers the PH and is also used as a microbial. It protects the skin by acting as an antioxidant. [1]
Citric acid
– This is added to the formula to reduce the PH. Helps remove dead skin cells from the upper layers of the skin. Additionally, it removes dark spots, brightens your skin, and lightens it. [2]
Glycerin
– This is used as a humectant and also as an emulsifier.It protects against skin irritants and relieves dry skin.
Petrolatum
– This provides hydration to the skin. [3]
Phenoxyethanol
– According to the study, That is used as preservative. [4]
Dimethicone
– It is known to be a skin conditioner. Prevention of dry, rough, scaly, itchy skin, as well as minor irritations of the skin, is achieved by using this medication as a moisturizer. As we discussed in our Brighten + Tighten Restorative Facial Oil article.
Palmitic acid
– This is a barrier lipid and is also used to lower the PH.
Alternatives to EpiCeram
EpiCeram FAQ's
Q: How do I use this Epiceram cream?
A: The product should be applied twice a day or as recommended by a physician to the affected area of the skin and massaged gently.
Q: What are the precautions when using this product?
A: It is recommended to use Epiceram cream along with sunscreen to prevent dry skin since Epiceram does not contain sunscreen.
Q: How long before I see any improvements?
A: According to the Epiceram cream reviews, the user can expect to see results in 10–14 days of using this product. However, it varies depending on the skin's severity.
Q: Are there any possible Epiceram side effects?
A: This product has no aroma and is well tolerated. According to Epiceram reviews, no serious side effects have been noted following Epiceram cream use.
Q: How much does Epiceram cost?
A: Although this product costs roughly $6000, you may purchase it for $20 using a discount that is offered on the online platform.
EpiCeram Reviews – Final Verdict
This product contains no fragrance and is also steroid-free. It helps in replenishing the skin by ensuring the production of lipids is enhanced.
It also helps accelerate the healing rate of dry skin caused by drying medications or atopic dermatitis.
The user may treat and relieve the itching and burning caused by certain skin conditions.
The product might help moisturize the skin and protect it from dermatitis's effects.
The product may assist in relieving dry and cracked lips. It might help in correcting the skin barrier abnormalities found in atopic dermatitis.
It contains three essential lipids ceramides, fatty acids, and cholesterol that may help in keeping the skin moisturized and protected.
The product can be bought online after a prescription from the doctor especially if one is pregnant or breastfeeding.
People taking other medications may have to consult a health care provider first before using this product. Hence, it is recommended that one compares other products already on the market.
Skin Brighteners aid in reducing post-inflammatory hyperpigmentation revealing even skin tone. Skin brighteners also can help revitalize tired and dull skin resulting in a youthful, healthy glow.
Below you'll find some of the most effective skin brightening products on the market today, in our opinion.
Our Top Rated Skin Brighteners
Verdict on Claimed Benefits: Below is our summary of the available evidence for the claimed benefits of below mentioned anti-aging supplements, creams, serums, and moisturizers based on the available research:
Essential Skin Food | Skin Nourishing Collagen Support

Diminishes the Dark Spots*
Gold Star Evidence
Boosts Skin's Plumpness*
Gold Star Evidence
Improves Skin's Radiance*
Gold Star Evidence
Brighten Skin Naturally*
Strong Evidence
Dermelect | Advanced Skin Formula
Nourish and Protect Skin*
Gold Star Evidence
Rejuvenate the Skin*
Strong Evidence
Non-Irritating Formula*
Gold Star Evidence
Suitable for All Skin Types*
Strong Evidence
BioRestore Complete | Clear Skin Support
Deeply Nourishes Skin*
Gold Star Evidence
Improves Skin Texture*
Strong Evidence
Reduces Inflammation*
Strong Evidence
Works for All Skin Types*
Strong Evidence