Many men over the age of 40 suffer from health conditions related to their prostate or TO THEIR testosterone levels. The most common prostate condition is known as benign prostatic hypoplasia (BPH). Benign prostatic hypoplasia is the swelling of the prostate gland caused by hormonal imbalances that occur with aging. BPH can be an extremely uncomfortable condition to live with and it has many common symptoms; these symptoms include difficulty urinating, painful urination, excessively frequent urination, incomplete bladder voiding, erectile dysfunction, weak flowing urine and poor circulation.
Alongside BPH, most men will experience a drop in testosterone levels, which causes many issues including increased cholesterol in the bloodstream, depression, lack of libido and loss of muscle mass.
PT9 Premium Prostate Health Formula is an advanced and effective formulation of ingredients that induce a hormone balancing effect that treats* prostate conditions, whilst at the same time improving* testosterone production. If testosterone levels start to drop, this usually causes a chain of events that can make a man's life torment; loss of muscle mass is usually the first link in the chain, followed closely by hair loss and lack of libido, then comes reduced* concentration and lack of productivity, and finally depression; it is therefore extremely important that testosterone levels are kept at their normal levels.
PT9 Premium Prostate Health Formula is a specialist blend of ingredients that should benefit both prostate health and testosterone levels. The ingredients are based on a single serving of PT9, and are as follows: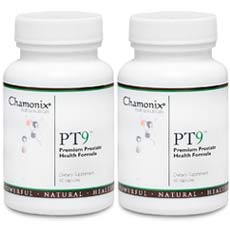 Vitamin D – 3,332 IU
Saw Palmetto Extract – 640mg
Beta -Sitosterols – 600mg
Pumpkin Seed Oil – 320mg
Pygeum Bark extract – 100mg
Zinc – 30mg
Boron – 6mg
Lycopene – 10mg
Selenium – 200 mcg
Others: Gelatine, Microcrystalline cellulose, silica dioxide, magnesium stearate
How Does PT9 Work?
PT9 Works by using dietary oils to and beta blockers to relax the muscles around the prostate, providing relief and over time reducing* the size of the prostate. This in turn removes* problems with weak urine flow or excessive trips to the bathroom. PT9 maintain the healthy level of testosterone in the testicles; Balancing out the hormones keeps the testicles and prostate in excellent health.
Pt9 Positives
Not only is PT9 a good option for overcoming BPH and many other prostate conditions, it also contains key ingredients that induce production of more quantifiable testosterone levels. PT9 contains Palmetto extracts and boron; these ingredients are very popular with healthcare professionals as they have countless research and positive studies backing up their positive prostate health effects. PT9 should show results within 60 days; when your testosterone levels increase* you will notice that muscle mass begins to improve* and your libido will make a return. Combining the treatment of both low testosterone levels and BPH into one simple capsule means that you don't have to take various different medications. If PT9 delivers what it promises, it will help you to become the confident and pain free man that you once were.
Pt9 Downsides
As with most other medicines and remedies available today, there are precautions and guidelines that should be followed to ensure you are using the treatment effectively. PT9 is not designed for men with high blood pressure or diabetes; if you have either of those conditions you should strongly consider not using PT9. PT9 has little known side effects, but as with almost every other remedy there have been reported cases of side effects. If you experience any side effects from using PT9, you should terminate use of the product immediately. All known side effects are non-permanent and will cease after you stop using the medicine.
Suggested Use Of Pt9
Dosage: 2 capsules daily, 1 capsule at a time, twice a day, with food.
PT9 is recommended for use by men who suffer from any of the following symptoms:
Difficulty urinating
Lack of testosterone
Inflamed prostate
Painful urination
Hormonal imbalances
Reduced* libido
Excessively frequent urination
Weak flowing urine
Incomplete bladder voiding
Poor circulation
As with all medications, you should consult your health care professional before use. Always Leave a 3 hour gap between taking one medication and another, this ensures that ingredients do not mix and create undesired effects. Do not use this remedy if you suffer from coronary heart disease, iron deficiency, high blood pressure or diabetes.
Side Effects Of Pt9
The side effects that have been known to occur in some men are; nausea, headaches, erectile dysfunction and light-headedness.
None of the reported side effects are serious or life threating. Any side effects experienced will cease after terminating use of PT9.
Is It Safe To Use Pt9 For Prostate Issues?
Looking at all of the facts and research linked to PT9 and the ingredients it contains, it seems safe to conclude that PT9 is not dangerous in any way. In fact, it provides many benefits whilst having little known side effects. In some men, it may trigger dizziness or nausea, but this stops as soon as the patient ceases use of the medicine. For most men, it will not trigger any side effects, and you will find that your prostate is showing noticeable improvement; you should also notice increased urine flow and higher energy levels.
Warnings Of PT9
If you suffer from high blood pressure or diabetes, you are strongly advised not to use PT9. PT9 has very few reported side effects but if you experience any you should terminate use of the product immediately.
What Kind of Reviews are Out there for PT9 Premium Prostate Health Formula?
Here are some of the reviews by PT9 users:
"I bought PT9 after developing an inflamed prostate, I was also losing my hair due to lack of testosterone in my system, so this was the perfect product for me. PT9 has worked wonders, I felt a little nausea on the first day but that passed rather quickly. I have been using PT9 for 3 weeks solid now and have no side effects. My inflamed prostate feels a lot better and my hair is starting to come back, it really seems to be working for me, thanks!"
– Michael
"I ordered PT9 after numerous failed attempts of self-medicating my lack of testosterone with cheaper, dud products. PT9 is the first product so far to have had any effect, and what an effect it has had! I have been using it for 6 months now and my testosterone levels are above average! I can lift more weigh, my hair is growing back, and my wife is satisfied for the first time in years, this product rocks!"
– Kenny
Final Thoughts
PT9 is the first combination of ingredients on the market that offers a treatment for both BPH and low testosterone, and it seems to do an incredible job at it. This makes it a unique product that suits the needs of many men above 40.
Prostate health is of great concern for men today. Preventative measures may reduce the risk of developing prostate cancer and improve overall prostate health and function. A quality, premium prostate supplement may shrink the prostate, minimize frequent urination, promote sexual function and contain quality ingredients.
Below you'll find some of the most effective prostate supplements on the market today, in our opinion.
Our Top Prostate Support Choices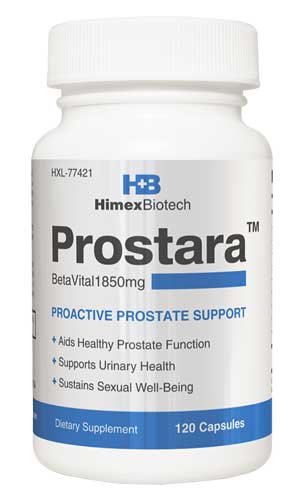 Maintaining Prostate Health*
Maintaining Prostate Health*
Maintaining Prostate Health*
Maintaining Prostate Health*
Maintaining Prostate Health*