In This Review
What is Prostate911?
Prostate 911 is an all-natural supplement for men who suffer from urinary tract symptoms associated with an enlarged prostate. It may decrease issues like frequent urination, nighttime wakeups, blocked urine flow, and dribbling.
Prostate 911 also lessens other related symptoms like painful ejaculation and back pain, as well as promoting general health and stronger immunity. Many users have stated that the Get Prostate 911 difference has greatly improved their quality of life.
How Does It Rate?
Overall Rating: 4.7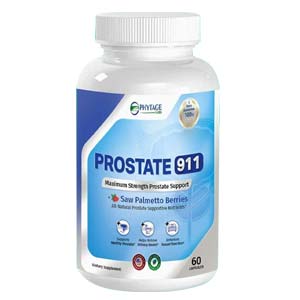 Prostate 911
Brand Highlights
The ingredients are 100% naturally sourced.
Manufacturing takes place in a facility in the USA following GMP standards.
Prostate 911 promises full results in 7 days.
The ingredients have scientific support.
Key Ingredients
Vitamin E
L-Alanine
Zinc
Lycopene
Saw Palmetto
Beta Sitosterol
Selenium
Pumpkin Seeds
Pygeum Africanum
Pros
Prostate 911 can decrease frequent urination.
This product can eliminate painful ejaculation.
It can prevent urine dribbling.
Prostate 911 supports overall prostate health.
It strengthens the immune system.
Cons
Some side effects are reported.
More expensive that other.
The results will vary for different individuals.
There are no free samples available.
High demand may lead to low stock.
---
How Does It Work?
Prostate 911 is rich in phytosterols which support both prostate and urinary tract health. There's evidence that they may decrease the symptoms associated with benign prostatic hyperplasia, such as frequent and nighttime urination, dribbling, and blocked urine flow.
A study in the British Journal of Urology concluded that phytosterols were effective in the treatment of benign prostatic hyperplasia [1].
The formula is full of anti-inflammatory agents which decrease prostate swelling and shrink the size of the gland, alleviating pressure on the urethra. This also helps decrease common urinary tract issues.
This supplement is high in antioxidants, which abolish free radicals in your system and lower oxidative stress. This promotes repair and healing and supports a strong immune system. A review in Urologia Internationalis discussed oxidative stress and the role it may play in benign prostate hyperplasia [2].
Ingredients In Prostate 911 – Are They Safe & Effective?
These are some of the primary active ingredients:
Beta Sitosterol
– This is a phytosterol similar in structure to cholesterol. It may decrease cholesterol levels in the body, and there is also support for its efficacy in decreasing the symptoms associated with benign prostate hyperplasia like frequent and nighttime urination.
This compound may also support heart health and lessen your risk of developing cardiovascular disease. A systematic review in Cochrane Library found significant support for the effectiveness of beta sitosterol in treating benign prostatic hyperplasia [3].
Lycopene
– This is a pigment found in fruits such as tomatoes, called a carotenoid. It has powerful antioxidant properties, helping to repair damage in the body, promote cellular health, and strengthen the immune system.
Lycopene may inhibit the growth of prostate cancer cells, helping to prevent its development. An article in the International Journal of Molecular Sciences discussed the potential role of lycopene in preventing prostate cancer [4].
Saw Palmetto
– This is an extract from a palm tree which is very high in anti-inflammatory agents. It may decrease swelling in the prostate, which could lessen symptoms like dribbling, nighttime urination, and blocked urine flow. Also, we have discussed about this ingredient in our ProstaRelief.
It's also high in antioxidants which repair damage and heal, as well as strengthening immunity. An article in Reviews in Urology discussed the use of saw palmetto as a treatment for benign prostatic hyperplasia [5].
Frequently Asked Questions
Q: How Do You Take It?
A: The manufacturer recommends that you take 2 capsules daily, at whatever time is convenient. Do not take more than the maximum daily dosage under any circumstances.
Q: What is the Return Policy?
A: The manufacturer is offering a 97-day satisfaction guarantee on this supplement. If you are not happy with the product, contact the customer service department for instructions and send the item back within 97 days of the delivery date. You should get a full refund.
Q: Is It a Good Product?
A: This is a powerful, safe, clinically tested prostate supplement that includes a blend of scientifically backed ingredients shown to be the most effective prostate supplement. It's also free of harmful additives or fillers and manufactured in a U.S. facility following GMP guidelines.
Q: Where to Buy It?
A: Get Prostate 911 is for sale on the official product website, and from a limited number of other online retailers such as Amazon. On the official site, shipping is free on all orders.
If you buy in bulk you save, and if you joint the VIP program you save 10% on all future shipments. The price list is as follows:
1 Bottle – $69.95
2 Bottles – $119.90
4 Bottles – $199.80
Q: What Sets It Apart From the Competition?
A: This is a powerful supplement which the manufacturer states is 353% more effective than other typical brands at improving prostate symptoms. They also offer a guarantee which is superior to most other companies that sell prostate supplements.
What Do the Reviews Say?
The reviews for Prostate 911 offered a range of opinions, but most were quite positive. There were a number of men who experienced great relief from prostate enlargement symptoms, and most said it was more than worth the cost.
Here are some of the best customer comments, to give you an idea of the general feedback on this organic prostate supplement.
Works!
Husband had been getting up 4 or 5 times each night. After 2 weeks of taking this he only got up once, or twice at times. – June C
Great Product
Can go to the bathroom and start urinating a lot faster. Sex life has improved 100%. Very happy right now; only been on it 40 days. Will have blood work done next month, and will check then for my PSA count. – Ernest
Prostate Tabs
Working well, happy with them – Gary W.

Very Efficient
Dad has taken this medicine for 1 week and he feels more than 80% much better than few weeks/months ago. He decided to continue for 30 days. – Dad

Conclusion
Prostate 911 is a pure, natural supplement designed for men who are experiencing symptoms associated with prostate enlargement. It decreases issues like frequent and nighttime urination, dribbling, and painful urination or ejaculation. This is a potent formula which includes scientifically backed ingredients.
The Prostate 911 reviews were, on the whole, from very satisfied customers who said the product very effectively reduced their symptoms within a week or two. Most men said it brought them considerable daily relief and improved quality of life. There was no mention of uncomfortable side effects.
This supplement contains 100% pure, organic ingredients with no chemical or artificial additives or fillers. The manufacturing takes place in a GMP certified facility in the USA. This is a safe product, and highly recommended to men who are looking for a natural solution to their prostate discomfort.