What is ProstaRelief?
ProstaRelief is one of the newest products which have been designed especially for men who are currently suffering from discomfort caused by prostate problems. According to different studies, about 50% of men aging 50 and above suffer from an enlarged prostate. The symptoms may vary from minor distractions such as frequent urination, and even to serious ailments such as sexual dysfunction. This Prostate supplement been formulated with the use of natural ingredients and designed to solve these problems without causing any harmful side effects. ProstaRelief is available at a price of $39.95 per bottle.
Manufacturer Information and its claims about the ProstaRelief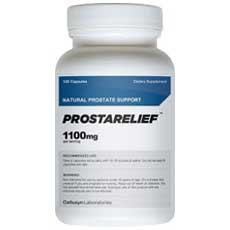 ProstaRelief was manufactured by a company named ProstaRelief. They have a good reputation as a company, and equipped with various third party monitoring services, such as Norton, buySAFE, Trustee, and has received an A+ rating coming from the company that performs quality monitoring, Quality Trusted.
How Does ProstaRelief Work?
ProstaRelief comes with a blend of herbs, antioxidants, as well as vitamins, and minerals. They are all deemed to produce a positive impact on your prostate health. This formulation is completely safe for most men. These ingredients have been proven under clinical conditions.
ProstaRelief Ingredients
Here are some of the active ingredients of ProstaRelief:
Saw Palmetto – This ingredient has been used for a long time in order to provide treatment to enlarged prostate. It can also help in improving health by means of decreasing the function of 5-alpha-reductase, thus reducing DHT levels in the prostate.
Pygeum – This ingredient is an extract from a specific bark of the Prunus Africana tree. It has been used to provide treatment to symptoms on enlarged prostate, incomplete emptying of the bladder, night time urination, as well as low urine volume.
Pumpkin Seed – There are chemicals found in pumpkin seed which has been proven to relieve discomfort in the bladder. They have also been used to provide treatment to prostate problems.
Cranberry Extract – This ingredient is a natural solution for urinary tract infections, which is a symptom aggravated by an enlarged prostate.
Pomegranate Seed – This seed contains antioxidants which work in inhibiting cell division and growth in the prostate.
Zinc – This mineral is essential in boosting immunity thanks to its antioxidant properties. It fights free radicals which extend to the prostate.
Selenium – this ingredient plays a very important role in the overall reproductive health and cell health of a man. According to research, selenium can help in preventing an enlarged prostate as well as other prostate related health problem.
Above are the ingredients you will be finding in top prostate formulas as well.
ProstaRelief Benefits
Here are some of the benefits of ProstaRelief:
The ingredients are explained accordingly
There are testimonials from the customers in the website
No reported side effects
Contains all-natural ingredients
Free gifts are offered upon purchase
Various pricing options
Comes with a 90-day money back guarantee
ProstaRelief Drawbacks
Here are some of the drawbacks of ProstaRelief:
Needs to be taken indefinitely in order to experience the effects
Scientific data is not made available
Only available for purchase online
ProstaRelief Side Effects
There are no reported side effects in using ProstaRelief. However, since there is still a possibility that the results may differ from one person to another, there may be some rare effects along the way. If this happens, it may be recommended to discontinue use and discuss your options together with a physician.
FAQ
Q: What is the recommended dosage?
The recommended dosage for this product of 2 capsules two times a day.
Precautions: ProstaRelief is a safe product, complete with ingredients that are all-natural. Therefore, it is proven effective and safe at the same time.
Q: Does it interact with other medications?
A: Since it uses all-natural ingredients, it is not known to interact with other medications. However, as a safety precaution, if you are suffering from certain medical conditions, it would be best to discuss with your physician first all of the options available for you.
Q: What is the typical time before men see a difference in frequency of having to urinate?
A: A healthy person may urinate anywhere from four to ten times a day. The average amount, however, is usually between six and seven times in a 24-hour period. But it's not out of the ordinary to urinate more or less on any given day.
Final Verdict
Overall, ProstaRelief is a very promising product which claims to provide treatment to problems related to prostate malfunction. Aside from offering treatment, it can also prevent problems along the way. Since the product comes with a 90-day money back guarantee, you have a guarantee that it really works well, and that it has a quality that is satisfactory at the same time. There are also no reported side effects in using this product as well. The product's official product website is also complete with all of the information necessary for review check the website and decide whether you find this as the best prostate supplement or not. If you are looking for a product that can provide a solution to your prostate-related problems, ProstaRelief is a great option for you.
Prostate health is of great concern for men today. Preventative measures may reduce the risk of developing prostate cancer and improve overall prostate health and function. A quality, premium prostate supplement may shrink the prostate, minimize frequent urination, promote sexual function and contain quality ingredients.
Below you'll find some of the most effective prostate supplements on the market today, in our opinion.
Our Top Prostate Support Choices
Prostate Plus -
5% OFF Today

Maintaining Prostate Health*
Maintaining Prostate Health*