What is TruNature Prostate Health Complex?
Most old men are being suffered from urinary problems due to prostate enlargement. When seeking true relief, according to the Journal of the American Medical Association, it stated that Saw Palmetto (a popular supplement) is the best to control an enlarged prostate.
TruNature Prostate Health Complex is one of the available products that provide the supplement. It is a plant extracted product that is found in the market as soft gels. Costco Wholesale Inc. has brought this herbal-based supplement for the treatment of prostate enlargement. But this product is not registered by the FDA. So it doesn't intend to use for the treatment or cure of the disease.
How Does It Rate?
Overall Rating: 3.7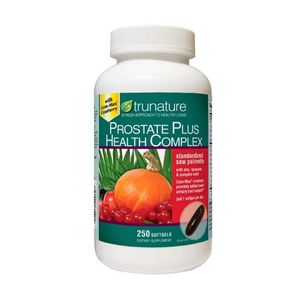 TruNature Prostate Plus Health Complex
Brand Highlights
Brand name is TruNature.
The company is located in the USA.
They claimed to have a clinical study backup.
They also claim that it is safe & effective.
Key Ingredients
Pumpkin Seed Oil
Saw Palmetto
Gelatin
Zinc
Safflower Oil
Selenium Yeast
Pros
Counters chronic bronchitis, migraine and headaches
It may relive pain during urination
Contains only natural ingredients
It may control blood sugar levels
It can boost sexual performance
Cons
Its only ordered online.
Its only supposed to be used by adults who are above 18 years of age.
Product is more expensive.
Some side effects are reported.
---
How Does TruNature Prostate Health Complex Work?
Varro E. Tyler, Ph.D., a late pharmacognosist of Purdue University expressed the working method of this product as well as Saw Palmetto's special manner against the urinary problem. A male hormone named androgens is responsible for prostate enlargement, but the extract and other containing nutrients of TruNature Prostate Health Complex show counteracts the effects of androgens.
The saw palmetto has the enzyme 5-alpha-reductase that obstructs the growth of prostate tissue. Also, it has been stated that anti-inflammatory activity will be increased in taking a regular dose of soft gels.
In other research work showed changes in estrogen after using the supplement given by this product and in the human trial, it has been reported as 80 percent success. The ratio in biochemical health is maintained by the different enzymes of the ingredients.
It is said that this prostate health supplement works at countering the production of androgen hormone in men which is responsible for enlarging the prostate. Apart from combating prostate disorders, this supplement is also claimed to boost sexual health and give energy to its users.
TruNature Prostate Health Complex Ingredients – Are they Safe & Effective?
TruNature Prostate Health Complex is a plant extract product that contains Saw Palmetto, Pumpkin Seed, phytonutrients, Lycopene, and fatty acids like Palmitic Acid, Linoleic Acid, Stearic Acid, and Oleic Acid. Saw palmetto is an extract produced from the fruit of saw palmetto (a dwarf palm tree). It is the main ingredient that has the most effective against prostate enlargement.
Pumpkin Seed Oil
Minimizes the size of an enlarged prostate and aids in combating Benign Prostatic Hyperplasia (BPH) thus maintaining the health of the prostate gland[1].
Saw Palmetto
Aids in promoting the natural production of testosterone and in combating BPH. It also counters urinary disorders making the users have a healthy prostate.
As documented in our prostate md reviews article, features this ingredient in which we provided detailed information and analysis.
Gelatin
Gelatin, derived from animal collagen, is frequently utilized as a capsule or coating material for dietary supplement pills. Not only does it have potential benefits in reducing fat and regulating blood sugar levels, but it also promotes skin health. As a result, it is commonly found in various dietary supplements, including those designed for prostate health like Prostate SR.
Zinc
Helps in preventing tumor growth from the prostate glands.
Safflower Oil
Instrumental in reducing weight, boosting cardiovascular health, and in combating inflammation in the body.
Selenium Yeast
Helps in combating free radicals that damage cells and cause diseases.
Other ingredients contained in this supplement include; Caramel Oil, Purified water, Glycerin, Yellow Beeswax, Lecithin and Titanium Dioxide.

FAQ
Q: Is It Effective?
A: Yes. It has researched what happens to people after taking this product. The survey was carried out in 11 hospitals in U.S.A and Canada to 369 patients of over 45 years aged men and researchers found that they got improved after using the regular dose. Even the double and triple doses are effective after 72 weeks of treatment.
This product can give a better result than any other supplement for being relieved from urinary problems. It has also been reviewed by some people in online health blogs and stores that they didn't get a good result at all.
Q: How to Use?
A: The patient should take a supplement prescribed by a specialist and need to consult with him if any troubles happen through medication. But as it does not intend to treat prostate cancer, the consultant needs to be done before start taking, and you cannot regularly go to your doctor for changing the prescription.
It has been prescribed for taking one soft gel as a dietary supplement with a meal every day for adults.
Q: How much does it cost?
A: A single bottle of TruNature Prostate Plus Health Complex may cost you $99.99.
Q: Can I consume TruNature's Prostate Plus Health Complex capsules of expiry date 01/19
A: It does not require refrigeration. Taking an expired vitamin or supplement is highly unlikely to cause you harm. Unlike food, vitamins don't go "bad," nor do they become toxic or poisonous.
Q: Are there any Side Effects?
A: There are no significant side effects of the product TruNature Prostate Health Complex. There is some sexual performance-related problems has been reported only. When the doses are not carried out in a regular way, some skin and rashes problems may arise.

Final Verdict – TruNature Prostate Health Complex Reviews
TrueNature Prostate Health Complex is a supplement made to counter prostate disorders in men. As men age, they are known to suffer from prostate problems such as BPH.
This product contains natural ingredients that are claimed by the manufacturer to be safe and effective for use. Some of the claimed benefits that are given by this supplement are; minimized swelling of the prostate glands, controlled blood sugar levels, and enhanced sexual performance. This supplement should however only be used by adults above the age of 18.
Although the product may be good for you, we will advise you to check another similar product available in the market such as Ben's Total Health and make a wise decision by comparing its quality, effectiveness & prices. This comparison will help you to choose the best product on the market.
Prostate health is of great concern for men today. Preventative measures may reduce the risk of developing prostate cancer and improve overall prostate health and function. A quality, premium prostate supplement may shrink the prostate, minimize frequent urination, promote sexual function and contain quality ingredients.
Below you'll find some of the most effective prostate supplements on the market today, in our opinion.
Our Top Prostate Support Choices
Verdict on Claimed Benefits: Below is our summary of the available evidence for the claimed benefits of below mentioned prostate health supplements based on the available research:
Product reviews are provided for informational purposes only and reflect solely the views and opinions expressed by the contributors and not those of Consumer Health Digest. We do not verify or endorse any claims made in these reviews. Please read the full product reviews disclaimer. *All individuals are unique. Your results can and will vary.
Ask a Question
TruNature Prostate Health Complex Ques and Ans
Q: Is there a particular time of the day this pill should be taken to be most effective?

A: For best results, simply take 1 soft gel of TrueNature Prostate Health Complex daily with food

Q: Hello! Question: I have been on the Trunature Prostate Plus Health Complex for about (2) months now- 1 capsule daily! Since taking this complex- I have noticed a change in the usage of Viagra! I noticed that mentioned in the side effects- that some sexual performance-related problems were experienced. I am going to stop using this product but curious what ingredient in this complex is affecting Viagra? Please send a reply- Thanks! Bill

A: TruNature Prostate Health Complex is a dietary health supplement that comprises natural ingredients like Pumpkin Seed Oil, Gelatin, Zinc, Safflower Oil, and Selenium Yeast. The active ingredient in Viagra is sildenafil citrate, which causes headaches, nausea, hot flushes, and dizziness. According to TruNature Prostate Health Complex reviews, Many people have experienced this while taking TruNature Prostate Health Complex.

One review says, "TruNature Prostate Health Complex is an excellent supplement. I take one capsule daily as a recommendation from my doctor. No side effects and is all-natural."
Have a Question? Please Tell Us What We Are Missing Here!
PRODUCT NAME
TruNature Prostate Plus Health Complex
PRODUCT BRAND
TruNature
PRICE (in USD)
$99.99
ITEM FORM
Softgel
UNIT COUNT
250 Softgels
INGREDIENTS
Pumpkin Seed Oil, Saw Palmetto, Gelatin, Zinc, Safflower Oil, And Selenium Yeast.
$75.00 At Amazon
$77.00 At Walmart
1 Sources
We review published medical research in respected scientific journals to arrive at our conclusions about a product or health topic. This ensures the highest standard of scientific accuracy.
**This is a subjective assessment based on the strength of the available informations and our estimation of efficacy.
*Result may vary. If you are pregnant, nursing, have a serious medical condition, or have a history of heart conditions we suggest consulting with a physician before using any supplement. The information contained in this website is provided for general informational purposes only. It is not intended to diagnose, treat, cure, or prevent any disease and should not be relied upon as a medical advice. Always consult your doctor before using any supplements.
Disclosure of Material connection: Some of the links in the post above are "associate sales links." This means if you can click on the link and purchase an item, we will receive a commission. Regardless, we only recommend products or services which we use personally and/or believe will add value to our readers. We are disclosing this in accordance with the Federal Trade Commission's 16 CFR, Part 255: "Guides Concerning the Use of Endorsements and Testimonials."