Pueraria Mirifica Plus Overview
Pueraria Mirifica Plus is a female hormone supplement designed to promote women's health by relieving them of premenopausal or menopausal symptoms.
It rejuvenates and energizes them helping them feel ageless over the years. It promotes dynamism by increasing energy levels and reducing hot flashes.
Manufacturer Information and Claims about Pueraria Mirifica Plus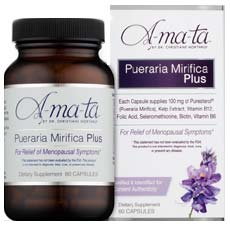 Pueraria Mirifica Plus is a product manufactured by AmataLife Company. This manufacturer claims that Pueraria Mirifica Plus will support better sleep patterns, reduce hot flashes and promote women's vitality.
They claim that this supplement is safe, healthy and clean of any substances that pose danger to human after use. They also claim that it can reduce the appearance of aging signs like wrinkles and fine lines promoting a younger and healthier look.
Working Process and the Ingredients List
Pueraria Mirifica Plus makes use of components, which ones ingested nourish the body with nutrients which help support healthy aging and alleviate menopausal symptoms. Ingredients in Pueraria Mirifica Plus include:
PuerariaMirifica (Puresterol) – Alleviates menopausal symptoms like night sweats and hot flashes. It also increase libido by increasing sex drive and vaginal moisture. It also support healthy aging by reducing grey hair and cellulites, improve memory, increase energy levels as well as reducing aging signs visibility as it hydrates the skin and enhance collagen production. It may also increase one's bust size.
Biotin – Promotes growth of healthy hair ails and skin. It also supports cognitive functions by protecting brain functions.
Vitamin B6 (as Pyridoxol 5 Phosphate) – Helps relieve menopausal stress as it controls production of hormones in the brain thus stabilizing moods.
Vitamin B12 (as Cyanocobalamin) – Prevents excessive hairloss during menopause.
Kelp Extract (thallusLaminaria) – Being a good source of iodine, it enhance thyroid function as well as maintaining healthy eyes, skin and hair.
Selenium (as Selenomethionine) – It acts as an antioxidant as it prevents against oxidative stress and enhances thyroid functions.
Other ingredients Microcrystalline Cellulose, vegetable capsule.
The Advantages of Pueraria Mirifica Plus
It may relief menopausal symptoms like night sweats and hot flashes
It may reduce appearance of aging signs
Promotes production of hormones in the brain thus supporting healthy cognitive functions
Enhance maintenance of hair, skin and eyes and prevent excessive hairloss
Increase sex drive
The Disadvantages of Pueraria Mirifica Plus
Results may vary
Can only be bought online
Alternatives to Pueraria Mirifica Plus:
FAQ's
What are the Usage Instructions of Pueraria Mirifica Plus?
Take one capsule twice daily with food.
Possible Side Effects
Pueraria Mirifica Plus has no negative effect on the user.
Final Verdict
Regardless of your age, general health is always important for healthy functioning of your body. Women who are older should not be left behind in guarding their health.
As women get older, they experience changes in their body, which may be uncomfortable and takes long to cope. Pueraria Mirifica Plus is alleged to be a healthy supplement that may help women by relieving them menopause symptoms like hot flashes and night sweats, help manage stress and anxiety, prevent hair loss and hair graying and enhance estrogen production and maintenance of its levels thus helping them go about their daily activities confidently.
Advertisement
*All individuals are unique. Your results can and will vary.
The market is flooded with products claiming to offer similar benefits or more, one should carry out an extensive research on the product including Pueraria Mirifica Plus.
From your findings, you will learn about the product's safety, efficacy and dangers you will get exposed to and therefore end up making an informed final decision on whether the given product is worth purchase and/or use.
Fortunately, natural therapies for menopausal symptoms such as weight gain, hot flashes, night sweats, decreased libido, and mood swings are available. Since many women experience weight gain during menopause, many natural menopause supplements contain herbs and botanicals that support a healthy metabolism. Menopause supplements should be evaluated on proven ingredients, ability to reduce hot flashes and night sweats, ability to provide hormonal balance and boost libido and its overall value.
Below you'll find some of the most effective menopause supplements on the market today, in our opinion.
Our Top Menopause Choices
Verdict on Claimed Benefits: Below is our summary of the available evidence for the claimed benefits of below mentioned menopause supplements and vitamins based on the available research:
Amberen | Best Multi-Symptom Menopause Relief Supplement

Reduces Hot Flashes*
Gold Star Evidence
Helps Restore Hormonal Balance*
Gold Star Evidence
Better Sleep*
Strong Evidence
Mood Improvement*
Strong Evidence
Estroven Complete Multi-Symptom Menopause Relief
Reduces Menopause Symptoms*
Gold Star Evidence
Reduces Night Sweats*
Gold Star Evidence
Improve Energy*
Strong Evidence
Support Mood Swings*
Moderate Evidence
Metagenics Estrovera | Plant-Derived Menopausal Hot Flash Relief
Assists With Hot Flashes*
Gold Star Evidence
Improve Mood Swings*
Moderate Evidence
Ease Menopause Symptoms*
Strong Evidence
Reduces Night Sweats*
Strong Evidence