In This Review
What is UltraCalming Cleanser?
Many of the facial cleansing products that you find on the market nowadays often have harmful ingredients that can make your skin look dry and, worse, can lead to damage. So, before you finally decide to choose a cleansing brand, make sure that you get to find a product that has a gentle and soothing formula. Among the most popular facial cleansers is the UltraCalming Cleanser. With the product receiving good reviews, you need to know what it offers, along with the pros and cons of using it.
The UltraCalming Cleanser is a facial cleanser that is specifically created to provide deep cleansing for your face. With its soothing formula, you can have an effective facial cleanser that you can include in your daily skincare routine. The brand claims that with continuous use of this product, your skin becomes softer, smoother, and healthier. What is nice about this product is that it does not make your skin dry.
How Does It Rate?
Overall Rating: 3.1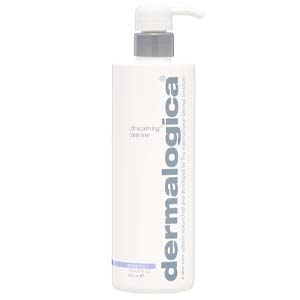 UltraCalming Cleanser
Brand Highlights
Dermalogica invented the UltraCalming Cleanser.
A company well known for creating a variety of skincare products.
The International Dermal Institute creates the brand.
Face wash for all skin types.
With continuous use of this product, it claims that skin becomes softer, smoother, and healthier.
Key Ingredients
Glycerin
Oat Kernel Extract
Cucumber
Raspberry
Salix Alba Bark Extract
Pros
The product has a mild and gentle formula that is perfect for all skin types.
It makes the skin soft, clean, and smooth.
May balance the skin.
It may possess moisturising capacity.
Cons
Dermalogica's ultra-calming cleanserdoesn't effectively remove makeup.
---
How Does UltraCalming Cleanser Work?
The cleanser is the same as the other face cleanser wash being offered on the market. The difference lies in the efficacy of the product and how it works. Apart from just being an effective facial cleanser that can remove dirt, makeup, and other pollutants, the UltraCalming Cleanser is also a good soothing skincare product. With its natural ingredients, you get a very soothing and gentle formula that will pamper the skin. The product also protects your skin's moisture and prevents it from being dry.
UltraCalming Cleanser Ingredients – Are They Safe and Effective?
Glycerin
– Glycerin functions as a humectant, a chemical that enables the skin to retain moisture, and is therefore excellent for the skin. According to statistics, this component is widely found in facial washing products. Since it has been demonstrated to enhance cell maturation, it is recognised to fight a variety of skin ailments.[1]
Oat Kernel Extract
– Oats include a variety of nutrients that build the skin's barrier while also calming and moisturising it. This natural ingredient is well renowned for calming the skin. Additionally, oat kernel extract helps injured skin by calming it.[2]
Cucumber
– It can revitalise skin, constrict pores, and improve skin complexion, all of which may help lessen acne outbreaks.[3]
Raspberry
– The red raspberry seed oil is considered to be one of the proven ingredients as it has superb anti-aging properties.[4]
Salix Alba Bark Extract
– Also known as white willow bark, it contains salicin. This ingredient is widely used in skincare products as it has amazing anti-inflammatory properties.[5]
UltraCalming Cleanser Review – FAQ's
Q: How to use?
A: To get the best results, it is strongly suggested that you use UltraCalming Cleanser both day and night. Before you go out and before you go to bed, you can just get plenty of the facial cleanser. Gently apply it all over your face as well as your throat. Massage it and rinse with lukewarm water.
Q: Is it Safe for the Skin?
A: Considering the benefits that you can get from using this facial cleanser, one of the things that you need to know is the safety of the product you intend to purchase. The brand has been known for creating top-of-the line skin care products, so you never have to worry about any adverse effects of using UltraCalming Cleanser. The ingredients are mostly organic and herbal extracts.
You May Also Want To Read – Skinceuticals Gentle Cleanser Reviews
Customer Reviews for UltraCalming Cleanser
My skin is very sensitive, this is the only cleanser that does not irritate my face.~ Review by Erin M.
I have been using this product for years and I love it. It is rich and creamy, removes dirt and makeup beautifully, and has never irritated my sensitive skin.~ Review by Carole
UltraCalming Cleanser Review – Final Verdict
Given the information along with the feedback and comments, is the product worth the purchase? Yes. If you have sensitive and dry skin, you can go for the UltraCalming Cleanser. The price might be a bit expensive compared to others, but you can get a quality facial cleanser that can moisturize, calm, and soothe your skin. But if you have troubled skin or do not want to splurge, there are always other products that would suit your needs.
Now that you know what a priority it should be to use a good facial cleanser, hopefully you'll make sure it's part of your regimen. A good face cleanser can keep your face clear of dirt and impurities, and over the long run it can give you younger looking skin.
Below are some of the best facial cleanser products on the market today, in our opinion.
Our Top Facial Cleanser Choices
Verdict on Claimed Benefits: Below is our summary of the available evidence for the claimed benefits of below mentioned facial cleanser based on the available research:
Beverly Hills MD Refresh + Renew Cleansing Gel

Help Smooth Skin & Diminish Fine Lines*
Gold Star Evidence
Improves Skin Texture*
Gold Star Evidence
Suitable for Daily Use*
Gold Star Evidence
Non-Drying Formula*
Strong Evidence
Cetaphil Daily Facial Cleanser | Effective Face Cleanser
Purges Dirt and Impurities*
Gold Star Evidence
Prevent Clogged Pores*
Strong Evidence
Restores Ph Balance*
Gold Star Evidence
Supports Glowing Skin*
Strong Evidence
Product reviews are provided for informational purposes only and reflect solely the views and opinions expressed by the contributors and not those of Consumer Health Digest. We do not verify or endorse any claims made in these reviews. Please read the full product reviews disclaimer. *All individuals are unique. Your results can and will vary.
Ask a Question
Have a Question? Please Tell Us What We Are Missing Here!
PRODUCT NAME
Dermalogica Ultra Calming
PRODUCT BRAND
Dermalogica
PRICE (in USD)
$64.00
ITEM FORM
Gel-Cream
VOLUME
500ml
INGREDIENTS
Glycerin, Oat Kernel Extract, Cucumber, Raspberry and Salix Alba Bark Extract.
Buy On Amazon
Buy On Walmart
5 Sources
We review published medical research in respected scientific journals to arrive at our conclusions about a product or health topic. This ensures the highest standard of scientific accuracy.
**This is a subjective assessment based on the strength of the available informations and our estimation of efficacy.
*Result may vary. The information contained in this website is provided for general informational purpose. No medical claims are implied in this content, and the information herein is not intended to be used for self diagnosis or self treatment of any condition.
*Disclosure of Material connection: Some of the links in the post above are "associate sales links." This means if you can click on the link and purchase an item, we will receive a commission. Regardless, we only recommend products or services which we use personally and/or believe will add value to our readers. We are disclosing this in accordance with the Federal Trade Commission's 16 CFR, Part 255: "Guides Concerning the Use of Endorsements and Testimonials."