Choosing the right colon cleansing product is tough. There are hundreds of brands out there. So, which one do you get? How do you get rid of toxins?
Through detoxification, of course, which is why these supplements do help. The trick now is to find which one works best for you. Take a look at expert reviews and customer feedback.
Colon health should be important to you. If you haven't really watched what you eat, then your body must be ridden with wastes and toxins. You don't just get rid of these unhealthy substances overnight.
These toxins course through your system for a long, long time, hindering your body from functioning properly.
If you feel bloated, if you're constipated, or if you haven't lost weight despite your efforts, then you can blame your diet for these and for the fact that the toxins have weakened your metabolism.
Perhaps the inclusion of the best colon cleanser could help you keep your gut healthy.
Advocare Cleanse Overview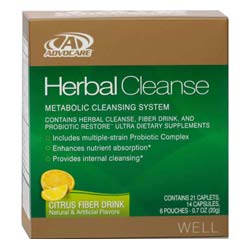 Advocare Cleanse is a colon health supplement that removes toxins and waste materials from your body such as the liver, blood, urine, and intestines.
When nothing blocks the food from passing through the intestines, then your body can achieve optimal health.
So, what exactly is Advocare Cleanse? This supplement is more than just for detoxification. It's a 24-day program that promotes a clean and healthy colon when taken as directed.
The entire package comes in two-phase: cleanse and max phase. Within the required number of days, the first 10 is the cleanse phase while the remaining 14 days is the max phase.
Advertisement
*All individuals are unique. Your results can and will vary.
After you've taken Advocare Cleanse, the manufacturer states that you can finally claim to have a healthy and clean colon.
You'll actually feel it because your energy levels increase, your metabolism improves, and you may have even lost a few extra pounds along the way.
Ingredients Used In Advocare Cleanse
Advocare Cleanse promotes colon health thanks to the following key products:
ProBiotic Restore Ultra: Contains probiotics that are beneficial microorganisms promote digestive balance. This product contains a superior multi-strain probiotic complex that provides a total of four billion colony-forming units of freeze-dried healthy bacteria. This strengthens and supports the immune system studied in Frontiers in Immunology and intestinal health and function. It also aids in digestion and enhances the weight loss program.
Fiber Drink: Rich in the mixture of fibers that help move the toxins and waste material through the digestive tract. The drink also scours through the intestinal tract to enhance nutrient absorption.
Herbal Cleanse Tablet: Provides herbal extracts that get rid of impurities that hinder health. One ingredient, senna leaf extract, relieves constipation and encourages the movement of waste. It also contains beetroot powder and wheatgrass juice to aid in the decrease of metabolic by-products found in the blood and liver. The major beetroot powder benefits is to improved blood and oxygen circulation in the body. The cranberry juice powder, on the other hand, cleanse impurities found in the kidneys and aids in excretion through the bladder. This comes in tablet form and contains milk thistle extract, a substance that contains silymarin, components that sweep away toxins from the liver. Silymarin is also an antioxidant. The tablets also contain echinacea, astragalus, garlic, zinc, and vitamin C for a stronger immune system. Lastly, you also get a wide range of B-vitamins to help enhance energy levels.
How Advocare Cleanse Works?
Just take this colon cleanser as directed and see how your body changes. You'll start to feel better and lighter, thanks to the blend of ingredients for each important phase of your program.
More importantly, this colon health supplement does encourage you to change your diet, which is a rare thing for products of this nature. Nonetheless, many seem to be impressed with it as they've seen results.
Pros
May promote healthy weight loss
Gives you a boost of Vitamins and Minerals
Made from natural ingredients
Cons
Forces you to limit what you eat
Has a specific program that needs to be followed, which may be more difficult for some people
Isn't a flexible program
Alternatives to Advocare Herbal Cleanse
Advocare Herbal Cleanse Questions and Answers
Q: What is the directions to use Advocare Herbal Cleanse?
A: Take note of the phases:
Cleanse Phase – For the first 10 days. Just make sure to follow a low GI diet
Max Phase – Comes after 10 days
Q: What are the precautions needs to take while using Advocare Herbal Cleanse?
A: Stay away from this colon health supplement or talk to your doctor first if you're:
Lactating
Pregnant
Diagnosed with a medical condition
Taking other meds
Final Verdict
While the Advocare Cleanse Program is challenging, it really does work. More importantly, think about this: it's only 24 days of your life, which really isn't much.
You'll feel better after, and you'll also look healthier. Colon health is important, and based on customer feedback, this supplement might be worth investing in.
However, we suggest our readers compare it with the best colon cleanse products on the market before making the final definitive call.
Advocare Herbal Cleanse can be purchased through their Official Website
Advertisement
*All individuals are unique. Your results can and will vary.
All of the cells and tissues in your body and your major organ of detoxification, the liver rely upon your colon. The colon processes waste and bacteria preparing it for elimination from the body. Colon cleanse products should be determined based on its: potential to clean the colon of harmful waste & toxins, potential to promote better digestion & increase elimination, potential to promote improved immune system function, potential to provide increased energy levels. The quality of the ingredients should be backed by clinical research.
Below you'll find some of the most effective colon cleanse supplements on the market today, in our opinion.
Our Top Gut Health Supplements
Verdict on Claimed Benefits: Below is our summary of the available evidence for the claimed benefits of below mentioned probiotic supplements and natural colon cleanse supplements based on the available research: