In This Review
InvisiCrepe Body Balm Overview
InvisiCrepe Body Balm is a natural product that helps to gradually erase the appearance of crepey skin, according to the manufacturer of this product. The balm supposedly makes long-term and continuous repairs to the skin surface.
It may help to diminish the signs of crepey skin through hydration, nutritional support, and cell regeneration.
In addition, it may play a role in strengthening the cellular protein matrix of the skin, which as a result might help to achieve firmer, more hydrated, and smoother skin.
How Does It Rate?
Overall Rating: 4.8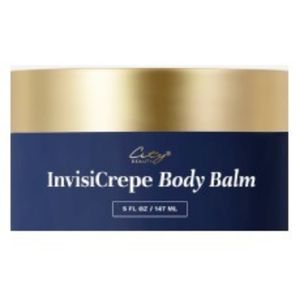 InvisiCrepe Body Balm
Brand Highlights
The company that manufactures InvisiCrepe body balm is city beauty and they are located in the USA.
They also specialize in products that may not only beautify the skin when applied but also provide deeper skin benefits.
The brain and mind behind this balm are Victoria Renee — Director of Research at City Beauty and expert on crepey skin.
Key Ingredients
Niacinamide
Dl lipids
Ribose
Phenoxyethanol
Ceteareth-20
Dimethicone
PEG-100 Stearate
Pros
It may reduce the appearance of crepe skin in all skin types
Most of the ingredients and claims are backed by research
The balm is topically applied and hence a reduced risk of systemic toxicity
It's a once a day application that promotes compliance and reduces cost
Cons
Some of its ingredients may cause skin dryness
Observed skin irritation in some users
Benefits like skin firming and improvement of fine lines may take time to show up
Has a very long of ingredients but the actual amount of each component is not indicated
---
SIMILAR PRODUCT –
Kollagen Intensiv
improves the appearance of wrinkles and deep lines by about 35% as compared with placebo.
How Does InvisiCrepe Body Balm Work?
Besides helping to erase the marks of crepey skin, this product also helps to strengthen the skin's cellular protein matrix and generates fibroblasts that produce collagen. The collagen produced helps to tighten and thicken the skin thereby resulting in a smoother, firmer, more hydrated skin.
Some ingredients in the formula may help by hydrating the skin and sealing it with a barrier so that the hydration stays in place. The manufacturer also claims that the balm might diminish wrinkles. And that it may work on all skin types be it Normal, Oily, Combination, Dry or Sensitive skin).
RELATED – Miami MD Review
---
InvisiCrepe Body Balm Ingredients – Are they Safe and Effective?
Regarding how safe this Invisicrepe body balm by city beauty is, the maker indicates that it uses natural ingredients and that it is safe for most skin types. It may also be efficient in helping to maintain young-looking skin as most of its ingredients are researched to support healthy skin.
Niacinamide
– The topical application of niacinamide stabilizes the epidermal barrier function by reducing trans-epidermal water loss and improving the moisture content of the horny layer. A regular application may also improve the surface structure of the skin, as indicated in a research article published by The Journal of Clinical and Aesthetic Dermatology.
Dl lipids
– DL lipids have been found to reduce cell injury and protect cells against irradiation-induced cytotoxi0city, according to one study article appearing in The Journals of Gerontology.
Ribose
– This plant-derived nutrient may increase the energy levels in your fibroblasts. Fibroblasts are the cells that produce matrix proteins, such as collagen. A research piece appearing in the Clinical, Cosmetic and Investigational Dermatology journal highlights that restoring collagen results in firmer, tighter and younger-looking skin.
Phenoxyethanol
– This is a common preservative in cosmetics and related products. However, it can trigger skin irritation for some people as pointed out in an article appearing in the International Journal of Cosmetic Science.
Ceteareth-20
– This surfactant acts as a cleansing agent. However, some sources suggest that it can also cause your skin to absorb chemicals more including toxic chemicals.
Dimethicone
– This silicon-based polymer may be used as a skin-conditioning agent. However, there are concerns that overuse might dry out your skin, according to one research article in the journal Veterinary Medicine International.
PEG-100 Stearate
– As a polyethylene glycol ester of stearic acid, this compound acts as a cleansing agent. If used on broken or damaged skin, it can cause irritation and system toxicity.
READ NEXT – Celestolite Review and DERMAFLASH Reviews
---
InvisiCrepe Body Balm – FAQ's
Q: How Should You Use InvisiCrepe Body Balm?
A: Apply to clean, dry skin. Massage the rich cream into areas of concern once per day to receive optimal benefits.
Q: How Much Does InvisiCrepe Body Balm Cost?
A: The product comes in a 5 FL OZ / 147 ML which costs $67.
Q: What is InvisiCrepe Body Balm's Return Policy?
A: The manufacturer has a 60-days money-back guarantee. If after trying it for 60 days, you are still not satisfied for any reason, you can send the product back and the company will pay a full refund of the amount of your purchase minus the shipping cost.
Q: Does InvisiCrepe Body Balm Offer a Free Trial?
A: The manufacturer does not offer a free trial of the product at the moment. If you want to try this product, you will have to buy it from the manufacturer.
Q: Is this product compatible with my skin?
A: According to the manufacturer, this product is compatible with all skin types but it is advised that those with sensitive skin should be on the lookout.
Q: Can you use InvisiCrepe Body Balm on your face?
A: The new formula gives you smooth, creaseless skin anywhere on the body. It is designed to gently erase the look of crepey skin on the face.
Q: Do they have after pay?
A: No, they don't have afterpay. However, InvisiCrepe Body Balm does appear to be reasonably reputable and has several other purchasing options.
Q: Where to buy InvisiCrepe Body Balm?
A: You can buy InvisiCrepe Body Balm at best price from Amazon, eBay, and the official website.
Q: Can you use Invisicrepe body balm on your face?
A: You can use InvisiCrepe Body Balm anywhere on your body, so you could use it on your face.
However, it's not designed specifically as a face cream. It's meant to get rid of crepey skin and wrinkles on the rest of the body.
Q: How are the Invisicrepe body balm customer reviews?
A: The Invisicrepe body balm product has got mixed reviews, with many users reporting that it reduced wrinkles and fine lines. Some customers, on the other hand, noticed no difference in their skin texture or fine wrinkles. Before using the cream, we recommend consulting with your dermatologist.

InvisiCrepe Body Balm Reviews
If you look at the InvisiCrepe Body Balm Reviews on Amazon, you'll notice a mix of positive and negative comments.
I have been using this cream for 2 months now and I could sincerely testify that it does everything it claims. My skin on my neck and Decollate are visible tighten and completely smoothed out. I would never live without this cream! As you can read I highly recommend. ~ review by Iriz
Somehow I went from smooth neck and décolletage then -BAM!- sagging skin. This has helped make my skin a little firmer, along with using it constantly after a shower (while your skin is still holding moisture) and drinking TONS of water! ~ P. A. Lopez
It's really a waste of money and does not work at all. ~ Lynne Tucker
Not as I thought. Disappointed ~ JoAnn M. Rossi
Used for arms, did not take effect as advertised, no results whatsoever. ~ Ellen C.
YOU MAY ALSO LIKE – SculptMedix Reviews and Celluma Reviews
InvisiCrepe Body Balm Review – Final Verdict
Considering all factors back to back, InvisiCrepe Body Balm seems to be a good anti-aging product worth giving chance, especially for people with crepey skin. It may help to improve dehydration thinning, sagging, and wrinkled skin.
This balm contains ingredients that are research-backed. This detail suggests that the product may both support a younger-looking skin and that it may be safe.
In addition, the product's website highlights that the formula does not contain toxic compounds such as Parabens, Sulfates, or Phthalates. You also need to apply the balms once per day which, means it is easy to use.
However, to help achieve and maintain the best results users need to apply the product daily and as recommended. Some components in the product such as Phenoxyethanol and Dimethicone might trigger skin irritations or cause skin dryness, which simply means the product is not completely clear from causing potential side effects.
Ceteareth-20 another ingredient that is associated with having skin cleansing properties in this product may also cause the skin to absorb unhealthy particles from the air, according to research published in the International Journal of Cosmetic Science.
Well, the market has many other skincare options such as Crepe Erase, Oveena Skin Care, Brilliance SF Skincare and Jolique Skincare that promise to help erase the appearance of crepey skin.
READ NEXT – Celluage Reviews and Dermal Repair Complex Reviews