In This Review
What is NeuEve?
NeuEve is a collection of suppositories and a cream formulated to relieve specific menopause symptoms including vaginal odor, itching, dryness, atrophy, burning, painful sex, and bacterial vaginosis.
The different formulations only use natural food-grade ingredients like beeswax, palm oil, inulin, Vitamin E, and a proprietary blend of nutrients.
NeuEve offers a vegan, gluten-free, and estrogen-free solution to the different vagina-related menopause symptoms.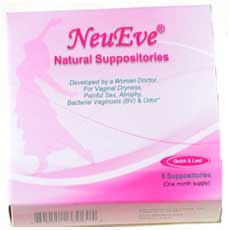 Who is the Manufacturer of NeuEve?
A woman doctor invented this menopause product with the aim of improving libido and improving the quality of women's sex life. She used all-natural ingredients both food grade and green.
It is manufactured in a facility called Lavax Inc, based in the USA. This product is available in a pack containing 6 suppositories and the manufacturer has provided instructions on how to use it.
This menopause relief product claims to increase libido in women and improve the quality of sex. It eases painful sex, and vaginal dryness; reverses vaginal atrophy, and clears BV.
NeuEve Ingredients – Are they Safe & Effective?
Palm Oil – According to WebMD, Palm Oil[1] is used as a moisturizer to treat or prevent dry, rough and itchy skin. Palm oil has a high concentration of carotenes and tocotrienols that are potent antioxidants that help protect cells from free radical damage. These phytonutrients also help protect against infections and keep the vagina healthy.
Beeswax – This is a known natural lubricant that also contains nutrients and other compounds that offer health benefits. It is a natural treatment for vaginal infections that can also help prevent such infections from occurring in the first place.
Proprietary Blend – This is a mixture[2] of special ingredients like amino acids and vitamins for the local nourishment of the vaginal mucous tissues. It is a patented ingredient and the actual formulation is a secret.
Vitamin E – According to Indian Dermatology Online Journal, this is a powerful antioxidant that helps protect against oxidative stress damage. It also helps improve skin health and prevent issues.
Advertisement
*All individuals are unique. Your results can and will vary.
Orange oil – It is also a natural lubricant[3] that contains certain nutrients that help improve vaginal health.
What Makes NeuEve Different?
NeuEve is a menopause natural supplement to the different menopause issues related to the vagina. It is designed to treat all vaginal issues from itchiness to foul odors.
It can even be used to relieve pain during sexual activity. It is a hormone-free, vegan, and gluten-free solution to the different vaginal problems menopausal women experience. Unlike most lubricants and vaginal formulations, it doesn't contain potentially irritating ingredients like petrochemicals, parabens, PEGs, etc.
---
The Pros of NeuEve
It is formulated using all-natural ingredients that may be safe for use
It may help to improve libido and women's sex life
It may provide a relief from vaginal dryness, clear BV and painful sex
It may help to reverse vaginal atrophy
The Cons of NeuEve
It may cause itchiness and vaginal discomfort
It may trigger allergic reactions
Results are different depending on the person using it
---
You May Also Like – Amberen Reviews and Femmetrinol Reviews
NeuEve Questions and Answers
Q: How to Use NeuEve?
A: For the NeuEve vaginal suppository, inserted it into the vagina just like when using a tampon. It will dissolve within 15 minutes delivering its soothing effect. Before it dissolves, remain to lie down to avoid the suppository from dropping out. Use the suppository every 2nd or 3rd day.
For the NeuEve cream, you first need to empty your bladder and wash the vaginal area. Then, apply a small amount (the size of a dime) using a finger to the vulva once a day. Do not use it during menses. The cream can be used in conjunction with the suppository.
Q: Where can I purchase NeuEve?
A: You can buy NeuEve from their Official Website.
Q: What is the Warning before using NeuEve?
A: Check the ingredients carefully and make sure you're not allergic to any of them before using them. If you have any medical condition or are taking medication, check with your doctor before using it. Follow the product directions cautiously to prevent side effects. Keep out of reach of children.
Q: How long do you need to use NeuEve before seeing any results?
A: NeuEve is designed for long-term relieving of dryness and atrophy and is suitable for easy maintenance (use 1 per week) because it can last 7-8 days.
Q: Are there any alternative products to NeuEve?
A: Yes, according to the review, products Now Foods Coconut Oil and Ostaderm exhibit the same advantages.
NeuEve Review – Final Verdict
After careful inspection of NeuEve, it is a good vitamins for perimenopause specifically for vaginal issues. The formulation uses natural ingredients only and some have been used for treating vaginal problems for a very long time.
Advertisement
*All individuals are unique. Your results can and will vary.
However, it also has flaws like the lack of clinical testing proving that it really works. There is mixed feedback on the product but many say it is really helpful in relieving vaginal issues.
However, there is also some feedback saying it isn't very effective so the product may not be for everyone.
'NeuEve' can be purchased through their Official WebSite.
Fortunately, natural therapies for menopausal symptoms such as weight gain, hot flashes, night sweats, decreased libido, and mood swings are available. Since many women experience weight gain during menopause, many natural menopause supplements contain herbs and botanicals that support a healthy metabolism. Menopause supplements should be evaluated on proven ingredients, ability to reduce hot flashes and night sweats, ability to provide hormonal balance and boost libido and its overall value.
Below you'll find some of the most effective menopause supplements on the market today, in our opinion.
Our Top Menopause Choices
Verdict on Claimed Benefits: Below is our summary of the available evidence for the claimed benefits of below mentioned menopause supplements and vitamins based on the available research:
Amberen | Best Multi-Symptom Menopause Relief Supplement

Reduces Hot Flashes*
Gold Star Evidence
Helps Restore Hormonal Balance*
Gold Star Evidence
Better Sleep*
Strong Evidence
Mood Improvement*
Strong Evidence
Estroven Complete Multi-Symptom Menopause Relief
Reduces Menopause Symptoms*
Gold Star Evidence
Reduces Night Sweats*
Gold Star Evidence
Improve Energy*
Strong Evidence
Support Mood Swings*
Moderate Evidence
Metagenics Estrovera | Plant-Derived Menopausal Hot Flash Relief
Assists With Hot Flashes*
Gold Star Evidence
Improve Mood Swings*
Moderate Evidence
Ease Menopause Symptoms*
Strong Evidence
Reduces Night Sweats*
Strong Evidence