In This Review
What is DHC Deep Cleansing Oil?
DHC Deep Cleansing Oil is a cleansing oil and makeup remover. This particular makeup remover takes off mascara and eyeliner, unlike some makeup removers.
It also nourishes the skin with antioxidant olive oil so it is a multi-use product.
How Does It Rate?
Overall Rating: 3.6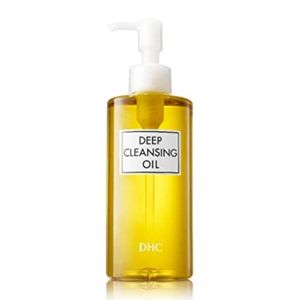 DHC Deep Cleansing Oil
Brand Highlights
DHC Deep Cleansing Oil is made by a company called DHC.
It is a huge corporation in Japan and has a subsidiary in the United States. The DHC stood for Daigaku Honyaku Center and was started in 1980.
Key Ingredients
Olea Europaea (Olive) Fruit Oil
Caprylic/Capric Triglyceride
Sorbeth-30 Tetraoleate
Pentylene Glycol
Phenoxyethanol
Tocopherol
Stearyl Glycyrrhetinate
Rosmarinus Officinalis (Rosemary) Leaf Oil
Pros
It is a multi-use product.
It unclogs pores.
It removes eye makeup as well as regular makeup.
It doesn't dry out the skin.
It has

nourishing natural oils like olive and rosemary oil

.
It is from the number one beauty product company in all of Japan.
It has vitamins and antioxidants.
It rinses well and hydrates the skin.
Cons
There are

cheaper versions of similar products available

.
It is not manufactured in the United States.
The only cons from reviewers were that the product can be messy,

has a bad smell

, doesn't work to remove all makeup, and leaves skin oily but these are in the minority of reviewers.
---
Who is the Manufacturer of DHC Deep Cleansing Oil?
DHC Deep Cleansing Oil has a lot of valuable ingredients that help with nourishing the skin as well as taking off makeup including:
Olive Oil.
Rosemary Leaf Oil.
It also has ingredients that remove the makeup and cleanse the skin along with those moisturizing ingredients such as caprylic/capric triglyceride, sorbeth-30 tetraoleate, pentylene glycol, phenoxyethanol, tocopherol, and stearyl glycyrrhetinate.
Does DHC Deep Cleansing Oil Work?
With the nourishing ingredients and ability to take off makeup, the DHC Deep Cleansing Oil should work very well to do both.
Unlike some makeup removers, it does more than just clean the skin and with the moisturizing elements, it also makes the skin softer and more nourished instead of drying it out.
This cleanser should work very well in my opinion and the opinions of the reviewers who have used it.
DHC Deep Cleansing Oil Ingredients – Are they Safe & Effective?
Olea Europaea (Olive) Fruit Oil
– As per Nutritional and technological characteristics, Fruits from Olea europea L. were weighed and analysed for moisture content, ash content, crude protein, crude oil, energy, crude fibre, roundness, resistance to further force, and product density. In the olive oils, the unsaponifiables, free fatty acids, peroxide value, iodine value, and relative density were all measured[1].
Caprylic/Capric Triglyceride
– As a more natural substitute for other synthetic compounds present in topical skin care products, Caprylic/Capric Triglyceride is well regarded[2].
Sorbeth-30 Tetraoleate
– Polyoxyethylene Sorbitol Tetraoleate, also known as Sorbeth-30 Tetraoleate, shares a molecular weight with all PEGs. Due to its low molecular weight of 30, it can barely penetrate healthy skin.
Pentylene Glycol
– It is a humectant, which means that it binds to water well and functions as both a moisturising agent and a solvent to let other substances penetrate the skin. When used in doses between 1% and 5%, it also aids in enhancing the texture of skin care products and has modest preservation effects.
DHC Deep Cleansing Oil – FAQ's
Q :Is DHC Deep Cleansing Oil Safe?
A :DHC Deep Cleansing Oil should be a very safe product to use. It has natural nourishing ingredients as well as vitamins and antioxidants.
Only one review I found had a negative remark that it made their skin drier that seemed impossible due to the ingredients, but that was their viewpoint. It is also safe enough to use daily.
Q :Will DHC Deep Cleansing Oil Show Results?
A :As a cleanser and moisturizing cleanser, DHC Deep Cleansing Oil should show the user good results.
The ingredients are good ones, and the reviews show that this is an excellent product.
Reviewers stated it was gentle, leaves a clean feel, it's not greasy, it improves the texture of the skin, it is moisturizing, works for daily use, and works for all kinds of skin types including dry, oily, combination, and sensitive skin.
Q :What Can I Expect From Using DHC Deep Cleansing Oil?
A :You should be able to see cleaner, softer skin after using this product. Not only does DHC Deep Cleansing Oil remove eye makeup but some skin cleansers dry out the skin.
This one has nourishing, vitamin-rich, and antioxidant ingredients that make it a product you can use daily without drying out the skin.
You should expect to have your pores unclogged and your face free of daily makeup as well as having it more moisturized and younger-looking with regular use.
Q :Where Can I buy DHC Deep Cleansing Oil?
A :The product can be purchased directly from its official website and on Amazon, Ulta, Target, and other retailer websites.
DHC Deep Cleansing Oil Review – Final Verdict
I am very impressed with DHC Deep Cleansing Oil. Almost every single review is positive and having used makeup removers in the past, this one is impressive because it moisturizes instead of drying out the skin.
The price isn't bad at all, and since you can use it for makeup removal and moisturizing, it has more than one use. It is also easy to use by simply applying it with hands and then rinsing.
I would recommend this product.
You may find cheaper skin cleansers, but you probably won't find one that also moisturizes the skin with the same ingredients that DHC Deep Cleansing Oil has such as the olive oil and rosemary oils.
These alone are excellent components that you'd find in many luxury brands of anti-aging creams so that alone is quite a selling point.
Having taken into consideration the user reviews for each of the makeup products, along with the active ingredients, we have taken the liberty of rating the most effective products. The rating was made in accordance to these key factors: quality of active ingredients, natural formula, prevention of clogged pores, smooth finish and skin health and appearance improvement.
Which Makeup Product is Best?
Verdict on Claimed Benefits: Below is our summary of the available evidence for the claimed benefits of below mentioned makeup products like foundation and eyebrow serum based on the available research:
Dermacol Foundation | Liquid Makeup Matte Foundation

High Coverage Formula*
Gold Star Evidence
Long-Lasting Wear*
Gold Star Evidence
Covers Scars and Tattoos*
Gold Star Evidence
Conceals Dark Under-Eyes*
Strong Evidence
RapidBrow | Eyebrow Enhancing Serum
Promotes Thicker Eyebrows*
Gold Star Evidence
Supports Regrowth of Eyebrows*
Strong Evidence
Strengthens Brow Hair*
Gold Star Evidence
Hydrates Eyebrow Hair*
Strong Evidence