In This Review
What is Dermacol Foundation?
Dermacol Foundation is something that you are supposed to put on your face before you apply make-up. That's what the foundation is all about. It is a powerful product which protects your skin from the harmful effects of makeup.
With this said, it is important to understand that there are a lot of options of the kind. This means that you should take a closer look and make sure that this is the one that you want to take advantage of. Let's have a look.
How Does It Rate?
Overall Rating: 3.7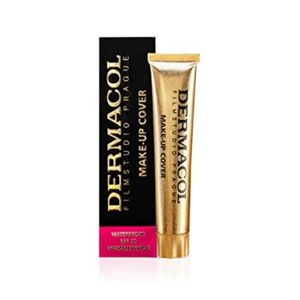 Dermacol Foundation
Brand Highlights
The manufacturer of this foundation is called Dermacol.
The product is designed to deliver a lot of benefits and they are all encompassed within the claims. This is the next important thing to go through.
The product is also going to deliver anti-abrasive functioning.
Key Ingredients
Alumina
Glyceryl Stearate
Perfume
Silica Silylate
Pros
May help your skin become thicker and absorbent
May prevent caking and abrasion
Could enhance moisturizing
Cons
No FDA approval
There are artificial ingredients in the formula
---
Who is the Manufacturer of Dermacol Foundation?
Starting off with the things that matter, the manufacturer of this foundation is called Dermacol. It is a company with substantial experience in the field and it is definitely one of the larger players on the market. It is a company that could be trusted which is definitely rather important.
The product contains ingredients to enhance your skin's viscosity, durability and others of the kind. It is also going to help you prevent loss in moisture and to prevent caking.
How Does It Work?
The ingredients are rather powerful and they include a lot of serious compounds. This is what makes the working process so effective and that's why you'd want to use a foundation for your makeup – to ensure that everything is handled properly.
Dermacol Foundation Ingredients – Are they Safe & Effective?
The ingredients include:
Alumina –
This is going to prevent abrasion, and caking and it is also going to help your skin become thicker and more absorbent. As per Safety Assessment Alumina has properties that include abrasiveness, absorbency, anticaking, bulking, and opacity[1].
Glyceryl Stearate –
This is going to make sure that there is no moisture loss.
Perfume –
This is usually taken advantage of as nothing but a fragrance
Silica Silylate –
This is going to enhance the viscosity of your skin and it is going to prevent caking.
Dermacol Foundation – FAQ's
Q: How Do I Use This Product?
A: This is a product which should be used carefully as it goes directly on the face of your skin – follow the instructions of the manufacturer.
Q: What Are The Precautions When Using This Supplement?
A: The product is used without substantial risks. Make sure that you don't get it in your eyes as it is definitely going to hurt quite a lot.
Q: How Long Before I See Any Improvements?
A: The improvements should come within a few minutes after applying.
Q: What are the similar products to Dermacol Foundation?
A: Similar products to Dermacol Foundation are Veer HD Foundation and Revlon Colorstay Liquid Foundation.
Dermacol Foundation Review – Final Verdict
This seems like something that a lot of women could take full advantage of, especially if they have sensitive and rather troublesome facial skin. It is a repairing foundation which may eliminate the harmful effects of makeup on your skin.
However, despite the rather strong ingredient list, there are a lot of things to account for – there is a lot of ambiguity in the social feedback and that's not something that we tend to look forward to. You are better off with something more established on the market when it comes to it.