In This Review
RapidBrow Overview
RapidBrow is a eyebrow enhancement serum that focuses on improving the appearance of the eyebrows. Eyebrows are a most expressive feature of the face, and they frame the eyes. Therefore, they should be highly maintained and taken care of. This formula is derived from ingredients that work jointly to deliver the intended results.
They are chemical-free. It may work by promoting hair growth. It might help to restore the hair volume and fullness. The company producing it targets women as potential users.
How Does It Rate?
Overall Rating: 3.6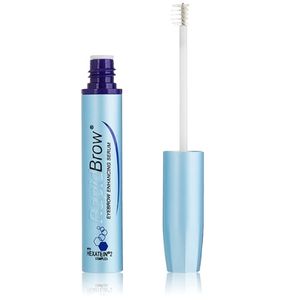 RapidBrow
Brand Highlights
This product is manufactured by a beauty and Healthcare company known as Rocasuba Inc.
This company was established in 2008 and has been serving diverse customers up to date.
This formula is approved by a professional dermatologist and thus safe for use.

They claim that regular use of this formula will lead to improved facial beauty as well as overall appearance. They claim that regular use of this formula will lead to improved facial beauty as well as overall appearance.
Key Ingredients
Sweet Almond Extract
Polypeptides
Apple Fruit Cell Extract
Panthenol
Pros
It supports massive hair growth.
It helps in restoring the volume and the fullness of the eyebrows.
It contains all-natural ingredients thus safe for use.
Cons
It is sold online.
It may lead to adverse reactions if used excessively.
---
How Does It Work?
This formula contains wonderful ingredients that work collectively to enhance the user's facial beauty. It works perfectly for all users and delivers constant results throughout. It is easy to use, and customers are reminded to adhere to the instructions provided for maximum benefits.
RapidBrow Ingredients – Are they Safe & Effective?
Some of the key ingredients used include:
Sweet Almond Extract –
Study concerns that it works by strengthening hair, maintaining moisture, and promoting softness to the eyebrows[1].
They support overall health through growth and development. In comparison to traditional antibiotics, antimicrobial peptides have a number of distinct advantages, such as a slower emergence of resistance, broad-spectrum antibiofilm efficacy, and the capacity to favourably affect the host immune response[2].
Apple Fruit Cell Extract –
It rejuvenates eyebrows and contains anti-ageing properties.
Panthenol –
It works by improving the overall appearance.
RapidBrow – FAQs
Q: How does RapidBrow work?
A: It focuses on multiplying and increasing the hair volume as well as enhancing the eyebrows thus improving facial appearance.
Q: What is a similar product to RapidBrow?
A: Similar Product to RapidBrow is Essential Eyebrow
RapidBrow – Final Verdict
Women all over the world are working diligently to maintain a presentable appearance. They mainly focus on facial beauty. This has been made successful by the use of powerful formula known as RapidBrow. It may support healthy eyebrows by maintaining moisture that helps them to be firmly fixed.
It might support their growth, restoring volume as well as fullness. Every woman should purpose to make their eyebrow shining and presentable. However, not all products being offered help to achieve the above claims. Therefore, one should consult a medical professional before making buying decisions. They will always direct you on the best and most suitable formula.
Having taken into consideration the user reviews for each of the makeup products, along with the active ingredients, we have taken the liberty of rating the most effective products. The rating was made in accordance to these key factors: quality of active ingredients, natural formula, prevention of clogged pores, smooth finish and skin health and appearance improvement.
Which Makeup Product is Best?
Verdict on Claimed Benefits: Below is our summary of the available evidence for the claimed benefits of below mentioned makeup products like foundation and eyebrow serum based on the available research:
Dermacol Foundation | Liquid Makeup Matte Foundation

High Coverage Formula*
Gold Star Evidence
Long-Lasting Wear*
Gold Star Evidence
Covers Scars and Tattoos*
Gold Star Evidence
Conceals Dark Under-Eyes*
Strong Evidence
RapidBrow | Eyebrow Enhancing Serum
Promotes Thicker Eyebrows*
Gold Star Evidence
Supports Regrowth of Eyebrows*
Strong Evidence
Strengthens Brow Hair*
Gold Star Evidence
Hydrates Eyebrow Hair*
Strong Evidence