In This Review
What is Juice Plus+?
Juice Plus+ is a brand of all-natural products based largely on fruits and vegetables, and many rich nutrients. Their line includes shakes, bars, supplements, and chewables as options.
The ingredients in the formulas promise to support heart and brain health, improve immunity, enhance vision and lung function, and enrich the health of the skin and gums. The products are vegan, gluten-free, and non-GMO.
How Does It Rate?
Overall Rating: 3.8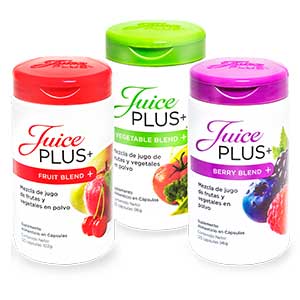 Juice Plus+

Brand Highlights
These products are vegetarian and vegan.
Juice Plus is Gluten-Free and non-GMO.
Juice Plus offers concentrated plant-based nutrition.
Users have the opportunity to become an affiliate.
Key Ingredients
Pomegranate
Elderberry
Apple
Amino Acids
Kale
Cranberry
Broccoli
Rice Bran
Peach
Lemon Peel
Soy Protein
Garlic
Beet
Acerola Cherry
Mango
Pros
This brand may provide some of the needed nutrients.
Juice Plus could support brain health.
It may improve your vision.
These products could promote better heart health.
Juice Plus might strengthen the immune system.
Cons
Some products ship every 4 months without the option of a one bottle purchase.
Some of Juice Plus Kids products have a little sugar.
Juice Plus is somewhat expensive.
---
Top Recommended Products
Juice Plus Fruit and Vegetable Blend Capsules
Fruit and Greens in a Bottle
Key Ingredients: broccoli, parsley, tomato, kale, prune, dates, beets, lemon peel
Price: $54
What It Does: Supports heart health, lung function, healthy skin and gums, and immunity
Advertisement
*All individuals are unique. Your results can and will vary.
---

Juice Plus Fuit and Vegetable Blend Chewables
Chew Your Way to Proper Nutrition
Key Ingredients: Spinach, Cabbage, Beet, Kale, Rice Bran, Apple, Peach, Mango
Price: $56
What It Does: Supports heart health, lung function, healthy skin and gums, and immunity
---

Juice Plus Omega Blend
The Ideal Health Blend
Key Ingredients: Omega 3 Fatty Acids, Pomegranate Seed Oil, Sea Buckthorn Berry Oil
Price: $32.50
What It Does: Supports vision, brain function, heart health, and immune functioning
---
Compete Shakes
Shake Up Your Day
Key Ingredients: Pea Protein, Rice Protein, Alfalfa Sprouts, Chickpea Powder, Millet
Price: $38
Advertisement
*All individuals are unique. Your results can and will vary.
What It Does: Supports digestion, curbs appetite, strengthens the immune system, builds muscle
---
How Does Juice Plus+ Work?
Juice Plus+ products are full of nutrients which support bodily functioning and help resolve any deficiencies. They may also help support heart and brain functioning. The brand is also high in antioxidants which kill damaging free radicals and lower oxidative stress, promoting healing in the body and strengthening the immune system.
They could slow the buildup of plaque around the heart, decreasing the chance that you will develop heart disease. Antioxidants also enhance lung functioning. An article in the Egyptian Journal of Chest Diseases and Tuberculosis looked at the role of antioxidant imbalance in the pathogenesis of obstructive pulmonary disease [1].
These products include vitamins like D, which promotes strong bones, C which enriches skin health, and B vitamins for brain health. A review published in Nutrients discussed B vitamins and the brain [2].
Some of the products contain probiotics which are healthy gut bacteria that promote the health of the microbiome. This helps lead to regularity, and eases symptoms like gas and bloating.
Some Juice Plus+ items are high in plant-based protein which helps suppress the appetite and could cause weight loss. In addition, it could build muscle mass and strength. Juice Plus products are high in anti-inflammatory agents which decrease swelling in the body.
What Are the Ingredients in Juice Plus?
These are some of the primary active substances on the Juice Plus ingredient list:
Pomegranate – These are red fruits full of seeds which are edible. They are full of nutrients like Vitamin C, magnesium, iron, potassium, and fiber. There's some evidence that it has cardioprotective benefits [3].
It also supports digestion and brain health. A review in Trends in Food Science and Technology concluded that pomegranate may lead to blood pressure improvement [4].
Elderberry – These berries are full of antioxidants which can promote healing in the body and strengthen the immune system. In addition, they could improve heart health and decrease stress levels. Elderberry may also reduce inflammation.
A study in Nutrients concluded that elderberry reduced the severity and length of a cold in air travelers [5].
Garlic – Garlic is full of sulfur compounds with biochemical and medicinal properties. It may help fight illness, and possibly decrease blood pressure. It's high in antioxidants which promote healing and immunity, and it could contribute to longevity.
An article in the American Journal of Phytomedicine explored the potential therapeutic benefits of garlic [6].
Beet – These root vegetables are high in folate, which is important in the growth and functioning of the cells. They also contain nitrates, which becomes nitric oxide in the body and improves circulation. In addition, beets support heart health.
An article in the Journal of Nutritional Medicine and Diet Care looked at the composition and health effects of beetroot [7].
Advertisement
*All individuals are unique. Your results can and will vary.
Does Juice Plus+ Work?
Rich in nutrients and antioxidants, the Juice Plus ingredients would have some impact on health and immunity. Whether the levels in these products are enough to have a real impact on heart or brain health, or immunity, is not known. Some of the Juice Plus reviews said they found this product effective while others did not.
SEE ALSO – Texas SuperFood Review: Are These Products Packed with Nutrition?
Juice Plus+ (FAQs)
Q: What Do the Juice Plus+ Reviews Say?
A: The Juice Plus+ reviews offered a range of opinions about this brand. There were users who loved the products, and said it offered them health benefits like energy and mental focus. However, there were other customers who said Juice Plus gave them little or no benefit. Some people complained about the high prices.
Q: Is Juice Plus+ FDA Approved?
A: As this is not a medicinal product, no, the FDA does not evaluate it for approval. However, this company does take safety precautions in its production and has a certification from NSF, the public health and safety company.
Q: What is the Juice Plus+ Return Policy?
A: The manufacturer has a 6-month return policy, but only for items that are resealable. If you're not happy, contact Juice Plus customer service and then return the items within 6 months of the purchase date. You should get a full refund.
Q: Is Juice Plus+ Legit?
A: Juice Plus is a well-known brand which has 50 years of experience in the industry, so they are definitely legitimate. There are numerous Juice Plus reviews online that indicate that this is a real product with genuine customers.
Q: Where to Buy Juice Plus Products?
A: You can buy Juice Plus products on the official website, and from other online and offline retailers like Amazon and Walmart. Here are the prices of some of the top products:
Juice Plus Omega Blend – $23.56/month
Juice Plus Complete – $153.16
Juice Plus Perform – $86.40
Juice Plus Capsules (Berry, Fruit, Vegetable) – $78.54/month
Juice Plus Shakes – $153.16
Juice Plus Gummies (Berry, Fruit, Vegetables) – $60.09/month
Q: What Sets Juice Plus Apart From the Competition?
A: The idea of a fruits and vegetables-based health company is not new, but it is interesting. One aspect of the company that is not good is that a lot of the products are sold in 4-month shipments or in bulk, and not in individual products.
READ NEXT – Organifi Review: All-Organic Products for Enriched Health
Conclusion
Juice Plus+ is a line of health and wellness and nutrition products in the form of bars, shakes, Juice Plus supplements, Juice Plus Vitamins, and chewables full of fruits and vegetables and many of the required nutrients. Some products include protein and support weight suppression, muscle building, and heart and brain health.
There were a number of Juice Plus customer reviews online, and they offered up different opinions. Some customers said these products gave them additional mental focus and a feeling of overall health and wellness. However, there were also people who were not impressed with the Juice Plus benefits at all. Some users found the products to be expensive.
Juice Plus could lead to mild side effects in some people, like stomach upset. Make certain before using the blends that you don't have an allergy to an ingredient. If you have unpleasant symptoms, stop using this brand right away. You may want to check with a dietitian before beginning to take Juice Plus.
The most effective health supplements that are currently present on the market can be found below. We have taken our time and rated these products in accordance to these five essential factors: quality of active ingredients, energy boosting, hormone balance restoration, cognitive function improvement and immune system strengthening.
Our Top Health Supplements Choices
Verdict on Claimed Benefits: Below is our summary of the available evidence for the claimed benefits of below mentioned health supplements and probiotic supplements based on the available research:
Product reviews are provided for informational purposes only and reflect solely the views and opinions expressed by the contributors and not those of Consumer Health Digest. We do not verify or endorse any claims made in these reviews. Please read the full product reviews disclaimer. *All individuals are unique. Your results can and will vary.
Ask a Question
Have a Question? Please Tell Us What We Are Missing Here!
PRODUCT NAME
Juice Plus+
PRODUCT BRAND
Juice Plus+
PRICE (in USD)
$23.56
INGREDIENTS
Pomegranate, Elderberry, Apple, Amino Acids, KaleCranberry, Broccoli, Rice Bran, Peach, Lemon Peel, Soy Protein, Garlic, Beet, Acerola Cherry and Mango
12 sources
We review published medical research in respected scientific journals to arrive at our conclusions about a product or health topic. This ensures the highest standard of scientific accuracy.
[1] Role Of Oxidant–Antioxidant Imbalance In The Pathogenesis Of Chronic Obstructive Pulmonary Disease:
https://www.sciencedirect.com/science/article/pii/S0422763815300534
[2] Kennedy DO. B Vitamins and the Brain: Mechanisms, Dose and Efficacy--A Review. Nutrients. 2016 Jan 27;8(2):68. doi: 10.3390/nu8020068. PMID: 26828517; PMCID: PMC4772032.
[3] Zhao CN, Meng X, Li Y, Li S, Liu Q, Tang GY, Li HB. Fruits for Prevention and Treatment of Cardiovascular Diseases. Nutrients. 2017 Jun 13;9(6):598. doi: 10.3390/nu9060598. PMID: 28608832; PMCID: PMC5490577.
[4] Juan Antonio Giménez-Bastida, María Ángeles Ávila-Gálvez, Juan arlos Espín, Antonio González-Sarrías,Evidence for health properties of pomegranate juices and extracts beyond nutrition: A critical systematic review of human studies,Trends in Food Science & Technology,Volume 114,2021,Pages 410-423,ISSN 0924-2244, https://doi.org/10.1016/j.tifs.2021.06.014.
[5] Tiralongo E, Wee SS, Lea RA. Elderberry Supplementation Reduces Cold Duration and Symptoms in Air-Travellers: A Randomized, Double-Blind Placebo-Controlled Clinical Trial. Nutrients. 2016 Mar 24;8(4):182. doi: 10.3390/nu8040182. PMID: 27023596; PMCID: PMC4848651.
[6] Bayan L, Koulivand PH, Gorji A. Garlic: a review of potential therapeutic effects. Avicenna J Phytomed. 2014 Jan;4(1):1-14. PMID: 25050296; PMCID: PMC4103721.
[7] Ceclu L, Oana-Viorela N (2020) Red Beetroot: Composition and Health Effects - A Review. J Nutri Med Diet Care 6:043. doi.org/10.23937/2572-3278.1510043
[8] Pem D, Jeewon R. Fruit and Vegetable Intake: Benefits and Progress of Nutrition Education Interventions- Narrative Review Article. Iran J Public Health. 2015 Oct;44(10):1309-21. PMID: 26576343; PMCID: PMC4644575.>
[9] Fruit and Vegetable Intake and Mortality:
https://www.ahajournals.org/doi/10.1161/CIRCULATIONAHA.120.048996
[10] Potent Health Effects of Pomegranate:
https://www.ncbi.nlm.nih.gov/pmc/articles/PMC4007340/
[11] Biological Functions and Activities of Rice Bran as a Functional Ingredient: A Review:
https://www.ncbi.nlm.nih.gov/pmc/articles/PMC8655829/
[12] Advanced Research On The Antioxidant And Health Benefit Of Elderberry (Sambucus Nigra) In Food – A Review:
https://www.sciencedirect.com/science/article/pii/S1756464614002400
**This is a subjective assessment based on the strength of the available informations and our estimation of efficacy.
*Result may vary. The information contained in this website is provided for general informational purpose. No medical claims are implied in this content, and the information herein is not intended to be used for self diagnosis or self treatment of any condition.
*Disclosure of Material connection: Some of the links in the post above are "associate sales links." This means if you can click on the link and purchase an item, we will receive a commission. Regardless, we only recommend products or services which we use personally and/or believe will add value to our readers. We are disclosing this in accordance with the Federal Trade Commission's 16 CFR, Part 255: "Guides Concerning the Use of Endorsements and Testimonials."