Nutrition Essentials Probiotic Overview
Nutrition Essentials Probiotic is a product which is designated to enhance your overall health through the usage of popular probiotics. At the same time, it's going to promote you immune system and to maintain a proper and healthy digestive balance according to the manufacturer.
This is undoubtedly something that you want to take into serious consideration when it comes to it.
The product is regarded as entirely natural, and it claims not to use any active chemical ingredients or something else of the kind.
It's chemical free, and it contains no seriously harmful ingredients as claimed on the labels.
Of course, we did a little digging on our own in order to find whether all this is actually true. Here's what we came to find out.
Manufacturer Information and Claims about Nutrition Essentials Probiotic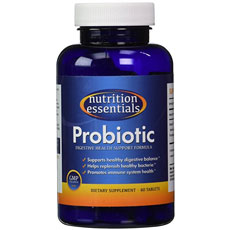 Of course, we started out by taking a look at the manufacturer. The company is called Nutrition Essentials, and even though we did a fair share of searching, we couldn't find any website that's released.
This is not something that we usually look forward to, and it's certainly not something that we find reliable. However, the product is marketed online throughout a range of different digital channels, so this compensates for the lack of individual online presence.
Additionally, you'd want to check out the claims which are made about the product. These are fairly regular, and they are usually exemplified and attested in a lot of other products of the kind.
Just as any regular probiotic dietary supplement, this one also claims that it will replenish healthy bacteria, that it will stimulate the overall functioning of your immune system and that it will maintain the overly healthy digestive balance.
Of course, we also put that to the test in order to see whether the encountered ingredients are capable of delivering.
Working Process and the Ingredients List
The thing about probiotics is that their actual performance is always a bit questionable and as such, you don't have any guarantees that the product will produce the claims that are being made. There are a lot of studies which lean towards the effectiveness of the products, but most of them are quite indecisive when it comes to it.
With this in mind, it's also worth noting that the ingredient list of this particular product includes a few proprietary bacteria strands which are tested to be rather beneficial. The products which are contained within the formula include the following proprietary blends:
Advertisement
*All individuals are unique. Your results can and will vary.
LactoSpore – Containing more than 15mil bacteria which are known to be rather effective and beneficial.
NutraFlora – This is another undisclosed blend which will supposedly help you get the necessary nutrients and improve the overall functioning of your immune system.
Other ingredients include: Calcium Carbonate, Vegetable Cellulose, Stearic Acid, and Silicon Dioxide
Nutrition Essentials Probiotic Review – Does It Really Work?
As we mentioned above, a lot of people are rather skeptical about the overall performance capabilities of probiotic dietary supplements in general. With this in mind, it's worth noting that the reviews for this one, in particular, are rather mixed.
However, based on the ingredient list and the hidden proprietary blends which do not reveal the actual ingredients of the product, making any conclusion is quite unreasonable and definitely misleading.
The Advantages of Nutrition Essentials Probiotic
Harmless probiotic formula
Lack of any chemicals or other damaging ingredients
Lots of helpful bacteria
The Disadvantages of Nutrition Essentials Probiotic
Questionable benefits
No information about the actual ingredients
Alternatives to Nutrition Essentials Probiotic
Elite Biotics
Evercleanse
FAQ's
How Do I Use This Product?
This is a natural product with organic ingredients, all of which are geared towards strengthening your overall functioning. The best way to use it is as per the instructions set forth by the manufacturer.
What are the Precautions When Using This Supplement?
There are no serious precautions. If you are sick, pregnant or nursing, you should always consult your treating physician before you go ahead and use the product.
How Long Before I See Any Improvements?
The benefits are designated to manifest within a few weeks, and they are also intended to last for quite some time.
Read Next – Assure Detox and HUM Daily Cleanse
Nutrition Essentials Probiotic Review – Final Verdict
All in all, it doesn't seem like this is an overly regarded product even though there are quite a lot of people who are perfectly happy with it. This mixed feedback leads us to believe that there are better options on the market.
You ought to take this into serious consideration, should you want to take full advantage of what's already available for the taking. This is undoubtedly something to be considered.
All of the cells and tissues in your body and your major organ of detoxification, the liver rely upon your colon. The colon processes waste and bacteria preparing it for elimination from the body. Colon cleanse products should be determined based on its: potential to clean the colon of harmful waste & toxins, potential to promote better digestion & increase elimination, potential to promote improved immune system function, potential to provide increased energy levels. The quality of the ingredients should be backed by clinical research.
Below you'll find some of the most effective colon cleanse supplements on the market today, in our opinion.
Our Top Gut Health Supplements
Verdict on Claimed Benefits: Below is our summary of the available evidence for the claimed benefits of below mentioned probiotic supplements and natural colon cleanse supplements based on the available research: