In This Review
What is Gold Standard 100% Whey?
As the name suggests, this product is whey protein. Whey is the naturally occurring protein found in milk. It is contained in the liquid parts of milk and constitutes up to 70% of the milk.
Whey protein is quite available and very rich in useful protein for bodybuilding. Whey protein isolates are the purest forms of whey that can possibly be extracted from milk. These isolates are quite expensive but do have very good results. This explains the first part of the name- gold! As precious as this metal gets, is as precious as this protein gets in your body!
How Does It Rate?
Overall Rating: 3.7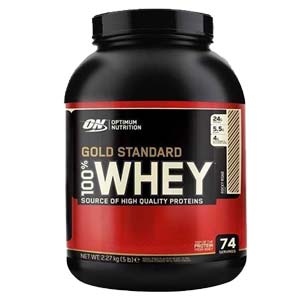 Gold Standard 100 Whey
Brand Highlights
This supplement is produced by Optimum Nutrition.
The manufacturer claims that it is a testosterone booster.
It claims to contain natural and safe ingredients.
Brand producing fitness products and workout supplements.
It provides them with energy, strength and focuses on exercise routines.
Key Ingredients
5-alpha-hydroxy laxogenin
Beta-Alanine
Theobromine
Caffeine
Pros
Available on Amazon.
It may give fast recovery from training sessions.
It may replenish the creatine and glutamine muscle stores.
There is increased muscle strength and endurance, especially during workouts.
resistance to muscle fatigue.
Cons
Some side effects are reported.
They do not have a refund policy.
It lacks customer reviews and testimonies.
There are no clinical tests made on the product
The results may vary from individual to individual.
Some customers claim that it is not as effective.
Product is more expensive.
---
How Does It Work?
After a workout, there is a high chance that your body will be demanding food. This is just all right as your cells have consumed all the food that was previously available. Most athletes make the mistake of going for fast foods, and end up bingeing causing them more harm than good.
This is where whey isolates steps in; whey contains a number of branch chain amino acids, commonly referred to as BCAAs, which the body needs in this state. Taken in as a drink, these nutrients are absorbed into the body precisely at the right time, allowing your cell metabolism to continue in a surplus of BCAAs. The end result is mass gain in very little time.
Ingredient In Gold Standard 100% Whey – Are They Safe & Effective?
Gold standard 100% whey has its main active ingredients as whey protein isolate[1]. These are aided by premium ultra-filtered whey protein concentrates that act as flight decks or bases by which whey proteins are launched into the bloodstream. Other ingredients include glutamine, glutaminic acid, leucine, isoleucine, and valine as branched-chain amino acids.
FAQ
Q: How Long Does it Take to Show Results?
A: Like most other mass gain supplements, the effects of using gold standard 100% whey are quick to be seen. This happens because your cells are made to work in ideal environments where they lack very little nutrition. In most cases, supplements such as gold standard 100% whey make them operate in surpluses thus speeding up growth. The surplus helps you to recover from workouts as fast as possible since the cells never have to go through unnecessary deficiency.
Q: Any Precautions and Safety Warnings?
A: These are as follows: consult your physician before using this product if you are taking any prescription or over-the-counter medications or supplements. This is what the manufacturer says, "Pregnant, those planning to become pregnant or nursing moms should not use this supplement. Discontinue use and consult your health care professional if you experience any adverse reaction to this product. Do not exceed recommended serving size or suggested use. Keep out of reach of children".
Since this is a high-protein supplement, you are likely to experience stomach bloating, skin rash, discolored urine, constipation, and acne.
Q: What are Dosage and Costing?
A: There are no cited clinical researches surrounding the supplement. However, the manufacturers, of ON products, provide all the product details such that any anomalies are easily verified. The fact that this product has been in the market for a long without many complaints from users is evidence that it is quite efficient. It may not be an award-winning product, but it is quite unlikely that it would contain harmful unlisted ingredients since it is in the eye of the public. One pack contains thirty servings and you need two servings daily. A pack goes for USD 30.
Alternatives to Gold Standard 100 Whey
Know The Related Products
Final Verdict
Gold standard 100% whey has an equi-balance between its benefits and side effect. It does deliver mass gain in a short period of time. This product is worth a try.
We have given the best Bodybuilding Supplements below to make it easier for you to find safe and effective products. The ranking is based on critical factors like improving strength, boosting stamina and help in building muscle.
Below are some of the best Bodybuilding products on the market today, in our opinion.
Our Top Bodybuilding Supplements
Verdict on Claimed Benefits: Below is our summary of the available evidence for the claimed benefits of below mentioned bodybuilding supplements, and powders based on the available research:
CrazyBulk | Powerful Muscle Enhancers

Increases Muscle Mass*
Gold Star Evidence
Boosts Energy and Focus*
Gold Star Evidence
Promotes Fat Loss*
Gold Star Evidence
Supports Overall Health*
Strong Evidence
Crazy Nutrition's Mass Gainer | Muscle Mass Complex
Supports Muscle Recovery*
Gold Star Evidence
Provides Sustained Energy*
Strong Evidence
Increases Energy and Stamina*
Gold Star Evidence
Supports Workout Intensity*
Strong Evidence
Max Gains | Fast-Acting Formulas
Supports Natural Thermogenesis*
Gold Star Evidence
Supports Healthy Digestion*
Strong Evidence
Boosts Energy and Focus*
Strong Evidence
Promotes Lean Muscle*
Strong Evidence