In This Review
What is ISO 100?
ISO 100 is a hydrolyzed whey protein supplement manufactured by Dymatize. It is highly effective at producing effective results for users in a short amount of time. ISO 100 digests quickly, giving the user the surge of energy they need to get that extra push.
Research shows that the most popular flavor ordered is Gourmet Chocolate.
How Does It Rate?
Overall Rating: 3.7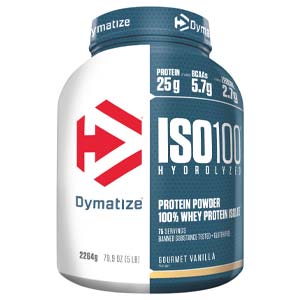 ISO 100
Brand Highlights
ISO 100 is manufactured by Dymatize.
A company based in Texas, United States.
It claims to contain natural and safe ingredients.
Brand producing fitness products and workout supplements.
It provides them with energy, strength and focuses on exercise routines.
Key Ingredients
Whey Protein Isolate
Salt
Soy
Lecithin
Potassium
Sucralose
Pros
Available on Amazon.
Its potassium content mixed with other protein-rich ingredients may help build muscles quickly.
t is gluten and lactose-free, which means people who are lactose intolerant may also enjoy the benefits of ISO 100.
May stack well with other products, such as some Fat Burners, Natural Testosterone Boosters, Pre-Workout supplements, etc.
Cons
Some side effects are reported.
They do not have a refund policy.
There are no clinical tests made on the product.
The results may vary from individual to individual.
Some customers claim that it is not as effective.
Product is more expensive.
---
ISO 100 Ingredients — Are They Safe & Effective?
Whey Protein Isolate
– A whey protein isolate, more commonly known as "isolate," is a supplement ingredient derived from whey. It contains more proteins and fewer carbohydrates and fat compared to its brother, whey protein concentrate. Also, we have discussed this ingredient in our Lean Whey Revolution MuscleSport reviews.[1]
Salt
– Some users complain that ISO 100 is too salty while some complaint about it being too sweet. ISO 100 contains a decent amount of salt, which is a good thing if ISO 100 is taken before a workout session.
Soy
– Although there are some debates as to whether soy is good or bad for the user, it is agreed that it is a good source of protein. It is not as high in protein as meat or eggs but is definitely a superior plant-proteins.
Lecithin
– Lecithin is a fat found in cells of the body. Eggs and soybeans are a good source of lecithin fat, which is used commonly for treating memory disorders such as Alzheimer's disease. It also has other benefits, including increased liver and cell function, better cell communication, improved performance, and better muscle function.
Potassium
– Potassium is added into ISO 100 to help the user's digestive system digest better the supplement.
KCl
also finds use medically to prevent or treat low potassium levels in the blood (hypokalemia) as a result of medicines, diarrhea or vomiting.
Sucralose
– Sucralose is a sugar substitute used mostly by those who are weight conscious. Sucralose's molecular bonds don't allow it to break down by the body as easily and is therefore ingested in very little quantities, rendering it non-caloric.

FAQ's
Q: How Should You Take ISO 100?
A: As per the instructions, one scoop of ISO 100 should be added and mixed to 12 ounces or 350 milliliters of water, milk or juice.
The manufacturer recommends 2-3 servings each day for maximum results.
Q: How Much Does ISO 100 Cost?
A: Online, ISO 100's 1.6 lbs container costs $53.99, 3lbs costs $99.79, and 5lbs container costs $139.89.
With each succession, the cost per pound of the container decreases by $3.
Q: What is ISO 100's Return Policy?
A: Customers can return any unused product to Dymatize, within 30 days of the purchase for a full refund. Dymatize also offers to pay for the shipping if the return is due to a fault on their end, i.e., the customer received a defective or incorrect item.
Q: Does ISO 100 Offer a Free Trial?
A: No, ISO 100 does not offer a free trial, but it does offer discounts from time to time in the shape of coupons and Promo Codes.
Alternatives to ISO 100
Know The Related Products
Gold Standard 100% Whey – Each serving provides 24 grams of high-quality whey protein primarily from Whey Protein Isolate. It has had excess carbohydrates, fat, and lactose 'isolated' out using sophisticated filtering technologies. The powder is also instantiated for easy mixing using just a glass and spoon.
Growth Factor 9 is a highly specialized combination of amino acids that target the pituitary gland to naturally stimulate growth hormone production through one serving taken orally every day.*
ISO 100—Final Verdict
Getting that extra kick via best protein powders is a good way to get more out of your workout sessions, but before you get there, you must find a supplement works well with your regime.
ISO 100 is one of the products out there to do just that, whether you are a beginner or a professional bodybuilder. It has good reviews, gives you a good bang for your buck, tastes good and gets the job done.
Some customers might find it too pricey, but you can always be on the lookout for discounts and promo-codes on the product's website to see how you can get your hands on it without having to pay full price.
The final choice always lies with the customers. You can invest in a good quality protein supplement like ISO 100 to take your workouts to their full potential, or you can always look around to see which products suit your price range better. Quality products are always worth the investment because the results at the end speak for themselves.
We have given the best Bodybuilding Supplements below to make it easier for you to find safe and effective products. The ranking is based on critical factors like improving strength, boosting stamina and help in building muscle.
Below are some of the best Bodybuilding products on the market today, in our opinion.
Our Top Bodybuilding Supplements
Verdict on Claimed Benefits: Below is our summary of the available evidence for the claimed benefits of below mentioned bodybuilding supplements, and powders based on the available research:
High Impact Plant Protein | Powerful Workout Supplement

Build Lean Muscle Mass*
Gold Star Evidence
Promote Healthy Digestion*
Gold Star Evidence
Supports Muscle Strength*
Gold Star Evidence
Improve Energy Levels*
Strong Evidence
TestoGreens | Doctor Formulated
Supports Hormone Balance*
Gold Star Evidence
Improve Stamina and Energy*
Gold Star Evidence
Improve Testosterone Level*
Gold Star Evidence
Build Strength and Muscle*
Strong Evidence
CrazyBulk | Powerful Muscle Enhancers
Increases Muscle Mass*
Gold Star Evidence
Boosts Energy and Focus*
Gold Star Evidence
Promotes Fat Loss*
Gold Star Evidence
Supports Overall Health*
Strong Evidence