In This Review
Royal Fern Overview
The Royal Fern's products are made from extracts, which are credited as anticancer, anti-bacterial agents and antioxidants. The product comes parked in a 100ml bottle and they are priced differently. Royal fern serum costs 250 euros, cleansing balm is 75 euros, anti-aging cream is 230 euros, and anti-aging eye cream is priced at 160 euros.
How Does It Rate?
Overall Rating: 4.5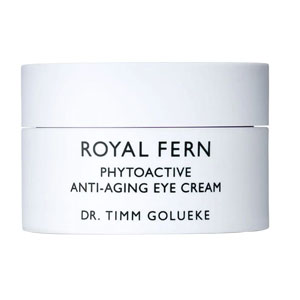 Royal Fern Phytoactive Anti Aging Rich Cream

Brand Highlights
Royal Fern is a lightweight, fast-absorbing cream that instantly revitalises the skin.
The Royal Fern Complex provides 12 hours of moisture deep in the epidermis, stimulating collagen production, preventing collagen and elastin reduction, and counteracting pigmentation for radiant, smooth skin.
Uneven pigmentation is reduced, resulting in a more radiant and even complexion.
Key Ingredients
Vitamin C
Vitamin E
green tea extracts
Cucumber
Jojoba oil
Chamomile extracts
Cocoa butter
Hyaluronic acid
Pros
It uses high quality natural ingredients
Results are long lasting
Offers protection against free radicals
It repairs damaged skin cells.
It keeps your skin well hydrated
Cons
These product can only be purchased online
Manufactures details is not provided
Exact amount of ingredients used is not provided
---
How Royal Fern Products Works?
Royal Fern products are enriched on natural ingredients and they work effectively to deliver the desired results.
Royal Fern Serum – it is enriched with powerful plant extracts and antioxidants that protects your skin from environmental damage and promotes growth of new cells. Growth of new cells will leave your skin rejuvenated and young feeling.[1]
Royal Fern Anti-aging Cream
– it significantly aids in smoothening your skin and keep it well revitalized giving you a perfect complexion. It penetrates deep in your skin supplying moisture for a well radiant and glowing skin. It enhances production of collagen and elastin eliminating aging from the source. It also protects your skin from damage by free radicals found in the environment.
Royal Fern Anti-aging Eye Cream – it is a light weight advanced skin formula that penetrates deep in your skin reducing the dark circles, fine lines, and puffiness around your eyes. It also supplies enough moisture on the area around your eyes making it glamorous and young looking.
Royal Fern Cleansing Balm – this gel balm hydrates and soothes your skin, making it soft and free from dirt particles and oil. It also protects your skin against dryness and damage from free radicals found on the surrounding.
Royal Fern Product Ingredients – Are they Safe & Effective?
The ingredients used are all natural. The mixing of ingredients is done differently on each Fern product.
Royal Fern serum
– Ascorbic Acid is used to improve skin metabolism, connective tissue production, and collagen production.[2]
– Vitamin E eliminates the pigment marks.
– Hyaluronic acid hydrates and smoothens the skin.
Royal Fern Anti-aging Cream
– Vitamin C improves collagen production.
– Vitamin E binds moisture in your skin and assist in healthy cells renewal.
– Vitamin A refines your complexion and makes your skin taut.
– Cocoa butter and macadamia nut oil helps in hydrating and smoothening of your skin.
Royal Fern Anti-aging Eye Cream
– Vitamin C stimulates connective tissue metabolism and production of collagen.
– Chamomile extracts reduce aging signs and skin puffiness.
– Vitamin E eliminates spots on your skin.
– Hyaluronic acid provides smooth and hydrated skin.[3]
– Jojoba oil protects your skin from grease.
– Beeswax and macadamia nut oil are also used in this product.
Royal Fern Cleansing Balm
– Green Tea Extracts for fighting inflammation.
– Cucumber for maintaining the level of moisture on your skin.
– Hyaluronic acid for moisturizing your skin.
– Vitamin C stimulates connective tissue metabolism.
– Jojoba oil protects the skin from damage.[4]
Know The Related Products
RVTL is an anti-aging cream that makes use of a powerful combination of anti-inflammatory, anti-aging, and antioxidant ingredients. Together, these are meant to stimulate the skin's general appearance and eradicate wrinkles and skin puffiness from around the eye area. RVTL counteracts wrinkles; it moisturizes the complexion and it makes it feel new and healthy again.
Sans Age is a natural skincare product that ensures healthy skin and appearance. It is highly effective for all skin types regardless of how sensitive they are. It is said to give smoothness around the eye area and stay soft for your face skin. More so, the use of this product is claimed to keep the moisture of the skin for a long time thus maintaining the hydrating power for your skin.
Royal Fern FAQs
Q: How to use Royal Fern Cream?
A: The suggested use is two times in a day, in the morning and at night.
Q: What are the side-effects of Royal Fern Products?
A: The products are made from 100% natural ingredients and effectively deliver the results without causing any adverse reaction on your skin.

Royal Fern – Final Verdict
Royal Fern products are high quality and sourced from natural extracts to safely and effectively prevent your skin from aging. If you are looking for an excellent skincare product to fight for aging signs Royal Fern products is the right product to go for.
As we age the composition, texture and appearance of our skin changes. Signs of skin aging include wrinkles, fine lines, loss of moisture, uneven tone and dull, tired-looking skin. There are countless anti-wrinkle creams on the market promising to make skin look and feel younger. Many anti-wrinkle creams promise everything short of a facelift or to provide the much sought after "fountain of youth". In reality most are just moisturizers marketed as anti-aging products.
Below you'll find some of the most effective wrinkle serum/cream formulations on the market today, in our opinion.
Our Top Anti Aging Choices
Verdict on Claimed Benefits: Below is our summary of the available evidence for the claimed benefits of below mentioned anti-aging products and anti-wrinkle creams based on the available research:
Beverly Hills MD - Best #1 Rated Skincare Brand
Innovative Science-Backed Skincare Products*
Gold Star Evidence
Range of Products for Specific Skin Concerns*
Gold Star Evidence
Cruelty-Free, Premium Quality Ingredients*
Gold Star Evidence
Visibly Lifts Skin From The Inside, Out*
Gold Star Evidence
Beverly Hills MD Dermal Repair Complex | Best Anti-Aging Supplement

Diminishes Wrinkles & Dullness*
Gold Star Evidence
Reduces Sagging or Drooping*
Gold Star Evidence
Improves Hair & Nails Strength*
Strong Evidence
Enhances Skin Elasticity*
Gold Star Evidence
Deep Wrinkle Filler | Anti-aging Skin Care Formula
Erase The Appearance Of Fine Lines*
Gold Star Evidence
Fill in Deep Wrinkles*
Gold Star Evidence
Give Skin a Smoother, More Flawless Appearance*
Strong Evidence
Nourishes Skin For Lasting Results*
Strong Evidence
XYZ Smart Collagen | The Best Anti-aging Cream
Wrinkles Reduction*
Gold Star Evidence
Improves Skin Firmness*
Gold Star Evidence
Improves Skin Texture*
Strong Evidence
Smart Collagen Management*
Strong Evidence
Hydrossential Serum | All-Natural Skin Care Product
Support Skin Health*
Gold Star Evidence
Helps Eliminate Acne, Dark Spots, Fine Lines*
Strong Evidence
Improves Resistance to Inflammation*
Gold Star Evidence
Repair and Restore Damaged Skin Cells*
Strong Evidence