RVTL Anti-Aging Cream Overview
As we age, the skin's collagen synthesis diminishes, and the levels of matrix metalloprotease (MMP) increase inside the skin. RVTL claims to be a potent anti-aging lotion. It restores collagen deficiency by stimulating new collagen synthesis, and by decreasing MMP. The cream prevents and treats clinical and chronological manifestations of visible aging signs, such as fine lines and wrinkles. RVTL contains Terminalia chebula fruit extract, a compound that protects and rejuvenates the skin.
RVTL argues that it is a moisturizing cream perfect for women with dry skin, too. It is packed with powerful nutrients, and it claims to reduce puffiness, wrinkles, and dark circles from under the eye area. RVTL Anti-Aging diminishes the appearance of women's age spots, fine lines and wrinkles, and firms the structure of the complexion. The RVTL Anti-Aging cream cost $93.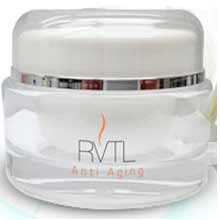 About RVTL Anti-Aging Cream
RVTL is an anti-aging cream that makes use of a powerful combination of anti-inflammatory, anti-aging, and antioxidant ingredients. Together, these are meant to stimulate the skin's general appearance and eradicate wrinkles and skin puffiness from around the eye area. RVTL counteracts wrinkles; it moisturizes the complexion and it makes it feel new and healthy again. After using this product, the manufacturers argue that the skin will feel healthy, elastic, and several years younger. RVTL provides extreme hydration, and the results are long-term.
Using the RVTL Anti-Aging cream is easy. Wash your face thoroughly in advance, apply a small amount of the cream using your fingertips, and allow a few minutes for the product to penetrate the deep layers of your complexion. For excellent results, the RVTL Anti-Aging cream must be used on a daily basis.
How Does RVTL Anti-Aging Cream Work?
As opposed to similar anti-aging creams available in the marketplace, RVTL contains natural ingredients and moisturizing emollients that help restore the skin's moisture levels, and additional characteristics, such as loss of elasticity. The intensive cream argues that it has the power of combating 3 of women's most severe skin problems – puffiness, dark circles, and wrinkles. After using RVTL anti-aging, your face will feel smoother, younger-looking, and a lot supple.
The main compound contained in the RVTL cream is DMAE, or dimethylaminoethanol, which is naturally found in nature. It is known to diminish the appearance of wrinkles while leaving the skin looking healthy and nourished. DMAE repairs upset and exhausted skin. Together with other potent ingredients, such as HA or mucopolysaccharide and Argireline (which energizes the complexion), RVTL re-saturates and refinishes the skin.
Another potent ingredient contained in the RVTL anti-aging cream is Matrixyl 3000. This compound has the ability to combat wrinkles efficiently. RVTL manufacturers argue that several additional ingredients make the cream so potent, including: Edelweiss and herbaceous plant oil. Together with several other vitamins and minerals, RVTL combats women's distressing aging signs.
Why Is RVTL Anti-Aging Cream Better Than Botox?
RVTL Anti-Aging has in its composition ingredients that work just as well as the Botulinum toxin (Botox). Some of these compounds are Matrixyl-3000 and Argireline, which are famous for their ability of combating fine line and wrinkles.
What Are The Ingredients Used In RVTL Anti-Aging Cream?
Terminalia Chebula Fruit Extract: Excellent compound that protects the skin and helps with extracellular rejuvenation
Argireline: Complexion energizer
Matrixyl-3000: Efficient compound that combats the appearance of wrinkles
DMAE, Or Dimethylaminoethanol: Natural ingredient that nourishes and hydrates the skin
Advantages of RVTL Anti-Aging Cream
RVTL offers

better results than Botox

.
Contains the powerful ingredient Matrixyl-3000, which eradicates wrinkles.
Moisturizes and hydrates the skin.
Combats the

appearance of new wrinkles

.
Reduces puffiness.

Eliminates dark circles

around the eye area.
Boost skin hydrations.

Counters stress effects

.
Free trial.
Disadvantages of RVTL Anti-Aging Cream
Few customer reviews

.
No complete list of ingredients.
Not Approved By FDA.
FAQ
Q: What is the Price of RVTL Anti-Aging Cream?
A: The cream offers a free trial for customers, and the complete cost of the treatment is $93.
Read Next – Lumineux Cream
Advertisement
*All individuals are unique. Your results can and will vary.
Know The Related Products
Final Verdict
After a certain age, women's skin starts to sag. The production of elastin and collagen fades away and the result is unpleasant wrinkles. The two ingredients we just mentioned are extremely important, and RVTL Anti-Aging claims to have in its composition ingredients that can boost the skin's production of elastin and collagen. The cream makes the complexion look youthful, bright, and radiant. It also tightens and lifts the skin, and the formula contained in the lotion is based on the most potent anti-aging ingredients, including argireline and matrixyl-3000.
A lot of women are scared of going under the knife to have a facelift or opt for Botox injections. They don't want their skin to suffer, not to mention that these procedures are expensive. RVTL Anti-Aging was clinically tested, and the results showed that the cream can eradicate wrinkles better than Botox.
As we age the composition, texture and appearance of our skin changes. Signs of skin aging include wrinkles, fine lines, loss of moisture, uneven tone and dull, tired-looking skin. There are countless anti-wrinkle creams on the market promising to make skin look and feel younger. Many anti-wrinkle creams promise everything short of a facelift or to provide the much sought after "fountain of youth". In reality most are just moisturizers marketed as anti-aging products.
Below you'll find some of the most effective wrinkle serum/cream formulations on the market today, in our opinion.
Our Top Anti Aging Choices
Verdict on Claimed Benefits: Below is our summary of the available evidence for the claimed benefits of below mentioned anti-aging products and anti-wrinkle creams based on the available research: