In This Review
Jan Marini Transformation Face Cream Overview
Jan Marini Transformation Face Cream is an anti-aging formulation that uses breakthrough technology which focuses on TGF Beta-1 (transforming growth factor) utilizing its ability to act as a cellular mediator by signalling certain activities that make the skin more youthful.
It also uses a superb combination of potent moisturizers that keep the skin hydrated in order to prevent dryness and damage that are directly connected to skin aging. The formula also uses a special liposome delivery system for targeted and efficient delivery to the deep layers of the skin for optimal effects. A 1-ounce jar is priced $92 on the Jan Marini Skin Research website.
How Does It Rate?
Overall Rating: 3.7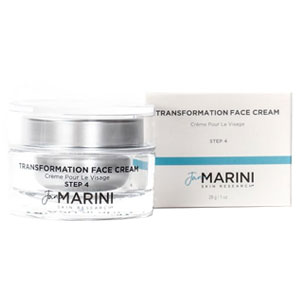 Jan Marini Transformation Face Cream
Brand Highlights
Jan Marini Skin Research was founded in 1994
It focuses on innovative technologies for delivering proven measurable results and an unwavering commitment to the continuous success of their customers.
It claim to the best product in the anti aging
Key Ingredients
TGF Beta-1 or transforming growth factor
Thymosin Beta-4
Pros
The formula is for all skin types.
Jan Marini Transformation Face Cream is free from oil and non-comedogenic.
It is easily and quickly absorbed by the skin.
Some of the active ingredients are proven to be effective.
Cons
It is priced high compared to other anti-aging formulations.
There are some negative feedbacks saying it isn't very effective.
The formula is primarily designed to reduce fine lines and wrinkles only.
Some users reported developing skin irritation to the formula.
---
How Does Jan Marini Transformation Face Cream Work?
Jan Marini Transformation Face Cream primarily works by signalling the repair process of the skin cells. It also works to boost the production of collagen and elastin that restores the elastic and smooth qualities of youthful skin. The anti-aging cream also deeply hydrates the skin to prevent dryness and damage preventing premature skin aging. It also protects the skin from oxidative damage that is one of the main causes of skin aging.
Jan Marini Transformation Face Cream Ingredients – Are they Safe & Effective?
TGF Beta-1 or transforming growth factor
– It acts as a mediator for cells signalling activities that are important for maintaining skin youthfulness and health. According to studies, it has unparalleled effects when it comes to enhancing crucial factors for healing, stimulating collagen and elastin production.[1]
Thymosin Beta-4
– It also promotes the repair process of the skin to help repair damage rejuvenating the skin and reducing the appearance of skin aging signs like fine lines and wrinkles.[2]
Other ingredients – Water (Aqua), Hexyl Laurate, Caprylic/ Capric Triglyceride, Butylene Glycol, Glycerin, Yeast Extract, Polysorbate 60, Stearyl Alcohol, Palmitic Acid, Sorbitan Stearate, Hydrolyzed Elastin, Sodium Hyaluronate, Myristoyl Pentapeptide-8, Myristoyl Pentapeptide-11, sh-Polypeptide-9, sh-Oligopeptide-4, Retinyl Palmitate, Tocopherol, Ascorbyl Palmitate, Ascorbic Acid, Citric Acid, Aloe Barbadensis Leaf Juice, Tocopheryl Acetate, Tocopheryl Linoleate, Squalane, Dimethicone, Sodium PCA, Cholecalciferol, Phosphate Buffered Saline, C12-20 Acid PEG-8 Ester, Cetyl Alcohol, PEG-8, DMDM Hydantoin, Corn Oil, Hydrogenated Lecithin, Glycine Soja (Soybean) Oil, Nylon 12, Quaternium-15, Phenoxyethanol, Methylparaben, Butylparaben, Ethylparaben, Propylparaben, Imidazolidinyl Urea, Diazolidinyl Urea, Fragrance (Parfum)

Jan Marini Transformation Face Cream FAQ's
Q : What are the suggested Usage?
A : Use in the morning and evening after cleansing. Apply sparingly over the entire face and neck. Make sure it is absorbed by the skin before using other skin care products or wearing makeup.
Q : Is It Safe And Effective?
A : There is no comprehensive clinical study done on Jan Marini Transformation Face Cream, so there is no evidence that it is safe and effective. However, there are many positive feedbacks from people who have tried the cream. On the other hand, there are also users saying it isn't very effective, and some say they are sensitive to the formula causing the development of skin irritation when applied.
Q : What are the warnings?
A : Avoid contact with your eyes so be cautious when applying the cream. Check the ingredients carefully and make sure you're not sensitive to any of them before use. It would be best to perform skin testing before applying the cream. If you have very sensitive skin, check with your skin care professional before using Jan Marini Transformation Face Cream.
Read Next – Skinade

Jan Marini Transformation Face Cream Review – Final Verdict
All in all, Jan Marini Transformation Face Cream is a good anti-aging product that uses innovative technology. There are many positive feedbacks on the anti-aging cream that is a good sign in terms of effectiveness. However, it doesn't come with a money back guarantee, so there is a certain amount of risk when you purchase it. The product is worth trying, but there are more affordable options on the market if you want to save some money.
As we age the composition, texture and appearance of our skin changes. Signs of skin aging include wrinkles, fine lines, loss of moisture, uneven tone and dull, tired-looking skin. There are countless anti-wrinkle creams on the market promising to make skin look and feel younger. Many anti-wrinkle creams promise everything short of a facelift or to provide the much sought after "fountain of youth". In reality most are just moisturizers marketed as anti-aging products.
Below you'll find some of the most effective wrinkle serum/cream formulations on the market today, in our opinion.
Our Top Anti Aging Choices
Verdict on Claimed Benefits: Below is our summary of the available evidence for the claimed benefits of below mentioned anti-aging products and anti-wrinkle creams based on the available research:
Beverly Hills MD - Best #1 Rated Skincare Brand
Innovative Science-Backed Skincare Products*
Gold Star Evidence
Range of Products for Specific Skin Concerns*
Gold Star Evidence
Cruelty-Free, Premium Quality Ingredients*
Gold Star Evidence
Visibly Lifts Skin From The Inside, Out*
Gold Star Evidence
Beverly Hills MD Dermal Repair Complex | Best Anti-Aging Supplement

Diminishes Wrinkles & Dullness*
Gold Star Evidence
Reduces Sagging or Drooping*
Gold Star Evidence
Improves Hair & Nails Strength*
Strong Evidence
Enhances Skin Elasticity*
Gold Star Evidence
Deep Wrinkle Filler | Anti-aging Skin Care Formula
Erase The Appearance Of Fine Lines*
Gold Star Evidence
Fill in Deep Wrinkles*
Gold Star Evidence
Give Skin a Smoother, More Flawless Appearance*
Strong Evidence
Nourishes Skin For Lasting Results*
Strong Evidence
XYZ Smart Collagen | The Best Anti-aging Cream
Wrinkles Reduction*
Gold Star Evidence
Improves Skin Firmness*
Gold Star Evidence
Improves Skin Texture*
Strong Evidence
Smart Collagen Management*
Strong Evidence
Hydrossential Serum | All-Natural Skin Care Product
Support Skin Health*
Gold Star Evidence
Helps Eliminate Acne, Dark Spots, Fine Lines*
Strong Evidence
Improves Resistance to Inflammation*
Gold Star Evidence
Repair and Restore Damaged Skin Cells*
Strong Evidence