Product Description
Estee Lauder Revitalizing Supreme is a multi-action anti-aging cream that reduces the appearance of different skin aging signs including fine lines, wrinkles, loss of firmness, dryness, and dullness. It uses IntuiGen Technology which is said to know the specific needs of the skin's user.
It helps activate the skin's natural revitalization processes to make the skin healthier and appear more youthful. It is a lightweight silky soft cream that cushions the skin with rich and refreshing moisture. The formula claims to be clinically proven to make the skin significantly firmer in just 4 weeks of use.
Manufacturer Information and Claims about Estee Lauder
Estee Lauder is an established company that offers a range of products including skincare, makeup and fragrances. The company has been around for a very long time and is unparalleled when it comes to offering quality skin care formulations. It is, in fact, one of the most beloved and respected brands today. Their products are available in stores all over the world.
Key Ingredients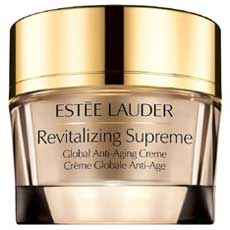 Bamboo Leaf Extract – It is rich in antioxidants that help protect the skin from oxidative stress damage thus slowing down the skin aging process and preventing premature skin aging. It also contains certain vitamins and proteins that benefit the skin by nourishing it and improving overall health.
Barley Extract – This ingredient is high in plant phytosterols and linoleic acid that strengthen the skin and help protect it. Barley extract is also a soothing and moisturizing agent that helps replenish the natural protective barrier of the skin. It also helps with the renewal of cell membranes which is the reason it is an effective natural treatment for dry and itchy skin.
Cucumber Fruit Extract – It is a powerful soothing ingredient that has a cooling effect that helps reduce skin irritation and inflammation. It also contains amino acids, lipids, proteins and vitamin C which help protect the skin and relieve irritation. It contains minerals like silica that help reduce wrinkles and tighten the skin.
Caffeine – This ingredient helps reverse sun damage and lower risk of certain skin cancers according to studies. It can also help reduce eye puffiness and eye bags s little.
The other active ingredients are whey protein, acetyl glucosamine, ergothioneine, sodium hyaluronate and Vitamin E.
How Does It Work?
Estee Lauder Revitalizing Supreme claims to work by igniting the innate ability of the skin to heal and regenerate itself. The formula also uses other active ingredients for stimulating different anti-aging pathways of the skin cells. It boosts collagen production to help restore the youthfulness of the skin making it more elastic and smooth.
It also uses powerful moisturizing and soothing ingredients to reduce inflammation and prevent dryness and, therefore, prevent premature skin aging.
Advantages
Estee Lauder Revitalizing Supreme has been shown to make the skin firmer.
It is from an established skin care company.
The formula uses active ingredients that are backed by scientific and clinical data.
Disadvantages
There is no substantial evidence that it reduces skin aging signs or reverses skin aging.
It isn't offered with a money back guarantee that is commonly offered by the top anti-aging formulations.
The formula comes in jar packaging exposing it to air and light that can reduce the effectiveness of the active ingredients.
There are some feedbacks saying it isn't effective or only offers minimal results.
Suggested Usage
Apply Estee Lauder Revitalizing Supreme after cleansing. For best results, use in the morning and evening. Massage gently into the skin to maximize absorption. Make sure it is absorbed by the skin before using other skin care products or wearing makeup.
Is It Safe and Effective?
The anti-aging formula is generally safe, but some users may be sensitive to certain ingredients in the formulation. It is proven to make the skin firmer according to the Estee Lauder website, but no details on the study are available. Thus, there is still no substantial evidence that it is effective.
Also, since there is some negative feedback from users, it is not always effective.
Warnings!
Avoid contact with your eyes to prevent irritation. If a rash or skin irritation develops, wash with water and discontinue use. This may indicate that you are sensitive to any of the ingredients. If you have highly sensitive skin, consult your skincare professional before use.
Advertisement
*All individuals are unique. Your results can and will vary.
Similar Products Suggestions
Estee Lauder Revitalizing Supreme is a multi-action anti-aging cream that uses IntuiGen Technology. And as mentioned above, it reduces the multiple skin aging signs and give you a younger like and glowing skin. You might be interested in knowing about similar products which does the same as this, and they are Erasa XEP 30, Erase/Repair HA Cream , Euphoria Cream, and Oro Gold 24k Dmae Instant Lifting Serum. All these products might be as useful as Estee Lauder Revitalizing Supreme.
Final Verdict
After extensively examining Estee Lauder Revitalizing Supreme, it is a good anti-aging cream. The product is designed to target all the skin aging signs although it is most effective for fine lines and wrinkles. It is a little pricey, but the formula is still worth trying since there are many people saying it works.
However, there are also some negative feedback from users so it may not work for certain cases of skin aging.
As we age the composition, texture and appearance of our skin changes. Signs of skin aging include wrinkles, fine lines, loss of moisture, uneven tone and dull, tired-looking skin. There are countless anti-wrinkle creams on the market promising to make skin look and feel younger. Many anti-wrinkle creams promise everything short of a facelift or to provide the much sought after "fountain of youth". In reality most are just moisturizers marketed as anti-aging products.
Below you'll find some of the most effective wrinkle serum/cream formulations on the market today, in our opinion.
Our Top Anti Aging Choices
Verdict on Claimed Benefits: Below is our summary of the available evidence for the claimed benefits of below mentioned anti-aging products and anti-wrinkle creams based on the available research: