In This Review
What is Avon Banishing Cream?
What do you do with dark, uneven skin that somehow makes you look old and haggard? You can always see help from a reputable dermatologist, but remember to prepare your budget for this because expert services don't really come cheap. Or, you can opt to do things on your own and get help from the makeup and skincare industry.
Even out skin tone, erase signs of hyperpigmentation, and say goodbye to those dark spots for good with the perfect brand of a skin brightener. Do hide your true beauty with makeup. Rather cure your skin problem and get to the very bottom of the problem.
If you can't afford expensive makeup, you may want to take a closer look at Avon Banishing Cream. If it's from Avon, you know that it's a reasonably priced product that delivers. After all, the company has been around for quite some time now, and for good reason too.
If you've been searching for the best skin brightener, look further into the benefits offered by Avon Banishing Cream. Many say that this is a miracle product that fades freckles, age spots, and anything that mars your true complexion.
Furthermore, Avon Banishing Cream helps counteract sun damage. This is a rather important feature because you do expose yourself to the sun's harmful UVA and UVB rays on a daily basis. Without the proper skincare regime, you might just end up looking older than you actually are.
Avon Banishing Cream works well especially when it comes to evening out skin tone. More importantly, the manufacturer is known worldwide for its amazing skin and beauty products. This skin brightener, in particular, is made from a blend of botanical products and vitamin E. Hence, you get a brightener that's free from a dangerous substance called hydroquinone.
How Does Avon Banishing Cream Rate?
Overall Rating: 3.8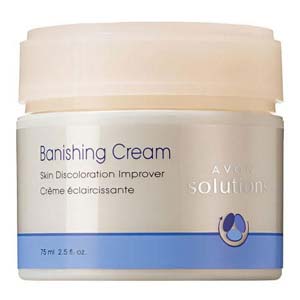 Avon Banishing Cream
Brand Highlights
The brand has an imposing line of sports nutrition products.
Avon Banishing Cream uses clinically proven ingredients in its formulations.
They are committed to being a source of top-notch, original goods.
It is known for developing and releasing the most cutting-edge products.
Key Ingredients
Isopropyl Myristate
Propylene Glycol
Ethylhexyl Methoxycinnamate
Pros
It's known to contain antioxidants.
Comes from a reputable manufacturer of makeup and beauty products.
It's available via a direct seller or on the website.
Is extremely affordable.
Cons
No popular lightning ingredient is used in the cream.
Some customers have complained about the smell.
Comes with mixed feedback.
---
How Does Avon Banishing Cream Work?
Avon Banishing Cream is a hydroquinone-free formula that's made from two of the most notable ingredients: a botanical brightening blend and vitamin E. This nighttime cream nourishes and evens skin tone by erasing unsightly dark spots and any sign of skin discoloration.
The older version of the cream used to contain hydroquinone, but Avon has removed it because of the questions surrounding the component's safety. Studies show that this may cause cancer and other health problems. Some people have also reported experiencing an allergic reaction to it.
What Avon did was replace the hydroquinone with other well-known skin-lightening ingredients. They turned to Mother Nature and discovered a component called Retinyl Palmitate. This is believed to help the skin when it comes to collagen production. It also increases the rate of cell turnover so that you get younger and newer skin in record time.
Avon Banishing Cream Ingredients – Are They Safe & Effective?
The following are the ingredients used: Water, Isopropyl Myristate, Myristyl Myristate, Petrolatum, PEG-8, Propylene Glycol, Ethylhexyl Methoxycinnamate, Glyceryl Stearate, PEG-100 Stearate, Cetyl Alcohol, Magnesium Aluminum Silicate, Dimethicone, Choleth-24, Thiodipropionic Acid, Panthenol, Retinyl Palmitate, Saxifraga Sarmentosa Extract, Vitis Vinifera (Grape) Fruit Extract, Tocopherol, Morus Nigra Root Extract, Scutellaria Baicalensis Root Extract, Tocopheryl Acetate, Ceteth-24, Hydroxyethylcellulose, Citric Acid, Sodium Citrate, Fragrance, Disodium EDTA, Benzyl Alcohol, Imidazolidinyl Urea, and BHT.
Isopropyl Myristate

Isopropyl Myristate offers a suitable Sun Protection Factor (SPF)[1] for sunscreens or to shield cosmetics from UV rays.
Propylene Glycol
Due to its strong affinity for water,
propylene glycol is utilized to enhance the moisturizing[2] properties of skin care products.
Ethylhexyl Methoxycinnamate
A polar skin moisturizer called isopropyl myristate is used to increase the penetration of medications through the skin. It aids in improving skin absorption.

FAQ's
Q: Is Avon Banishing Cream Safe?
A: Unlike most skin brighteners, Avon Banishing Cream doesn't contain hydroquinone. If you made further investigations on this component, you'll see that doctors have raised questions and concerns about it.
That's because it's suspected to increase your risk for cancer. Those who want to stay away from harsh substances that may cause health problems, they'll be happy to know that Avon Banishing Cream makes use of vitamin E and a blend of other botanical ingredients.
Q: Are There Any Side Effects of Avon Banishing Cream?
A: People have reported itchiness and allergic reactions to the old version. However, there have been no concerns raised about the new Avon Banishing Cream.
Q: What are the Alternatives to Avon Banishing Cream?
A:
What Do the Reviews Say?
It actually doesn't accomplish anything. It might give you some short-term skin comfort for a few hours, but the expense is not justified. I haven't noticed any notable advantages as a result of using it.
~ Tammy
Conclusion
Avon Banishing Cream has become popular for good reason. While there are better creams available in the market, this one is certainly one of the cheaper ones. Hence, if you want a skin brightener that doesn't cost much, then go for this.
For something that costs less than $10, you certainly don't have anything to lose. In fact, customer feedback shows that you do get your money's worth with this one.
Skin Brighteners aid in reducing post-inflammatory hyperpigmentation revealing even skin tone. Skin brighteners also can help revitalize tired and dull skin resulting in a youthful, healthy glow.
Below you'll find some of the most effective skin brightening products on the market today, in our opinion.
Our Top Rated Skin Brighteners
Verdict on Claimed Benefits: Below is our summary of the available evidence for the claimed benefits of below mentioned anti-aging supplements, creams, serums, and moisturizers based on the available research:
Essential Skin Food | Skin Nourishing Collagen Support

Diminishes the Dark Spots*
Gold Star Evidence
Boosts Skin's Plumpness*
Gold Star Evidence
Improves Skin's Radiance*
Gold Star Evidence
Brighten Skin Naturally*
Strong Evidence
Dermelect | Advanced Skin Formula
Nourish and Protect Skin*
Gold Star Evidence
Rejuvenate the Skin*
Strong Evidence
Non-Irritating Formula*
Gold Star Evidence
Suitable for All Skin Types*
Strong Evidence
BioRestore Complete | Clear Skin Support
Deeply Nourishes Skin*
Gold Star Evidence
Improves Skin Texture*
Strong Evidence
Reduces Inflammation*
Strong Evidence
Works for All Skin Types*
Strong Evidence