In This Review
Neutrogena Hydro Boost Overview
Neutrogena Hydro Boost is a lightweight, refreshing skincare gel that quenches and continuously hydrates the skin. It is formulated with a key ingredient called hyaluronic acid. This ingredient works by boosting hydration and locking it in so that the skin stays smooth, supple, and hydrated all day long. Neutrogena Hydro Boost applies easily and absorbs quickly into your skin without leaving behind any greasy or oily feel.
How Does It Rate?
Overall Rating: 3.4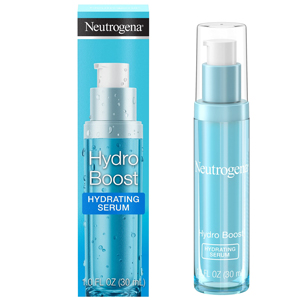 Neutrogena Hydro Boost
Brand Highlights
The manufacturer of this product has not been mentioned in the brand's website.
However there are numerous claims that have been made by the manufacturer concerning the benefits of this product.
The manufacturer claims that Neutrogena Hydro Boost quenches and hydrates the skin making it smooth in completion and oily free giving you a healthy-looking glow.
Key Ingredients
Olive Extract
Purified Hyaluronic Acid
Pros
It absorbs easily and quickly in to the skin
It instantly quenches the skin
It is and smooth to the skin
Light weight and is not sticky
It can be used in all skin type
It is Non-Comedogenic
Cons
Manufacturer information is not provided
There is no payback money guarantee
The specific amount of each ingredient used is not provided
---
How Does Neutrogena Hydro Boost Work?
Neutrogena Hydro Boost serum absorbs quickly to quench skin and deliver higher levels of hydration for fully hydrated skin that glows day after day. Hyaluronic Acid, a naturally occurring hydrator in the skin, attracts and retains moisture, resulting in more supple and smooth skin.
Neutrogena Hydro Boost Ingredients – Are they Safe & Effective?
Neutrogena Hydro Boost is a revolutionary skincare product that works by hydrating and rebuilding the skin's barriers. It leverages its two key ingredients which are:
Olive Extract
– This ingredient is known for its anti-oxidant, protective, and moisturizing qualities. It contains fatty acids which is similar to the skin's natural moisture shield. This fatty acid assimilates into skin barriers and forms a structure that helps to protect the skin from moisture loss and dehydration. [1]
Purified Hyaluronic Acid
– This helps to deliver pure boost of hydration. It absorbs and holds huge amount on water and continuously and slowly releases it back in to the skin keep it supple and hydrated all day long. [2]
Alternatives to Neutrogena Hydro Boost:
Neutrogena Hydro Boost FAQ's
Q: Do you apply this product in the morning only or morning and evening?
A: The manufacturer advice is that you start your day and end it with Neutrogena Hydro Boost. Apply it every day under make-up for a smooth complexion, oily free skin.
You can also use it at night. This provides you with more hydration benefits and helps you to start your day with a refreshed, supple and smooth looking skin.
Q: What are the Side Effects of Neutrogena Hydro Boost?
A: There are no known side effects known to be caused by the use of this product. This gel is absolutely free from fillers and other harmful chemicals. It has been approved and recommended by many dermatologists as fit and safe for use.
However, the manufacturer advised that in case of any skin irritation after applying, then you should stop using it immediately and consult with your doctor or health specialist.
Neutrogena Hydro Boost Reviews – Final Verdict
Neutrogena Hydro Boost is a great skincare product. It has the ability to keep the skin moisturized for long period. It also combats the fine lines and dry spots on the skin. It is very light and does not leave the skin greasy. It helps you wake up every morning with a soft smooth complexion. So, if you want your skin to look beautiful, smooth, and refreshed, then go for it.
Below are some of the best Moisturizer products on the market today, in our opinion.
Our Top Moisturizer Choices
Verdict on Claimed Benefits: Below is our summary of the available evidence for the claimed benefits of below mentioned moisturizers based on the available research:
Beverly Hills MD Deep Regenerating Stem Cell Moisturizer

Boosts Collagen Production*
Gold Star Evidence
Provides Deep Hydration*
Gold Star Evidence
Reduces Wrinkles*
Gold Star Evidence
Targets Age Spots*
Strong Evidence
CeraVe Moisturizing Cream | Gentle Daily Moisturizer
Restores Skin Barrier*
Gold Star Evidence
Soothes Dry and Sensitive Skin*
Strong Evidence
Absorbs Quickly*
Strong Evidence
Long-Lasting Moisture*
Strong Evidence