Estrobalance Overview
Estrobalance is an all-natural food supplement that contains Diindolylmethane which is a natural compound that is found in cruciferous vegetables like broccoli, cauliflower, and cabbage that can act as estrogen in the body.
The product naturally acts as to stabilize estrogen level in the body and maintain hormonal balance. This active ingredient will help in effect to address the common signs and symptoms of menopausal women such as hot flashes, mood swings, night sweats, irritability, and others.
This dietary supplements also aids maintain a healthy fat metabolism, promotes breast wellness and healthy cell development.
Estrobalance Ingredients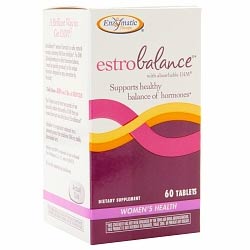 Estrobalanace utilizes the active ingredient Diindolylmethane which is a natural compound found in a cruciferous vegetable that helps the body maintain a healthy estrogen level and hormonal balance naturally.
It improves the metabolism of estrogen and other hormones in the body to maintain a hormonal balance. Research shows that this active ingredient can also facilitate in maintaining a good breast health and a healthy cell development.
How Does It Work?
This dietary supplement provides the body the natural compound Diindolylmethane. Diindolylmethane functions can function like an estrogen in the body; thus, providing women at their menopause an alternative source of the much-needed hormone to achieve balance in their hormonal levels.
This compound is easily absorbed by the body and promotes an efficient absorption of hormones. The availability of estrogen hormone in the body and the effective metabolism caused by this product, in turn, provides the body an ample amount of estrogen to regain hormonal balance in menopausal women.
Estrobalance Advantages
It is all natural and is made from vegetables
Recommends 1 tablet per day
Easy to purchase
Estrobalance Disadvantages
No actual clinical use and study is published to back up its claims
No money-back guarantee
Currently only majorly available in the United States
Suggested Use
Products, even if it is all natural may not always be safe. It is always a must to consult your pharmacist and physician about the effects and safe dosage of the product. Estromineral as a dietary supplement is advised to be taken 1 tablet a day with food.
Is Estrobalance Safe To Use?
There is no concrete evidence of clinical studies or scientific applications done for the purpose of testing its effectiveness and safety to the consumers.
There is a lack of substantial proof that can enforce their claims in terms of the effectiveness of the product in managing symptoms of menopause. A number of consumers have also provided a number of feedbacks that shows that the product has not delivered its desired effects.
Advertisement
*All individuals are unique. Your results can and will vary.
Is Estrobalance Effective?
The effectiveness of a product must be presented with clinical studies and actual application and results in order to establish their credibility. Estrobalance as a natural dietary supplement has yet to present itself a valid clinical study result that guarantees its effectiveness and safety.
Consumers who did try the product have a substantial number of negative feedbacks regarding its effectiveness and side effects. This gap in information about its effectiveness and safety of the consumers needs to be filled with a number of studies and results that ensure the usefulness of the supplement to the consumers.
Will Estrobalance Show Results?
As it was mentioned earlier, there is still a great lack of studies that backs up the efficacy and safety of the product that the company claims. And given the feedbacks of the consumers that tried the dietary supplement to manage their menopausal symptoms, an ample amount of negative feedback is found that may prove to be of vast concern for future consumers of the supplement.
How Long Does it Take to See the Result?
The effects of any drug or dietary supplement can vary according to age, gender, race and diet among other things. This dietary supplement has not provided us with the expected or ideal affectivity of the supplement in our body system. There is no definite time span or number of tablets to be taken before one could see or feel the difference or if there would be at all.
Warnings
This dietary supplement contains hormone replacing compounds and must be taken in by the consumer with utmost care. Always seek your physician's advice if prior to use.
Changes in urine color may be expected with the use of this product. Do not take if pregnant or nursing. The active ingredient in this product may prove to have a sensitive effect to cases of hormone-sensitive conditions such as breast cancer, uterine cancer, ovarian cancer, endometriosis, or uterine fibroids, and should not be taken unless it can be advised by your physician to do so.
Final Verdict
The product is an all natural dietary supplement that may have little or no negative effect on the body. However, the lack of studies about the product's effect in the body in a long term use and its safety lacks the assurance that it will be a helpful supplement to combat the symptoms of menopause.
The active ingredient Diindolylmethane is proved to supply the body estrogen to balance its hormonal needs, but there are also studies that say this compound in some circumstances may block estrogen effects in the body. Reported mood changes are also to be considered.
The lack of substantial proof about the safety and effectiveness of the product and the number of negative feedback of clients are fronts that first needed to be cleared before we can recommend the use of this product.
Fortunately, natural therapies for menopausal symptoms such as weight gain, hot flashes, night sweats, decreased libido, and mood swings are available. Since many women experience weight gain during menopause, many natural menopause supplements contain herbs and botanicals that support a healthy metabolism. Menopause supplements should be evaluated on proven ingredients, ability to reduce hot flashes and night sweats, ability to provide hormonal balance and boost libido and its overall value.
Below you'll find some of the most effective menopause supplements on the market today, in our opinion.
Our Top Menopause Choices
Verdict on Claimed Benefits: Below is our summary of the available evidence for the claimed benefits of below mentioned menopause supplements and vitamins based on the available research:
Amberen | Best Multi-Symptom Menopause Relief Supplement

Reduces Hot Flashes*
Gold Star Evidence
Helps Restore Hormonal Balance*
Gold Star Evidence
Better Sleep*
Strong Evidence
Mood Improvement*
Strong Evidence
Estroven Complete Multi-Symptom Menopause Relief
Reduces Menopause Symptoms*
Gold Star Evidence
Reduces Night Sweats*
Gold Star Evidence
Improve Energy*
Strong Evidence
Support Mood Swings*
Moderate Evidence
Metagenics Estrovera | Plant-Derived Menopausal Hot Flash Relief
Assists With Hot Flashes*
Gold Star Evidence
Improve Mood Swings*
Moderate Evidence
Ease Menopause Symptoms*
Strong Evidence
Reduces Night Sweats*
Strong Evidence