In This Review
What Is Estro Flavone?
Estro Flavone (formerly known as Estro Complex) is a natural health supplement that gives support for women undergoing hormonal imbalance, especially when it comes to the hormone estrogen.
It is a product of Premier Research Labs. It sells for 19.95 USD per bottle (60 capsules).
Here are ten essential things that a woman should know about Estro Flavone:
As mentioned earlier, the primary role of Estro Flavone is to give advanced hormone balance support and thus it gives relief from menopause symptoms such as mood swings and as well as relief from pre-menstrual symptoms such as cramps.
How Does It Rate?
Overall Rating: 3.9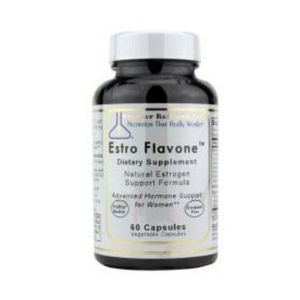 Estro Flavone
Brand Highlights
Premier Research Labs LP, based in Austin, Texas, is the company that produces Estro Flavone.
They are experts in cellular resonant nutrition technology and sell natural supplements and superfoods.
They were founded in 1999.
Key Ingredients
Diindolylmethane
Indonesian Cinnamon Bark
American Ginseng Root
Chinese Salvia Root
Pros
Manufactured by a reputable company
Pure vegetarian capsules (100% solvent free)
Non-toxic tablets (no glues nor fillers)
Refunds are available (but should call the company first)
Cons
Contains soy which prevents soy-allergic individuals from using it
Few information available on its website
No information available about shipping and delivery on its official site
---
How Does Estro Flavone Work?
Estro Flavone contains substances which are considered as SERMs or Selective Estrogen Receptor Modulators. These substances are not estrogen hormones but they do have the ability to bind to estrogen receptors and thus influence the activities of cells.
What is unique with these compounds is that they are "selective" – thus it can cause estrogen-like effects to certain kinds of cells and on the other hand, block the effects of the hormone estrogen in other cells.
Estro Flavone Ingredients – Are they Safe & Effective?
Diindolylmethane
– According to study, It's a chemical found in cruciferous vegetables. It has anti-inflammatory properties that help to reduce swelling in the body. It can also help to balance oestrogen levels. Thyroid concluded that DIM modulates oestrogen metabolism in thyroid disease patients.[1]
Indonesian Cinnamon Bark
– This cinnamon, derived from the Indonesian Cassia tree, has numerous health benefits including cholesterol reduction, mood enhancement, and the prevention of heart disease. It's a potent antioxidant that may raise oestrogen levels in the body. Cinnamon increases oestrogen levels in rats, according to a study published in the Biomedical and Pharmacology Journal.[2]
American Ginseng Root
– American Ginseng Root has several health benefits, including lower cholesterol, lower blood sugar, and increased energy. It also affects hormone levels, particularly oestrogen. The effect of ginseng on oestrogen and androgen receptors was investigated in a study published in the Journal of Ginseng Research.[3]
Chinese Salvia Root
– Chinese Salvia Root is important in Chinese medicine and is used to treat heart and liver disease. It may raise estrogen levels and is a remedy for menopausal symptoms. A study in Open-Access Impact Journal on Aging found that this root increases estrogen levels without side effects on reproductive tissue.[4]

Estro Flavone – FAQ's
Q: What is the Recommended Daily Intake of Estro Flavone?
A: It is recommended that one take a capsule of Estro Flavone for three times a day. This may vary as directed by a physician.
Q: Does Estro Flavone Really Support Hormone Balance In Women?
A: Estro Flavone was made for this kind of purpose: to support women who are undergoing hormonal changes, most especially during menopause wherein estrogen levels in a woman's body fluctuate.
However, although this is the claim of the product's manufacturer, there are no published researchers to prove this matter.
Q: Is There Any Information About Estro Flavone Cautions?
A: There are no reported cases of adverse reactions related to Estro Flavone as of the moment. However, just to be safe, this product should not be used by pregnant women and nursing mothers. In addition, anyone who has an allergy with any of Estro Flavone's ingredients should not take it.

Estro Flavone Review – Final Verdict
As based on online Estro Flavone reviews, this product is doing well in delivering the performance and results that its consumers expect. However, there is definitely tough competition within this product's market.
There are a lot of other products available online and in pharmacies that offer the same benefits that Estro Flavone promises.
Estro Flavone is effective (as based on consumer reviews), but this product has still got a long way to go before it can be considered as mainstream. For instance, it needs more online presence and exposure.
It has not created much buzz in the market that as of the moment there are no clinical researchers available yet to test its effectiveness. It would seem like the marketing division of Estro Flavone has got a lot of work to do.
In addition, most online information available about Estro Flavone is not from the product's website itself but from other online sites that sell the product too.
This kind of set-up makes the information about the product questionable (as it is provided by varying sources). If the product's website contains all the information needed regarding it; Estro Flavone's reputation will definitely have a boost.
Fortunately, natural therapies for menopausal symptoms such as weight gain, hot flashes, night sweats, decreased libido, and mood swings are available. Since many women experience weight gain during menopause, many natural menopause supplements contain herbs and botanicals that support a healthy metabolism. Menopause supplements should be evaluated on proven ingredients, ability to reduce hot flashes and night sweats, ability to provide hormonal balance and boost libido and its overall value.
Below you'll find some of the most effective menopause supplements on the market today, in our opinion.
Our Top Menopause Choices
Verdict on Claimed Benefits: Below is our summary of the available evidence for the claimed benefits of below mentioned menopause supplements and vitamins based on the available research: