In This Review
Overview
Are you overwhelmed by the sheer number of health supplements and programs on the market? You're not alone.
Without a doubt, navigating the vast world of wellness brands can feel overwhelming. It is in many ways similar to wandering through a dense forest. Among these brands, Purium claims to be a beacon of purity, emphasizing their use of organic, non-GMO ingredients.
But with so many claims and promises flying around (and the whispers of legal troubles that Purium has had), how do we know who to trust? Well, that's why this article exists.
Dive into our comprehensive Purium review as we explore their ingredient list, validate their claims, and sift through the noise to determine if Purium is a brand worth your trust.
How Does It Rate?
Overall Rating: 3.9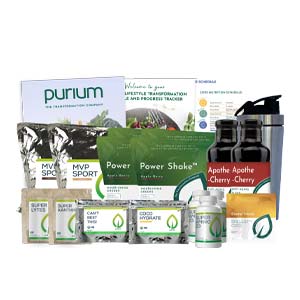 Purium
Brand Highlights
Vegan
Non-GMO
USDA Organic
Dairy-Free
Original Purity Standards
Transformation Programs
60-Day Money-Back Guarantee
MLM Marketing Company
Key Ingredients
Marshmallow Root
Cascara Sagrada Bark
Senna Lea
Cloves
Wormwood
Black Walnut Hull
Amalaki
Aloe Vera Concentrate
Probiotic Blend
Barley Green Juice
Spirulina
Pros
Natural Ingredients
Diverse Product Range
Transformation Programs
Quality Emphasis
Cons
Ingredient Concerns
Lack of Scientific Backing
Sustaining results beyond program durations might be challenging
Multi-Level Marketing
Past Legal Troubles
---
About the Brand
Purium is a health and wellness brand by co-founders Dave Sandoval and Amy Venner-Hamdi. They have over a quarter century of experience under their belt and offer supplements and programs aimed at bridging nutritional gaps.
Dedicated to "original purity standards," Purium assures consumers of a GMO-free, artificial-component-free experience, promoting general health and well being.
Among the brand's standout products and programs are the Power Shake, the Super CleansR, and the 10-Day Transformation program devised by David Sandoval, the best-selling author of The Green Foods Bible.
The brand's approach to doing business, which involves level marketing (MLM) can be a bit questionable. And another concern is the pricing. Some of Purium's programs come with a price tag requiring huge financial commitments without the guarantee that the programs will work.
How Does It Work? | The Science Behind Purium
Purium's main focus is to offer health and wellness solutions that tackle deficiencies. They prioritize the use of GMO ingredients to boost vitality.
Purium's effectiveness is attributed to the targeted ingredients in its products and their commitment to maintaining high purity standards.
For instance, their "Ultimate Lifestyle Transformation" program aims to rejuvenate the body over the course of 40 days by substituting processed foods with nutrient-dense options.
The "10-Day Transformation" also embraces a cleanse strategy, replacing regular meals with nutrient-rich shakes and supplements.
Purium Brand Best Sellers
Biome Medic
Biome Medic from Purium protects gut health. It serves as a detox solution effective against glyphosate.
Key Ingredients:
The primary components of Biome Medic include PrebioSure™ Digestive Wheat Germ Extract, Chicory Root Fiber Extract, HumicSure™ Fulvic & Humic acid blend, and Lactospore®.
How to Use:
Take one capsule twice a day with or without meals to maintain optimal gut health.
---
Power Shake Apple Berry
Power Shake Apple Berry by Purium is not just a beverage; it's a green super drink. It helps to provide energy, detoxify, and stave off unwarranted cravings.
Key Ingredients:
It houses a blend of Organic Rice Bran Extract, Organic Oat Flour, Organic Spirulina, Organic Millet, Organic Carrot Juice Powder, Organic Wheatgrass Juice Powder, Organic Amaranth, Organic Alfalfa Leaf Juice Powder, Organic Oat Grass Juice Powder, Organic Buckwheat, Organic Quinoa, Organic Raspberry Flavor, Organic Apple Flavor, Luo Han Guo Berry Extract, and Organic Chia Seed.
How to Use:
One should mix 35.5g with 10-20 oz. of cold water or a favorite non-dairy drink. For optimal benefits, consume on an empty stomach up to four times daily.
---
Super Amino
Designed as a vanguard of protein absorption, Super Amino 23 by Purium is an ally for those seeking lean muscle development and a boost in fat burning.
Key Ingredients:
The formulation consists of essential amino acids such as L – Leucine, L- Lysine Acetate, L – Valine, L – isoleucine, L – Phenylalanine, L – Threonine, L – Methionine, and L – Tryptophan.
How to Use:
It's recommended to ingest five tablets daily alongside food. For those working out, an intake of 5 to 10 tablets 30 minutes before exercise is suggested.
---
Apothe-Cherry
Embracing the goodness of organic sour/tart cherries, Apothe-Cherry by Purium is revered for its antioxidants and rich phytochemical content.
Key Ingredients:
The spotlight ingredient in this product is Organic Sour/Tart Cherry Juice Concentrate.
How to Use:
The best approach is to mix 1 oz. of the concentrate with 8-10 oz. of water or juice, preferably consuming before bedtime to harness its full benefits.
---
10-Day Transformation Program
The brand's prime offering, the 10-Day Transformation program is devised by David Sandoval. It promises to help users lose weight through a stringent diet, ditching sugars, dairy, gluten, and more in favor of Purium's distinctive shakes.
This aggressive detox claims to help shed between 5 to 20 pounds within ten days, although the long-term health implications of such drastic weight loss are debated.
Key Ingredients:
The Purium 10-day pack includes:
Power Shake Apple Berry, Apothe-Cherry, Super Amino 23, Super CleansR, Biome Medic, 1 Stainless Blender Bottle.
---
Purium Ingredients – Are they Safe & Effective?
Purium's products are anchored in key ingredients, each chosen for potential health benefits. Here are some notable examples, along with their sources and benefits:
Marshmallow Root
According to Frontier in Pharmacology[1], this ingredient is known for its potential to soothe respiratory issues. Purium often includes it in their products for its potential calming and healing properties.
Dr. Josh Axe, a certified doctor of natural medicine states, "Marshmallow root provides natural mucilage that supports, soothes, and moistens mucous membranes."
Cascara Sagrada Bark
Sourced from the bark of the cascara sagrada tree, this natural laxative is sometimes used in cleansing products. Research in the National Library of Medicine[2] shows that this bark can aid in promoting healthy bowel movements.
Dr. Edward Shook, a renowned herbalist sates that, "Cascara Sagrada acts to stimulate the bowel muscles, aiding in the elimination process, making it a beneficial remedy for those suffering from constipation."
Senna Leaf
According to a Journal of Herbal Medicine study[3] senna leaf extract acts as a natural stimulant laxative. While it may support digestive regularity, it can have side effects like stomach cramping and loose stools.
James A. Duke, Ph.D., an ethnobotanist states that "Senna leaf acts on the lower bowel, and is especially good for elderly individuals suffering from habitual constipation."
Black Walnut Hull
The black walnut hull is from the black walnut tree. According to a Molecules study[4], this ingredient is rich in antioxidants and is often used for its potential detoxification properties.
Dr. John Christopher, a renowned herbalist states, "Black Walnut Hull is not only excellent for expelling parasites but also aids in toning and healing the intestinal walls."
Cloves
Cloves, derived from the flower buds of the clove tree, are known for their aromatic and flavorful qualities. Based on research published in the Asian Pacific Journal of Tropical Biomedicine[5], they also contain compounds that may have antioxidant and anti-inflammatory effects.
David Hoffmann, BSc (Hons), MNIMH, a renowned herbalist mentions, "Cloves don't just enhance culinary dishes; their warming and stimulating properties aid digestion and combat fungal infections."
Wormwood
This herb, sourced from the Artemisia family, is sometimes used in digestive and cleansing products. According to research published in Pharmaceutics[6], it's believed to have potential benefits for gastrointestinal health.
Dr. Linda B. White, an integrative medicine physician states, "For centuries, wormwood has been harnessed for its digestive benefits and its effectiveness against parasites. Its bitter compounds truly shine in promoting gut health."
Amalaki
This is also known as Indian gooseberry. Research in Antioxidant[7] shows that Amalaki is rich in vitamin C and antioxidant sources. It's often included in formulations for its potential immune-boosting properties.
Dr. David Frawley, a Vedic educator states, "Amla or Amalaki is not just a fruit, but a natural remedy that promotes longevity, digestion, and balanced health."
Aloe Vera Concentrate
Based on research published in Molecules[8], aloe vera is recognized for its soothing and hydrating effects on the skin and digestive system.
As documented in our Amara Aloe Vera Gel Reviews (another supplement containing this ingredient), it's often used in products designed to support gut health.
Dr. Jean Valnet, a pioneer in the field of phytotherapy mentions, "Aloe Vera is the healing harmony of nature at play, providing both nourishment and treatment for the skin and body."
Probiotic Blend
Based on research published in Therapeutic Advances in Gastroenterology[9], this blend of beneficial bacteria strains supports gut health and promotes a balanced microbiome.
Dr. Robynne Chutkan, gastroenterologist states, "Probiotic blends are the cornerstone of gut health, replenishing beneficial bacteria and fostering a balanced gut ecosystem."
Barley Green Juice
According to research published in Oxidative Medicine and Cellular Longevity[10], Barley grass is a nutrient-dense ingredient that provides vitamins, minerals, and chlorophyll. It's often included in products for its potential detoxifying and alkalizing effects.
Dr. Richard Schulze, a naturopathic doctor mentions, "The chlorophyll and nutrients in Barley Green Juice are a natural elixir for the body, supporting detoxification and alkalinity."
Spirulina
According to an Evidence-Based Complementary and Alternative Medicine study[11], spirulina is rich in protein, vitamins, and minerals derived from blue-green algae. As documented in our Hawaiian Spirulina Review, Spirulina is often included in formulations for its potential antioxidant and anti-inflammatory properties.
Dr. Joseph Mercola, an osteopathic physician states, "Spirulina is a super-nutrient powerhouse. Its protein content and rich array of vitamins and antioxidants make it a staple for optimal health."
Verdict: While many of Purium's ingredients offer potential health benefits, it's important to note that ingredients like senna leaf and cascara sagrada bark may cause stomach discomfort and laxative effects. Individual sensitivities should be considered before use.
How to Use Purium?
Purium should be taken as directed on the product label. If you're using the 10-Day Transformation Kit, follow these general guidelines:
Duration: The 10-Day Transformation Kit is designed to last for 10 days.
Frequency: You'll typically use the supplements in the kit once daily.
Instructions: It's essential to carefully read and adhere to the directions provided on the label for each specific product within the kit.
Additional Tips: Complement the regimen with a balanced diet and adequate hydration for optimal results.
Benefits of Purium products
Purium products offer a range of potential benefits, including:
Nutrient supplementation to fill nutritional gaps
Support for weight loss and detoxification
Promoting gut health and digestion
Offering antioxidants for cellular protection
Enhancing energy levels and vitality
Alkalizing the body for improved pH balance
Aiding in immune system support
Providing convenience for on-the-go lifestyles
Drawbacks of Purium
Some potential drawbacks and side effects of Purium products include:
Purging effects from ingredients like cascara sagrada and senna leaf
Possible stomach discomfort or cramping
Individual sensitivities or allergies to certain ingredients
Adverse reactions, if not used as directed
Difficulty adjusting to changes in diet during cleansing programs
Potential for rebound weight gain after completing certain programs
How Much Does Purium Product Cost?
Purium offers a range of products with varying costs. Here are a few examples and prices of their best selling products:
Apothe-Cherry – $34.95
Biome Medic – $60C From Nature – $61.95
Power Shake (Apple Berry, Original) – $109.95
Super Amino 23 – 150 ct – $75.00
Super CleansR – $72.95
Programs:
10-Day Transformation – $279.00
Ultimate Lifestyle Transformation (30 days) – $480.00
Purium FAQs
Q: What are the side effects of Purium?
A: Purium side effects, based on user reviews, may include gas, irregular bowel movements, stomach pain, nausea, and jitteriness.
Q: What is Purium?
A: Purium is a manufacturing company providing health and wellness supplements for a healthier lifestyle. Their product range includes weight loss, detoxification, and performance supplements.
Q: Does Purium work?
A: Scientific research supports Purium's weight-loss ingredients and claims. Studies also suggest fruits and vegetables and Purium includes this in their products.
Q: What are the benefits of Purium's products?
A: Purium claims to provide quality products with essential nutrients, vitamins, and minerals to fill the gaps in your nutritional plan, promoting overall health and wellness.
Q: Can Purium Be Incorporated In Any Diet Plan?
A: Purium diet is versatile and can fit into several diet plans. If you have specialized diet needs—e.g., vegan or gluten-free you can check with Purium before using their products.
Q: Where Can I Purchase Purium Products?
A: You can buy Purium products from their official website or trusted sources to guarantee authenticity.
Q: Does Purium Offer A Money-Back Guarantee?
A: Yes, Purium offers a 60-day money-back guarantee on their products. So, if you're unsatisfied with the results you're seeing, you can get your money back.
Customer Reviews Of Purium Products
Here are some reviews from users who have bought and uses Purium:
I love this product, I have lost 15 lbs in 1 month. It makes you feel full and after awhile you literally don't want to eat food, you crave the shake. –Melissa
I love this stuff! I've had sleeping issues for years even taking Ambien on and off. It doesn't "knock you out" like medicine but relaxes you enough to let you fall asleep easily and keeps you asleep. –A Lowry
This supplement makes me feel good! Reduces inflammation and helps digestion. Great product! –Julie Ann Collins
Purium Conclusion
Purium has been existing for decades, providing an extensive product range that caters to kids and grown-ups.
But the MLM structure? That's where things get a bit tricky. Sure, MLM can be a boon for some, but it also means you might end up with enthusiastic sellers who aren't necessarily health experts.
The 2011 lawsuit over lead content in their products is also a red flag. Everyone makes mistakes, but it's a reminder that it's up to us, the consumers, to stay informed and vigilant. Plus, let's talk about the price tag – with so many other great options out there, one has to wonder if it's worth stretching the budget.
Wrapping it up, Purium sounds great on paper. However, before you buy, you can extensively research other supplement brands.