Bioderma Sebium Gel Moussant Overview
A lot of people both men and women suffer from having oily and acne prone skin. When you have this kind of skin type, you cannot just use an ordinary facial cleanser considering that you want to find ways to combat acne and to get rid of too much sebum production.
You would not want to make your face look really oily. As such, buying an effective facial cleanser is essential. Among the best products that you can choose to buy is the Biodermasebium Gel Moussant.
What Is The Bioderma Sebium Gel Moussant For?
The Biodermasebium Gel Moussant is a product that has a gentle formula that can effectively cleanse your face. As a cleansing gel, you can avoid having future breakouts. With its Sebo-correcting complex, you can also regulate sebum production which makes your skin look oily. Those who are looking for a cleansing gel that can be used to remove blemishes and to reduce sebum production, this is the product to buy.
Active Ingredients In Bioderma Sebium Gel Moussant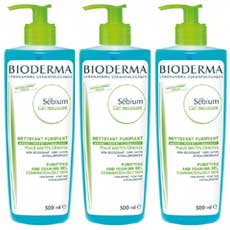 In using this product, you need to know the complete set of ingredients that are used. The product makes use of the following ingredients in its formula:
Ginkgo biloba leaf extract can make your skin look tighter and firmer making you look younger than you real age.
With the product containing purifying agents like copper sulfate and zinc sulfate, you get to have a product that can purify the skin. These ingredients are known to be truly effective in eliminating dirt and skin blemishes.
Advantages Of Bioderma Sebium Gel Moussant
Based on the reviews, many say that in using the Biodermasebium Gel Moussant, they can enjoy the following benefits:
Proven to be

effective in cleansing and purifying the skin

.
Has a

gentle and mild formula

.
The product can help you prevent having clogged pores.

Guarantees quality skincare

.
Soap-free cleansing.

Does not contain any paraben

.
No coloring agents.
Disadvantages Of Bioderma Sebium Gel Moussant
Just like any other product, it has its share of disadvantages which include the following:
It

contains fragrance

and some consumers are looking for a fragrance free cleansing product.
Some say that it is

not that effective in treating acne

.
How Does Bioderma Sebium Gel Moussant Work?
The product has a lot to offer. Apart from just being a facial cleanser that can be used to gently clean your face, it is also used to reduce your blemishes and to reduce sebum production. But apart from that, the product can also be used as a shaving foam. Men who are in search for a gentle formula that they can use when shaving can go for this product.
You May Also Want To Read – Dr. Andrew Weil For Origins Mega-Bright Reviews
FAQ's
How should we use Bioderma sebium Gel Moussant?
To get the best results, you can easily use the Biodermasebium Gel Moussant every day. Depending on your needs, you can use it either in the morning or in the evening. You may also use it both in the morning and evening. Just apply the product to the damped skin. Lather and rinse with water. Pat your face dry.
Who Can Use Bioderma Sebium Gel Moussant?
The Biodermasebium Gel Moussant is for everyone. But if you have oily and acne prone skin this is a good product for you. This is a cleansing product that can give you various skin benefits to help you get rid of acne and having oily skin.
Is It Safe To Use Bioderma Sebium Gel Moussant?
With the benefits that the brand claims, many want to know if the product is indeed safe to use. Since the product has clinically tested and proven formula, you do not have to think of negative side effects. It is proven to be safe to use. Just make sure that you do not overdo your facial cleansing routine. Using your facial wash once or twice every day is enough.
How Long Does It Take To See The Result?
When it comes to the results, it varies depending on your skin type. But if you want to see if your skin looks smooth and clean after using the Biodermasebium Gel Moussant, you can see the results right away. However, if you have acne prone skin and you notice that you are having breakouts, it will take more than just the use of a facial cleanser to get rid of acne especially if it is brought about by hormonal imbalance and other factors.
Final Verdict
The Biodermasebium Gel Moussant is definitely a good buy considering the fact that it offers a lot of use for consumers. It is an effective facial cleansing product and also a blemish clearing product that can make your skin look smooth and clear.
Now that you know what a priority it should be to use a good facial cleanser, hopefully you'll make sure it's part of your regimen. A good face cleanser can keep your face clear of dirt and impurities, and over the long run it can give you younger looking skin.
Below are some of the best facial cleansers on the market today, in our opinion.
Our Top Facial Cleanser Choices
Skinceuticals LHA Cleansing Gel

Removes Oils and Impurities from Pores*
Moisturizes and Rehydrates Skin*
Helps Prevent Blemishes and Skin Imperfections*
Improve Skin Elasticity and Firmness*
Cetaphil Daily Facial Cleanser
Removes Oils and Impurities from Pores*
Moisturizes and Rehydrates Skin*
Helps Prevent Blemishes and Skin Imperfections*
Improve Skin Elasticity and Firmness*
Artistry Essential Hydrating Cleanser
Removes Oils and Impurities from Pores*
Moisturizes and Rehydrates Skin*
Helps Prevent Blemishes and Skin Imperfections*
Improve Skin Elasticity and Firmness*